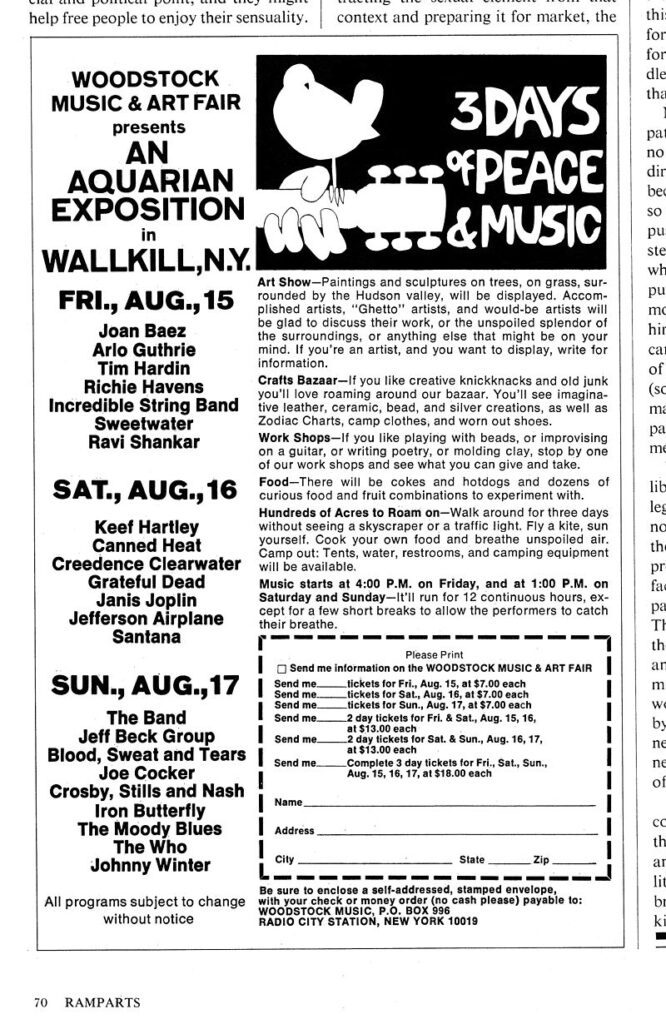 FROM WIKIPEDIA COMMONS
Woodstock Music and Art Fair, commonly referred to simply as Woodstock, was a music festival held August 15–18, 1969, on Max Yasgur's dairy farm in Bethel, New York, 40 miles (65 km) southwest of the town of Woodstock. Billed as "an Aquarian Exposition: 3 Days of Peace & Music" and alternatively referred to as the Woodstock Rock Festival, it attracted an audience of more than 400,000. Thirty-two acts performed outdoors despite sporadic rain.
The festival has become widely regarded as a pivotal moment in popular music history as well as a defining event for the counterculture generation. The event's significance was reinforced by a 1970 documentary film, an accompanying soundtrack album, and a song written by Joni Mitchell that became a major hit for both Crosby, Stills, Nash & Young and Matthews Southern Comfort. Music events bearing the Woodstock name were planned for anniversaries, which included the tenth, twentieth, twenty-fifth, thirtieth, fortieth, and fiftieth. In 2004, Rolling Stone magazine listed it as number 19 of the 50 Moments That Changed the History of Rock and Roll. In 2017, the festival site became listed on the National Register of Historic Places.
TODAY'S ALMANAC
Question of the Day
How can I pick the perfect peaches at the supermarket?
Peaches should be only the slightest bit soft when you buy them. Too soft means they are too ripe. The skin should have no green, only yellow-orange with red smudges. Green peaches will not ripen properly. Any bruises on the surface are hiding larger bruises inside.
Advice of the Day
August's birthstone is the peridot, sometimes called the evening emerald for its light green color.
Home Hint of the Day
To eliminate the itch of insect bites, rub on meat tenderizer or lemon juice.
Word of the Day
Dew
Droplets of water which have condensed on objects, such as plants, which have cooled below the dewpoint temperature of the air.
Puzzle of the Day
The Hoosier State.(Name the U.S. state!)
Indiana
Died
Genghis Kahn (Mongol leader) – 1227
Elmer Bernstein (composer) – 2004
Born
Meriwether Lewis (of Lewis and Clark expedition) – 1774
Rosalynn Smith Carter (U.S. First Lady) – 1927
Roberto Clemente (baseball player) – 1934
Robert Redford (actor) – 1937
Martin Mull (actor) – 1943
Patrick Swayze (actor) – 1952
Denis Leary (actor) – 1957
Edward Norton (actor) – 1969
Malcolm-Jamal Warner (actor) – 1970
Andy Samberg (actor) – 1978
Events
Virginia Dare, daughter of Ananias and Eleanor Dare, was born in Roanoke, becoming the first child to be born in America of English parents– 1587
John White, the governor of the Colony of Roanoke, returned from a trip to England for supplies and found his settlement deserted– 1590
Charles Wilkes began expedition to South Pole– 1838
Begole, Johnson, and Lucas summited Mt. Whitney, Sierra Nevada, California– 1873
Sir H. C. K. Petty-Fitzmaurice, Lord Lansdowne, named governor-general of Canada– 1883
Plant patent #1 granted for climbing rose– 1949
Ringo Starr joined The Beatles– 1962
Woodstock Festival ended, Bethel, New York– 1969
12-year old Samantha Druce swam the English Channel– 1983
Boston Celtics player Larry Bird announced his retirement– 1992
Lucy, a 4-year old dog from Peterborough, New Hampshire, became the first paralyzed dog to walk the entire 7.6-mile Auto Road up Mount Washington. (She was also the first handicapped canine to attempt the trek.) It took her six hours and two minutes.– 2010
Lisette and Walter Kimmel, both 100, celebrated their 75th wedding anniversary– 2015
Starman Tesla completed its first orbit around the Sun– 2019
Weather
Hailstorms destroyed corn crops in southeastern Iowa– 1925
Hurricane Alicia hit the Texas coast– 1983
Between approximately 9:55 p.m. and 10:30 p.m., a strong thunderstorm in New York City brought wind gusts of up to an estimated 80 miles per hour and up to 3/4" of rain. Straight-line winds knocked over more than 100 trees in Central Park and damaged hundreds more. According to the city's Department of Parks and Recreation, and the Central Park Conservancy, it was the worst destruction of the park's trees in at least 30 years. Manhattan, the Bronx, and the northern part of Queens were especially hard hit. Penny-size hail was reported in the Bronx and in Hoboken, New Jersey.– 2009
COURTESY www.almanac.com