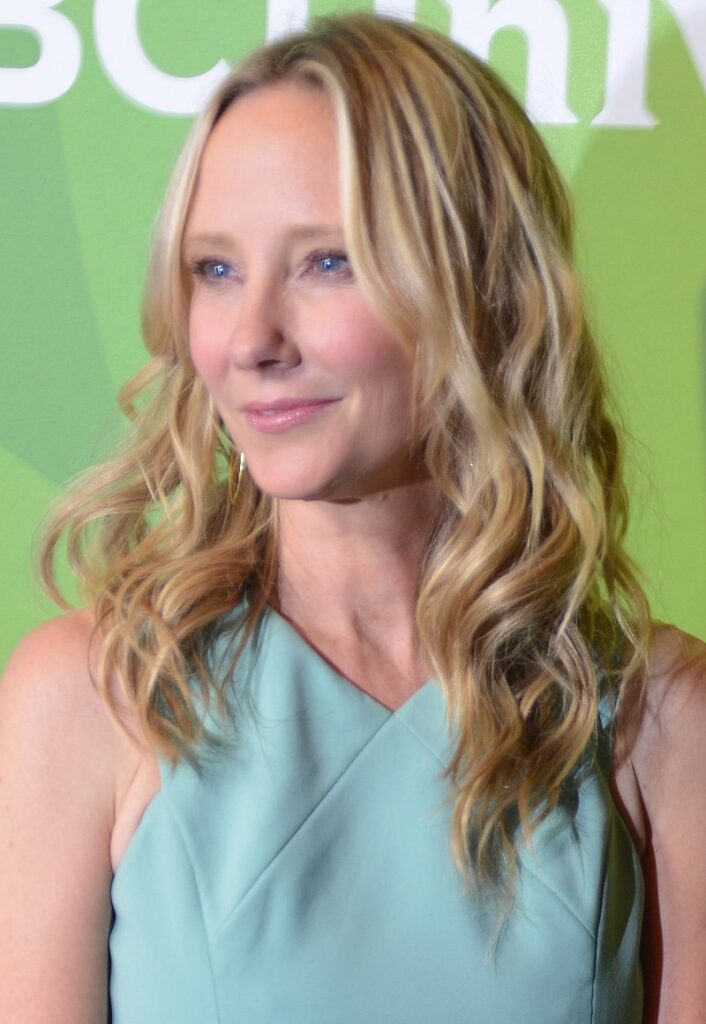 Anne Celeste Heche (/heɪtʃ/ HAYTCH; May 25, 1969 – August 2022)[a] was an American actress. She first came to recognition portraying twins Vicky Hudson and Marley Love on the soap opera Another World (1987–1991), winning her a Daytime Emmy Award and two Soap Opera Digest Awards. She achieved greater prominence in the late 1990s with roles in the crime drama film Donnie Brasco (1997), the disaster film Volcano (1997), the slasher film I Know What You Did Last Summer (1997), the political satire film Wag the Dog (1997), the action comedy film Six Days, Seven Nights (1998), and the drama-thriller film Return to Paradise (1998).
Following her portrayal of Marion Crane in Gus Van Sant's horror remake film Psycho (1998), which earned her a Saturn Award nomination, Heche went on to have roles in many well-received independent films, such as the drama film Birth (2004), the sex comedy film Spread (2009), Cedar Rapids (2011), the drama film Rampart (2011), and the black comedy film Catfight (2016). She received acclaim for her role in the television film Gracie's Choice, which earned her a Primetime Emmy Award nomination, and for her work on Broadway, particularly in a restaging of the play Twentieth Century, for which she received a Tony Award nomination.
In addition to her film roles, Heche starred in the comedy drama television series Men in Trees (2006–2008), Hung (2009–2011), Save Me (2013), Aftermath (2016), and the military drama television series The Brave (2017).[5] She voiced Suyin Beifong in the animated television series The Legend of Korra (2014), and appeared as a contestant in the 29th season of Dancing with the Stars (2020).
CAR CRASH AND DEATH
On August 5, 2022, Heche was involved in a sequence of two car crashes in the Mar Vista neighborhood of Los Angeles, first when the Mini Clubman she was driving hit a garage at an apartment complex, and second when she crashed into a house, resulting in a fire that left her severely burned. A doorbell video recorded in the moments before the final crash shows Heche's vehicle rushing along a neighborhood street at a very high speed, followed a few seconds later by the sound of a crash. The vehicle collision and resulting house fire required 59 firefighters to handle, who took 65 minutes to fully extinguish the fire and rescue Heche from the vehicle. The house was left structurally compromised and uninhabitable. The tenant of the house sustained minor injuries, but her attorney said that she and her pets "almost lost their lives" and that she had lost all of her personal property to the fire.
Law enforcement officials said that Heche was "deemed to be under the influence and acting erratically" at the time of the crashes. The Los Angeles Police Department said that a preliminary blood analysis confirmed the presence of narcotics in Heche's system, although more comprehensive toxicology tests that could take weeks are required to identify specific drugs.
Heche was removed from the crash scene on a stretcher, and was transported to a hospital. She was filmed sitting up on the stretcher and struggling with paramedics as she was being wheeled into the ambulance; however, she lost consciousness soon afterward. On August 8, a representative for Heche said she was in a coma in critical condition, with medical ventilation required for a pulmonary injury.
On August 11, the representative said that Heche was not expected to survive due to an anoxic brain injury, and that she was being kept on life support to determine if her organs were viable for donation, in accordance with her expressed wish to be an organ donor. Heche was declared brain dead a few hours later, but remained on life support to assess organ donor viability and locate recipients. Having been declared "brain dead", under California law, Heche was considered legally dead. On August 14, it was announced that organ recipients had been found and that her body would undergo the organ donation procedure that afternoon. That evening, her publicist announced that she had been "peacefully taken off life support." She died at the age of 53 from her injuries. Hospital staff arranged an honor walk for Heche's body.
COURTESY WIKIPEDIA COMMONS