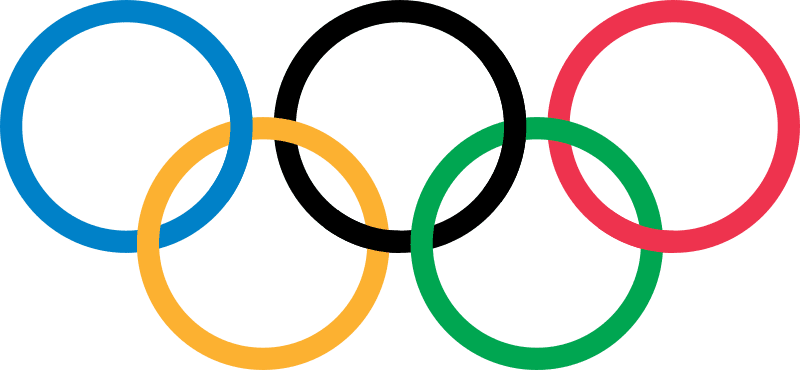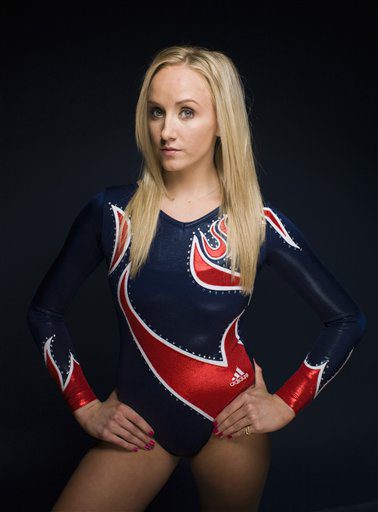 FROM WIKIPEDIA COMMONS
Anastasia Valeryevna Liukina (/ˈljuːkɪn/; Russian: Анастасия Валерьевна Люкина [ˈlʲʉkʲɪnə]; born October 30, 1989) is a Russian-born American former artistic gymnast. She is the 2008 Olympic All-Around champion, a five-time Olympic medalist, the 2005 and 2007 world champion on the balance beam, and the 2005 world champion on the uneven bars. She is also a four-time all-around U.S. national champion, winning twice as a junior and twice as a senior. With nine World Championships medals, seven of them individual, Liukin is tied with Shannon Miller for the third-highest tally of World Championship medals (among U.S. gymnasts). Liukin also tied Miller's record (later equaled by Simone Biles) as the American gymnast having won the most medals in a single non-boycotted Olympic Games.
Liukin was a key member of the U.S. senior team. She represented the United States at three World Championships and one Olympic Games. In October 2011, Liukin announced that she was returning to gymnastics with the hopes of making a second Olympic team. Liukin did not make the 2012 Olympic team, and retired from the sport in 2012.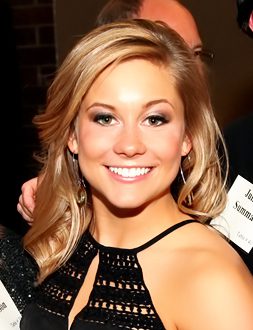 FROM WIKIPEDIA COMMONS
Shawn Johnson East (born Shawn Machel Johnson; January 19, 1992) is an American former artistic gymnast. She is the 2008 Olympic balance beam gold medalist and team, all-around and floor exercise silver medalist. Johnson is also the 2007 all-around World Champion, and a five-time Pan American Games gold medalist, winning the team titles in 2007 and 2011, as well as titles in the all-around, uneven bars, and balance beam in 2007.
Johnson became a member of the U.S. senior team in 2007. Her rookie season included winning the all-around at the American Cup, Pan American Games, U.S. National Championships, and World Championships. She is the 2007 individual all-around World Champion, 2007 World Champion on floor exercise, and a member of the 2007 gold medal-winning U.S. gymnastics team. As well as being the 2007 U.S. Champion on balance beam and floor exercise, the 2008 U.S. Champion on floor exercise and silver medalist on balance beam, Johnson is a three-time U.S. all-around Champion, winning once as a junior and twice as a senior.
Johnson announced her retirement from gymnastics on June 3, 2012.
In May 2009, Johnson was the winner of season eight of Dancing with the Stars, and in November 2012 she earned second place on the all-star edition.
TODAY'S ALMANAC
Catholic churches in the United States mark the feast of the Assumption on August 15 each year to celebrate the assumption of the Blessed Virgin Mary's body into heaven upon her death. Assumption Day is considered a Holy Day of Obligation, but if it falls on a Saturday or on a Monday, it is not obligatory by the church to attend mass.
Question of the Day
What exactly is textured vegetable protein, which I see listed on some food labels?
Textured vegetable protein (TVP) is a soybean product that has been mixed with additives to promote color and texture changes. It is frequently used in place of meat or to extend something that contains meat.
Advice of the Day
Compost should be watered during dry periods so that it will remain active.
Home Hint of the Day
If leeches attach themselves to you while you're in swimming, sprinkle salt on them. They'll soon be persuaded to let go.
Word of the Day
Evaporimeter
An instrument that measures the loss of water by evaporation.
Puzzle of the Day
The Peach State.(Name the U.S. state!)
Georgia
Born
Napoleon Bonaparte (Emperor of France) – 1769
Walter Scott (Scottish novelist and poet) – 1771
Florence Kling Harding (U.S. First Lady) – 1860
Ethel Barrymore (actress) – 1879
Edna Ferber (author) – 1887
Julia Child (culinary expert) – 1912
Rose Marie (actress) – 1923
Oscar Peterson (jazz pianist) – 1925
Linda Ellerbee (journalist) – 1944
Anne Elizabeth Alice Louise Windsor (Princess Anne) – 1950
Debra Messing (actress) – 1968
Ben Affleck (actor) – 1972
Jennifer Lawrence (actress) – 1990
Died
Will Rogers (humorist) – 1935
Wiley Post (first pilot to fly solo around the world) – 1935
Events
Christopher Columbus first saw cacao beans– 1502
Thomas Edison suggested using Hello" when answering phones"– 1877
First ship passed through the Panama Canal– 1914
The colony of British India was divided into two independent nations, India and Pakistan– 1947
The Beatles opened their United States tour at Shea Stadium In New York City. Over 50,000 fans attended the concert. At the time, this was a world record attendance for a rock concert– 1965
The Woodstock Music and Art Festival opened on a field near Yasgur's Farm at Bethel, NY. The three day concert drew a crowd of more than 400,000 people– 1969
On duty at the Big Ear Radio Observatory at The Ohio State University, Dr. Jerry Ehman heard radio noise that lasted 37 seconds and came from the direction of a star nearly 220 light-years away. The signal traveled at a frequency whose use is prohibited by international agreement and that is unlike those of most natural radio sources. It is known as the Wow signal and hasn't been heard since– 1977
Discovery of second planet orbiting a star in Big Dipper announced– 2001
A magnitude-8.0 earthquake struck Peru and at least 15 aftershocks followed, some as strong as magnitude-6.3– 2007
American gymnast Nastia Liukin won an Olympic gold medal in the women's gymnastics individual all-around competition. Her teammate, Shawn Johnson, won the silver medal.– 2008
Nils Olav, a penguin at Edinburgh Zoo in Scotland, was knighted by British Maj. Gen. Euan Loudon on behalf of Norway's King Harald V– 2008
A 1,224-pound cupcake, baked by Ryan Abood, from Manchester, New Hampshire, was entered in the Guinness Book of World Records as the world's largest cupcake/fairy cake. Guinness representative Carl Saville inspected the cupcake, making sure that it met several criteria: it must be edible, cooked throughout, and resemble a cupcake. The cupcake was 4 feet tall and 10 feet wide. About 200 pounds of flour, 200 pounds of sugar, 200 pounds of butter and oil, and 1,000 eggs were used. It was baked in a specially designed 8 ft. x 8 ft. x 10 ft. oven for about 8 1/2 hours. The cupcake judging took place at an event in Royal Oak, Michigan. The attempt had been for a 7,000-pound cupcake, but due to a malfunction in baking equipment, a smaller version was hurriedly put together overnight for the Guinness event.– 2009
Rare Eliasberg 1913 Liberty Head nickel sold for $4,560,000 at a Philadelphia auction, making it the most valuable non-precious metal coin. It was one of only five known to be made, with this one being of the finest grade.– 2018
Weather
This was the hottest day of a dry period that caused the Great Tillamook Fire in Oregon– 1933
A tremendous storm triggered flooding in the Mojave Desert that killed at least two people and forced the closure of Death Valley National Park– 2004
COURTESY www.almanac.com