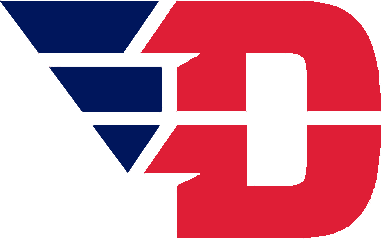 Flyers Will Play 7 Home Games, 3 Tournament Games At The Battle4Atlantis, 2 Road Games & A Neutral Site Game In Chicago Before A-10 Play
DAYTON – The University of Dayton announced its men's basketball non-conference schedule today, featuring seven home games, three games at the Battle4Atlantis, and three other strong games – two road and a neutral site game in Chicago – away from UD Arena.
The Flyers' home slate includes a preseason exhibition game against Capital on Saturday, Oct. 29.
Counting the potential opponents in the Bad Boy Mowers Battle4Atlantis (which has an impressive field of Butler, BYU, Dayton, Kansas, North Carolina State, Southern Cal, Tennessee and Wisconsin), 10 of the 17 non-conference opponents have at least three starters back from last season. Five – UNC Asheville, Robert Morris, Tennessee, Western Michigan, and Wyoming — return four starters.
Ten of the opponents played in the post-season last year, with six – Southern Cal, Tennessee, Virginia Tech, Wisconsin, Wyoming and defending national champion Kansas – playing the NCAA tournament. Twelve of the 17 teams finished .500 or better in 2021-22.
Dayton opens the regular season at home against Lindenwood (who is making the transition to Division I and joining the Ohio Valley Conference) on Monday, Nov. 7. The Flyers will play SMU at home on Friday, Nov. 11, before traveling west and playing at UNLV on Tuesday, Nov. 15.
Dayton is back home to face Robert Morris on Saturday, Nov. 19. UD will then head to the Bahamas to take on Wisconsin in the first round of the Bad Boy Mowers Battle4Atlantis on Wednesday, Nov. 23. The Flyers will play either Kansas or North Carolina State on Thanksgiving Day, Thursday, Nov. 24, and then either Butler, BYU, Southern Cal or Tennessee on Friday, Nov. 25.
The Flyers are back home at UD Arena for a pair of games – Wednesday, Nov. 30 vs. Western Michigan and Saturday, Dec. 3 against Southeastern Louisiana. Then UD will play at Virginia Tech on Wednesday, Dec. 7.
Dayton will host UNC Asheville on Saturday, Dec. 10. After exam week, the Flyers will travel to Chicago to meet Wyoming in the United Center on Saturday, Dec. 17. The non-conference schedule will close on Tuesday, Dec. 20 with a home game against Alcorn State.
Game times will be announced at a later date, as will the complete Atlantic 10 schedule.
Dayton returns all five starters from a team that finished 24-11 in 2021-22, and tied for second in the A-10 with a 14-4 record. Included in those 24 wins was a win over eventual national champion Kansas. Headlining the returnees is DaRon Holmes II, who was the Atlantic 10 Rookie of the Year, second team all-conference and on the A-10 All-Defensive team. Dayton returns 163 of a possible 175 starts, 90% of possible minutes played, 91% of the scoring and 92% of the rebounding from 2021-22.
UD has qualified for the postseason in the last four seasons since Anthony Grant took over as coach at his alma mater in 2017. UD has also reached post-season play seven of the last eight years.

COURTESY DAYTON MEDIA RELATIONS