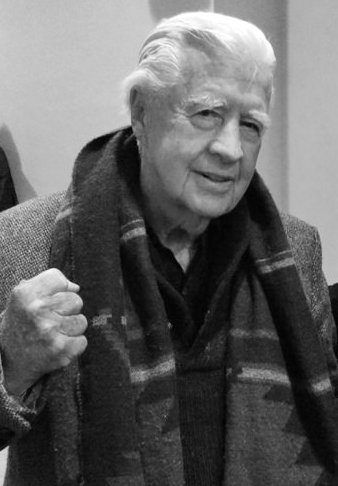 FROM WIKIPEDIA COMMONS
William Martin Gulager (/ˈɡuːləɡər/; November 16, 1928 – August 5, 2022), better known as Clu Gulager, was an American television and film actor and director born in Holdenville, Oklahoma. He first became known for his work in television, appearing in the co-starring role of William H. Bonney (Billy the Kid) in the 1960–1962 NBC television series The Tall Man and as Emmett Ryker in another NBC Western series, The Virginian. He later had a second career as a horror film actor, including a lead part in Dan O'Bannon's The Return of the Living Dead (1985). He also was in A Nightmare on Elm Street 2: Freddy's Revenge (1985). In 2005 he started acting in his son's horror films — the Feasts films and Piranha 3DD — in his 80s.
Gulager's first major film role was in Don Siegel's The Killers (1964) with Lee Marvin and Ronald Reagan in his only movie role as a villain, followed by a supporting part in the racing film Winning (1969) opposite Paul Newman and Joanne Woodward; in Peter Bogdanovich's drama The Last Picture Show (1971); and opposite John Wayne in McQ (1974). In the 1980s, Gulager appeared in several horror films, such as The Initiation (1984) and the zombie comedy The Return of the Living Dead (1985). In 2005, he appeared in the horror film Feast, as well as its sequels. He also appeared in the independent film Tangerine (2015) and in Quentin Tarantino's Once Upon a Time in Hollywood (2019), which was his final film role.
Gulager directed the short film A Day with the Boys, which was nominated for the Palme d'Or for Best Short Film at the 1969 Cannes Film Festival.
Gulager died of natural causes at the Los Angeles home of his son John on August 5, 2022. He was 93.