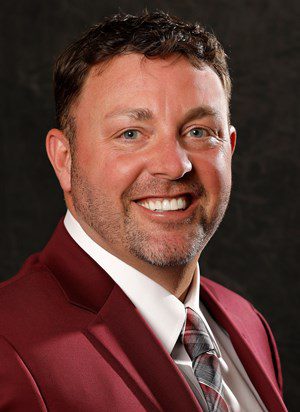 22-year coaching veteran most recently won NJCAA Division I national title
In an announcement made during the offseason by NM State Director of Athletics Mario Moccia, Greg Heiar (pronounced "higher") has been named the head coach of NM State's men's basketball program.
"While the task of replacing Chris Jans as the leader of our basketball program is a tall one, I am excited that we have selected Greg Heiar to serve as our new head coach," commented Moccia. "Greg's coaching background is aligned with this program's blueprint of success which has resulted in multiple wins over Power Five programs and our biggest rivals in addition to multiple WAC titles, WAC tournament titles and NCAA Tournament success. I ask that all of our fans join me in welcoming Greg, his wife, Jessica, and his daughter, Alexis, to Las Cruces. We can't wait for him to get started."
The 27th bench boss in the history of the program, Heiar succeeds three-time WAC Coach of the Year Chris Jans – an individual Heiar served with on staff at two institutions (Chipola College in 2003-04 and Wichita State from 2011-14 and 2015-17).

"I am grateful to Chancellor Arvizu and Mario Moccia for entrusting me as the leader of one of the most respected college basketball programs in the nation," commented Heiar. "NM State has a rich tradition of basketball success dating back over a century and I am humbled by the opportunity to continue that success. I have known Chris Jans for almost 30 years and hope to build upon what he achieved at NM State over the last half-decade. My family and I can't wait to call Las Cruces home."
A 22-year coaching veteran at the NJCAA, NCAA Division III and NCAA Division I levels, Heiar's most recent stop was a memorable one in Niceville, Fla. There, as the head coach at Northwest Florida State College, Heiar led his troops to the NJCAA Division I National Championship which concluded a 31-5 season for the Raiders. The national title was Northwest Florida State College's third in the history of the program, giving the program the third-most national titles among all NJCAA Division I programs. That run allowed Heiar to be named the Coach of the Tournament – an award presented to the best NJCAA bench boss at the national tournament since 1959.
The Raiders' NJCAA Division I National Championship was the culmination of a remarkable turnaround from the previous campaign. Northwest Florida State College went just 6-15 in 2020-21, but with Heiar leading the way the Raiders increased their win total by 25 games en route to the title of the nation's best NJCAA club.
Heiar's return to the junior college ranks came directly after a one-year stay in Johnson City, Tenn., as an assistant coach at East Tennessee State.
The year-long stay in Tennessee came on the heels of a highly-successful run for Heiar in Baton Rouge, La., at LSU. In Heiar's three years at LSU, the Tigers won 67 games, captured the 2019 SEC Championship and advanced to the 2019 Sweet 16. Heiar's strong recruiting ties helped bolster a Tiger class that ranked No. 4 in the country prior to the 2019 season. In addition to his strong recruiting connections, Heiar's on-court coaching helped Tremont Waters – the No. 51 selection in the 2019 NBA Draft by the Boston Celtics – earn first team All-SEC honors in 2019. Meanwhile, Skylar Mays, a two-time All-SEC selection, finished his career in the top 10 in nine different LSU statistical categories.
Prior to LSU, Heiar spent six seasons as an assistant at Wichita State where the Shockers reached historic heights during his tenure. During Heiar's time with the Shockers, Wichita State won 179 games, five Missouri Valley Conference regular season championships and made six straight trips to the NCAA Tournament, including the program's second-ever Final Four appearance in 2013. In that Final Four run, the Shockers defeated Pittsburgh, Gonzaga, LaSalle and Ohio State.
Heiar worked extensively with the Shocker backcourt, which saw Ron Baker and Fred VanVleet earn All-American honors, and both eventually signed NBA contracts following the 2016 season. VanVleet, a two-time Missouri Valley Conference Player of the Year, signed with the Toronto Raptors where he won a 2019 NBA Championship, while Baker – who was a top-10 all-time leading scorer at Wichita State – signed with the New York Knicks and also spent a season with the Washington Wizards.
The Shockers were one of the top winningest programs in the country during Heiar's six-year run as their 179 wins was tied for the third-most nationally only behind Gonzaga (187) and Kentucky (185). Furthermore, Wichita State was also among the national statistical leaders over that six-year stretch:
• T3rd in defensive field goal percentage (.390)
• 10th in defensive rebounds (5,205)
• 11th in total rebounds (7,372)
• 18th in total points scored (15,882)
• T18th in defensive 3-point field goal percentage (.320)
• 25th in assists (3,057)
Heiar's first NCAA Division I coaching assignment sent the Iowan to Hattiesburg, Miss., for a spot on Larry Eustachy's staff. In his two seasons at Southern Miss, Heiar saw the Golden Eagles post a pair of 20-win seasons, along with reaching the Conference USA semifinals in 2009-10 and making a postseason bid in the 2010 CollegeInsider.com Tournament.
Called up to the NCAA Division I ranks as a result of an impressive run at the junior college level, Heiar held the reins of NJCAA powerhouse Chipola Junior College in five of the six seasons he spent at the Marianna, Fla., institution. During his six years at Chipola – the last five as a head coach – Heiar's teams won 164 games as a head coach, while capturing five Panhandle Conference titles and making four appearances in the National Junior College Tournament. Heiar led Chipola to a third-place finish in 2009 when his team posted a 35-2 record. Overall, Heiar earned five Panhandle Conference Coach of the Year and four Regional VIII Coach of the Year honors. The successful run led to Heiar coaching 40 all-conference players and sending 39 players to Division I programs. Heiar's tenure at Chipola began as an assistant coach under then-head coach Chris Jans in 2003-04.
Before becoming a full-fledged member of a coaching staff, Heiar served as a graduate assistant at a pair of Hawkeye State institutions – Loras College (graduate assistant from 2001-03) and Mount St. Clare College (student assistant in 2000-01).
Heiar spent his days as a student-athlete at two institutions – Kirkwood Community College in Cedar Rapids, Iowa, and Mount St. Clare College in Clinton, Iowa. At Kirkwood, Heiar's play helped his team to its first NJCAA Tournament appearance in the history of the program. That particular Kirkwood squad was coached by Chris Jans who was in his first season as a head coach at any level.
A two-year captain and eventual team MVP at Mount St. Clare College, Heiar helped lead his team to its first conference title in the history of the program before graduating from the institution in 2000.
Heiar hails from Dubuque, Iowa, and he and his wife, Jessica, have one daughter, Alexis.
For complete coverage of NM State men's basketball as the Aggies prepare for year one under Heiar, visit NMStateSports.com – the official home of Aggie athletics – and follow the Aggies on Facebook (NM State Men's Basketball), Twitter (@NMStateMBB) and Instagram (@NMStateMBB).
COURTESY NEW MEXICO STATE ATHLETICS