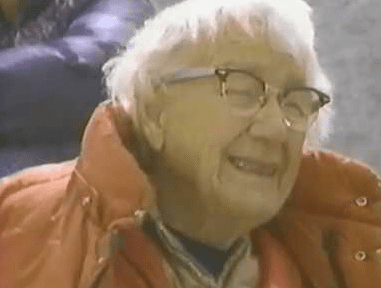 FROM WIKIPEDIA COMMONS
Hulda Hoehn Crooks (May 19, 1896 – November 23, 1997) was an American mountaineer. Affectionately known as "Grandma Whitney" she successfully scaled 14,505-foot (4,421 m) Mount Whitney 23 times between the ages of 65 and 91. She had climbed 97 other peaks during this period. In 1990, an Act of Congress renamed Day Needle, one of the peaks in the Whitney area, to Crooks Peak in her honor.
Hulda Hoehn was born in Saskatchewan, Canada, one of 18 children of a farming couple. She left the farm just before she turned eighteen and enrolled at Pacific Union College north of San Francisco and later at Loma Linda University. There she met and married Dr Crooks. She took up climbing in 1950, after the death of her husband as he had encouraged her to start after she suffered a bout of pneumonia.
On July 24, 1987, at the age of 91, she became the oldest woman to complete the ascent of Mount Fuji in Japan. She hiked the entire 212 mile John Muir Trail in the high Sierras, completing the hike in segments over five years.
Hulda Crooks was a long-time resident of Loma Linda, California and a Seventh-day Adventist. She often spent time with children in the community, encouraging them to appreciate nature and stay active. In 1991 Loma Linda dedicated a park at the base of the south hills as Hulda Crooks Park.
Early to bed and early to rise. Out jogging about 5:30am. Jog a mile and walk it back briskly. It takes me 12 minutes to jog the mile and 15 minutes to walk it. Do some upper trunk exercises, work in the yard, and walk to the market, and work
— Hulda Crooks describing life at 80
According to Congressman Jerry Lewis (R California), one of her hiking companions,
No mountain was ever too high for this gentle giant. With a twinkle in her eye, and purpose in her step, 'Grandma Whitney' showed the world that mental, physical and spiritual health is attainable at any age.
Crooks died in 1997, aged 101.
TODAY'S ALMANAC
Pioneer Day commemorates the day in 1847 when Brigham Young led his "pioneer band" of Mormons into the Salt Lake valley to establish a settlement—their new Zion. The Mormons had been driven from New York, Ohio, Missouri, and Illinois and had spent four difficult months traveling 1,073 miles overland to reach the Great Basin, chosen by Young because of its remoteness. It was the most organized and disciplined westward migration in American history, and unlike most emigrants intent on their destination, the Mormon pioneers were equally concerned with improving the trail for those who would follow. Pioneer Day is celebrated as the second most important date in the Mormon calendar, behind April 6, the day Joseph Smith established the church.
Question of the Day
My tomato leaves are covered with a sticky yellow substance. What is this?
Most likely you're being visited by aphids, tiny insects whose main job is to suck the juice out of your tomato leaves. They give off this sticky substance, called honeydew, which attracts ants and causes mold to develop. Controlling these interlopers usually requires the use of an insecticidal soap spray. Consult your local nursery for the best option in your area.
Advice of the Day
Mice dislike the smell of peppermint. Spread it liberally where you suspect the critters.
Home Hint of the Day
To kill the awful smell in a refrigerator that was left closed when the power was turned off (as in a summer cabin), leave a dish of charcoal in the fridge for a few days. For a particularly bad case, renew the briquettes periodically until the smell disappears.
Word of the Day
Bamboozle
To deceive by trickery; to cajole by confusing the senses; to hoax; to mystify; to humbug.
Puzzle of the Day
(Blank) always (Blank) rain.(What's the saying? Fill in the blanks!)
1) Sunshine 2) follows
Born
Simón Bolívar (South American liberator) – 1783
Alexandre Dumas (author) – 1802
Ruth Buzzi (actress) – 1936
Chris Sarandon (actor) – 1942
Lynda Carter (actress) – 1951
Karl Malone (basketball player) – 1963
Barry Bonds (baseball player) – 1964
Kristin Chenoweth (actress) – 1968
Jennifer Lopez (singer & actress) – 1970
Eric Szmanda (actor) – 1975
Anna Paquin (actress) – 1982
Bindi Irwin (animal activist; daughter of Crocodile Hunter Steve Irwin) – 1998
Died
Martin Van Buren (8th U.S. president) – 1862
Peter Sellers (actor) – 1980
Isaac Bashevis Singer (writer) – 1991
Sherman Hemsley (actor) – 2012
Events
Mary Queen of Scots was deposed– 1567
Brigham Young and followers arrived at Salt Lake, Utah– 1847
Tennessee readmitted to Union after Civil War– 1866
O. Henry released from Ohio State Penitentiary– 1901
James MacGillivray published first account of Paul Bunyan in the Detroit News– 1910
Archaeologist Hiram Bingham discovered" the Machu Picchu Incan ruins in Peru"– 1911
Steamer Eastland overturned in the Chicago River, killing 844 people– 1915
Debut of Marvin the Martian in Bugs Bunny's Haredevil Hare– 1948
67-pound 8-ounce muskellunge caught in Lac Courte Oreilles, Hayward, Wisconsin– 1949
The U.S. Supreme Court unanimously ruled that President Richard Nixon did not have the authority to withhold subpoenaed White House tapes and ordered him to surrender the tapes– 1974
Hulda Crooks climbed Mt Fuji at age 91– 1987
9-yr.-old Emma Houlston became youngest person to pilot plane across Canada (Victoria, B.C., to St. John's, N.L.)– 1988
Weather
Wahluke, Washington, tied a record high temperature of 118 degrees F– 1928
345,000 amperes of electricity were measured in a lightning stroke in Pittsburgh, Pennsylvania– 1947
The record for 24-hour rainfall in the United States was set in Alvin, Texas with 43 inches of rain from hurricane Claudette; the rain ended on July 25– 1979
Hail the size of oranges fell on Calgary, Alberta.– 1996
EF2 tornado struck Epsom, New Hampshire, destroying homes and causing at least one death– 2008
COURTESY www.almanac.com