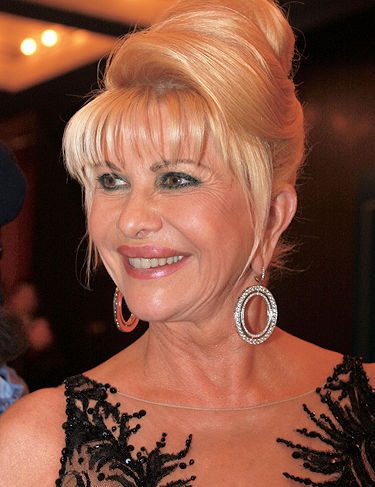 FROM WIKIPEDIA COMMONS
Ivana Marie Trump (née Zelníčková, Czech: [ˈzɛlɲiːtʃkovaː]; February 20, 1949 – July 14, 2022) was a Czech-American businesswoman, media personality, fashion designer, author, and model. She was the first wife of former President of the United States Donald Trump from 1977 to 1992. She lived in Canada in the 1970s before immigrating to the United States, and held key managerial positions in The Trump Organization as vice president of interior design, as CEO and president of Trump's Castle casino resort, and as manager of the Plaza Hotel.
Ivana and Donald were prominent figures in New York society throughout the 1980s. The couple's divorce, finalized in 1992, was the subject of extensive media coverage. Following the divorce, she developed her own lines of clothing, fashion jewelry, and beauty products which were sold on QVC London and the Home Shopping Network. Ivana wrote an advice column for Globe called "Ask Ivana" from 1995 through 2010 and published several books including works of fiction, self-help, and the autobiography Raising Trump.
Trump had ten grandchildren. In the late 2010s, she reportedly split her time between New York City, Miami, and Saint-Tropez. She stated she was fluent in German, French, Czech, and Russian.
On July 14, 2022, at the age of 73, Ivana Trump died of blunt force injury to the torso after falling down stairs at her home on the Upper East Side of Manhattan. A number of politicians and celebrities posted condolences on social media.