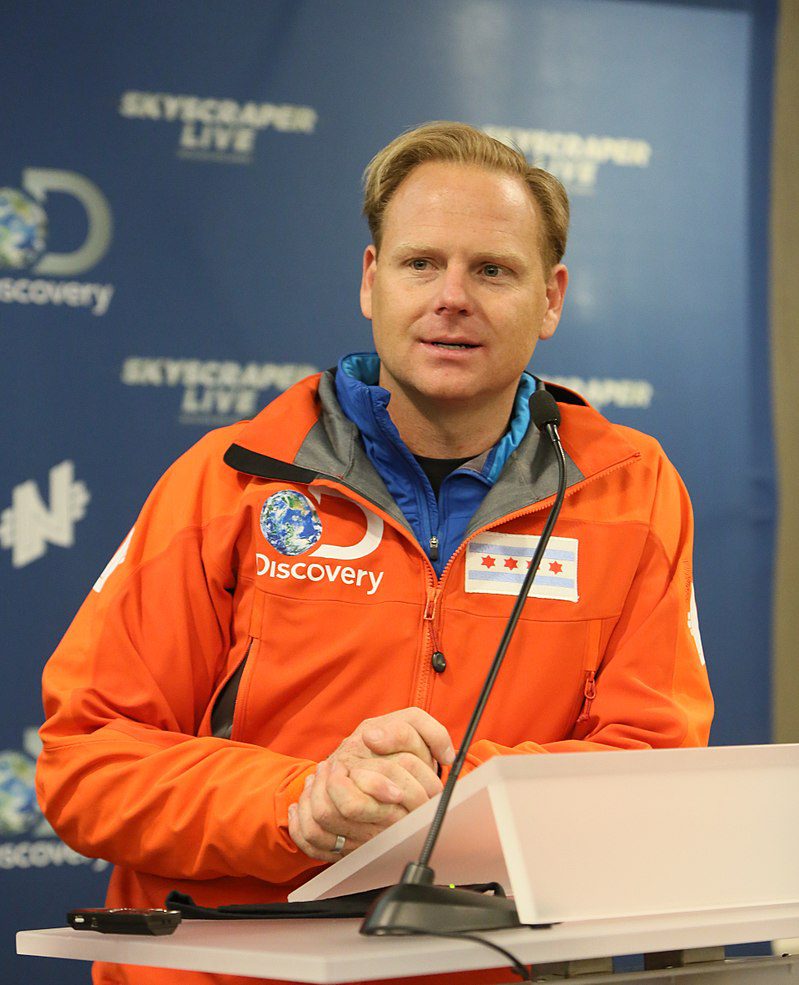 FROM WIKIPEDIA COMMONS
Nikolas Wallenda (born January 24, 1979) is an American acrobat, aerialist, daredevil, high wire artist, and author. He is known for his high-wire performances without a safety net. He holds 11 Guinness World Records for various acrobatic feats, and is best-known as the first person to walk a tightrope stretched directly over Niagara Falls. Wallenda walked 1,800 feet on a steel cable over Masaya Volcano in Nicaragua, his longest walk, on March 4, 2020.
Wallenda is a 7th-generation member of The Flying Wallendas family, and he participated in various circus acts as a child. He made his professional tightrope walking debut at age 13, and he chose high-wire walking as his career in 1998 after joining family members in a seven-person pyramid on the wire. In 2001, he was part of the world's first eight-person high-wire pyramid. He performed with his family at various venues from 2002 to 2005, forming his own troupe in 2005. He performed with Bello Nock in 2007 and 2008 in a double version of the Wheel of Steel that he helped invent. In 2009, he set new personal bests for highest and longest tightrope walks, completing a total of 15 walks above 100 feet (30 m) in the air that year.
In 2008, while performing with Ringling Bros., Wallenda set Guinness World Records for longest and highest bicycle ride on a high-wire 250-foot-long (76 m) at 135 feet (41 m) above the ground in New Jersey. He nearly doubled the height record in 2010 to 260 feet (79 m). On the same day in 2010, he upped his personal best by tightrope walking over 2,000 feet (610 m) in a single performance. He set a world record in 2011 by performing on the Wheel of Death atop the 23 story Tropicana Casino and Resort. Later that year, he and his mother tightrope walked between the two towers of Condado Plaza Hotel in Puerto Rico. The feat was a re-creation of the one that killed Karl Wallenda, Nik's great-grandfather and primary source of inspiration. On June 10, 2011, Wallenda hung from a helicopter 250 feet (76 m) off the ground using only his toes to hold on. Some time after that, he walked on top of a turning Ferris wheel at the Santa Cruz Beach Boardwalk, CA.
Wallenda crossed Niagara Falls on June 15, 2012 on a live ABC special, following a two-year legal battle involving both sides of the Canada–United States border to gain approval. He was required to wear a safety harness for the first time in his life. A reality show aired on the Science Channel which followed his feats. In 2013, he released a memoir entitled Balance. He became the first person to high-wire walk across the Grand Canyon on June 23, 2013. The feat aired live on Discovery breaking rating records for the network. He followed that up with Skyscraper Live, a live Discovery special that aired on November 2, 2014, in which he completed two tightrope walks and set two new Guinness World Records: one for walking the steepest tightrope incline over 600' up between two skyscrapers, and the other for the highest tightrope walk while blindfolded.
Wallenda is married with three children, and considers his Christian faith to be a central aspect of his life.
TODAY'S ALMANAC
Question of the Day
How do you get mildew and its musty smell out of carpeting?
Your best bet it to sprinkle the area with baking soda, let it sit for 15 minutes, and then vacuum it up. Or you could leave the baking soda on overnight. Removing the smell may take repeated applications, but eventually the baking soda should absorb all the odor. Test the carpet for colorfastness before treating a large area.
Advice of the Day
When mists rise in low ground and soon vanish, nothing is a surer sign of fair weather.
Home Hint of the Day
To kill small quantities of weeds or moss in walks or patio cracks, douse them with boiling water.
Word of the Day
Entomophobia
Fear of insects
Puzzle of the Day
City life (Change these words into a single word.)
Felicity
Born
Josephine de Beauharnais (Empress of France) – 1763
Jean Anouilh (playwright) – 1910
Bob Fosse (choreographer) – 1927
June Carter Cash (singer) – 1929
Wilma Rudolph (sprinter, Olympic gold medalist) – 1940
Clarence Thomas (U.S. Supreme Court justice) – 1948
Randy Jackson (music producer & judge on American Idol) – 1956
Frances McDormand (actress) – 1957
Selma Blair (actress) – 1972
KT Tunstall (musician) – 1975
Jason Mraz (musician) – 1977
Died
Jonas Salk (inventor of polio vaccine) – 1995
Maureen O'Sullivan (actress) – 1998
Aaron Spelling (television producer) – 2006
Rod Beck (baseball player) – 2007
Ed McMahon (television personality) – 2009
Dick Van Patten (actor) – 2015
Events
William Penn signed a treaty of peace and friendship with the Lenni Lenape Native Americans in what is now Pennsylvania– 1683
Texas voted for annexation by the United States after nearly ten years as an independent republic– 1845
First practical typewriter patented– 1868
Mercedes lodged as trade name– 1902
First U.S. national lip reading tournament, Philadelphia, PA– 1926
Wiley Post and Harold Gatty took off for a round-the-world flight in their plane, the Winnie Mae– 1931
A 50-pound 4-ounce red snapper was caught in the Gulf of Mexico near Louisiana– 1996
Lt. Gen. Ann E. Dunwoody nominated as the U.S.'s first female four-star general– 2008
A 5.0-magnitude earthquake struck about 40 miles north of Ottawa near the Quebec-Ontario border– 2010
Nik Wallenda became the first person to walk across the Grand Canyon on a wire– 2013
Weather
It was 129 degrees F in Volcano Springs, California. This was the highest temperature ever recorded in the United States during the month of June– 1902
Hail accumulated a foot deep in El Dorado, Kansas– 1951
Billings, Montana, had a temperature of 104 degrees F– 1988
Hailstones the size of baseballs pounded areas of southeastern Manitoba– 2005
COURTESY www.almanac.com