May 24, 2022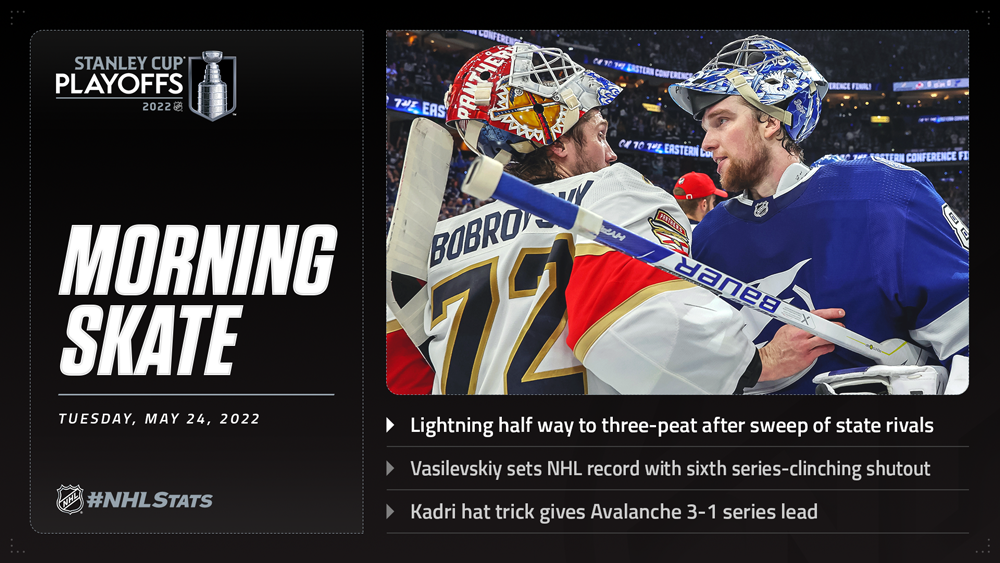 * The Lightning took another step towards a three-peat after sweeping the Presidents' Trophy-winning Panthers and earning their 10th consecutive playoff series victory.

* Andrei Vasilevskiy lived up to his reputation in series-clinching games, posting 49 saves to earn his sixth career shutout in that scenario – the most by any goaltender in NHL history.

* Nazem Kadri netted the NHL's seventh hat trick of the 2022 Stanley Cup Playoffs, the most in a single postseason since 1996 (also 7).

LIGHTNING SWEEP PANTHERS, ADVANCE TO CONFERENCE FINALS… AGAIN
Andrei Vasilevskiy (49 saves) posted his sixth career series-clinching shutout and Pat Maroon netted his third career series-clinching goal as the Lightning swept the Presidents' Trophy winning Panthers to advance to the Conference Finals.
* The Lightning became the first team to reach the final four of the Stanley Cup Playoffs at least six times over eight seasons since the Avalanche from 1996 to 2002 (6: 1996, 1997, 1999, 2000, 2001 & 2002).

* Tampa Bay, with 10 consecutive series victories dating to the 2019 First Round, became the third franchise in NHL history (fourth instance) to win 10 or more straight playoff series – the Islanders set an NHL record by winning 19 consecutive series from 1980 to 1984, dethroning the Canadiens who had two double-digit series win streaks (13: 1976-80; 10: 1956-60).

* The Lightning improved to 24-14 in 38 series-clinching games (.632), the fifth-best win percentage in such contests in NHL history (min. 10 GP) behind the Oilers (.667), Canadiens (.651), Predators (.636) and Blackhawks (.633).




* Vasilevskiy, who kept the NHL's highest-scoring team in the 2021-22 regular season to one goal or fewer in each game of the Second Round, became the first goaltender in NHL history to record six series-clinching shutouts, surpassing Clint Benedict (5) and Chris Osgood (5).

* Vasilevskiy has allowed one goal or fewer in 10 of his 23 career appearances in potential series-clinching games (with 21 of those being starts) and improved to 12-9 in those contests. The only active goaltender with more wins in that scenario is Marc-Andre Fleury (16-21 in 37 GP).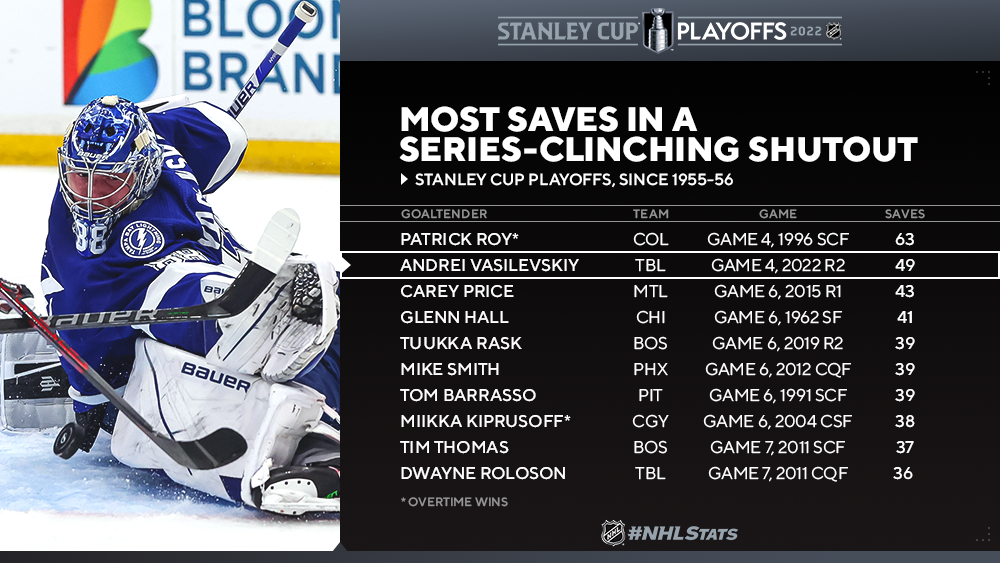 * Maroon, who's continuing his quest to become the fourth player in NHL history to win the Stanley Cup in four straight seasons while claiming titles with multiple clubs, is no stranger to scoring a big goal to help his team advance to the Conference Finals. The St. Louis native scored in double overtime in Game 7 of the 2019 Second Round to put the Blues into the final four during their Cup run.

* Maroon's two other career series-clinching goals have come with Tampa Bay and trails only Brayden Point (3) for the most in franchise history. The pair have combined for exactly half of the Lightning's 10 series-winning tallies since the beginning of their 2020 Stanley Cup run.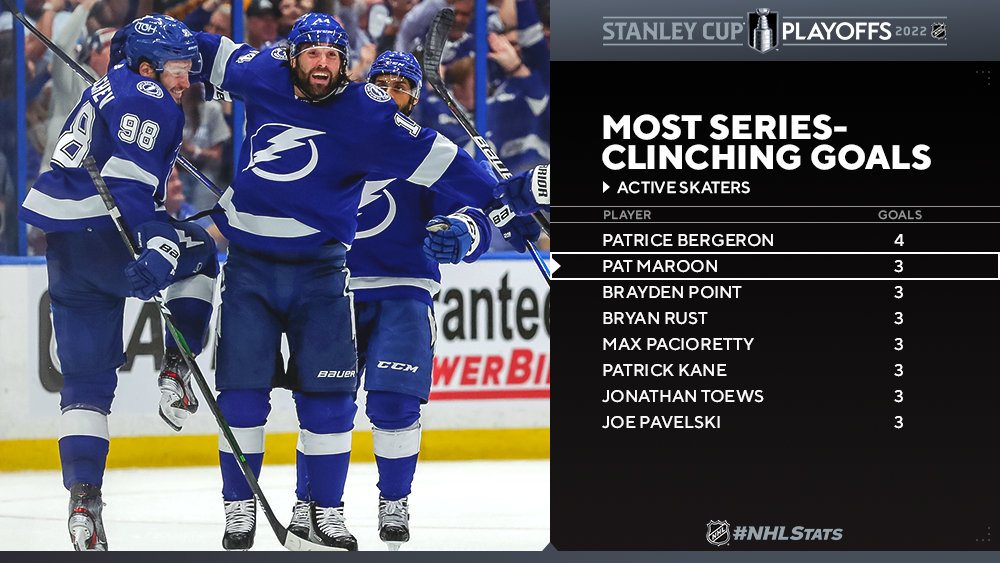 KADRI NETS NHL'S SECOND HAT TRICK IN AS MANY DAYS, SEVENTH OF POSTSEASON
Twenty-four hours after Evander Kane had a three-goal performance in a Game 3 win for the Oilers, Nazem Kadri (3-1—4) netted his first career playoff hat trick to propel the Avalanche to a commanding 3-1 series lead against the Blues.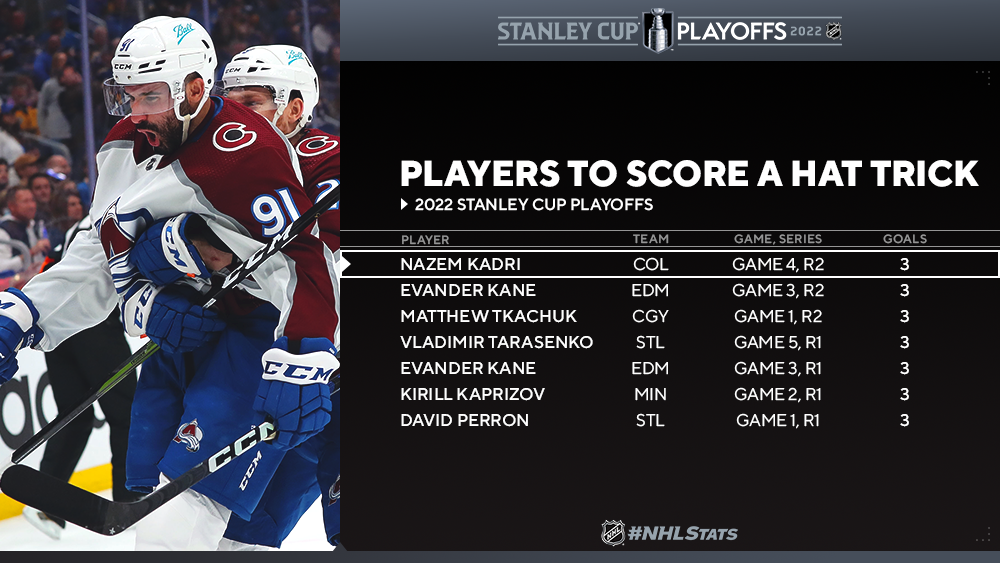 * The 2022 Stanley Cup Playoffs, with the most hat tricks in a single postseason since 1996 (also 7), featured three-goal performances in consecutive days for just the third time since 2011, following May 28, 2021 (Mattias Janmark) and May 29, 2021 (David Pastrnak) as well as April 28, 2014 (Evgeni Malkin) and April 29, 2014 (Wayne Simmonds).

* Kadri, who fell one point shy of the Avalanche/Nordiques record for most in a playoff game, became the eighth different player in franchise history to score a postseason hat trick and the first-ever on the road by a Colorado skater. The only other three-goal performance by an Avalanche player in the past 24 years also came against the Blues after Nathan MacKinnon did so in Game 2 of 2021 First Round (3-1—4).

QUICK CLICKS

* #NHLStats: Live Updates for Monday, May 23
* Series Scenarios for Tuesday, May 24
* Game 5 start times for Second Round announced by NHL
* Lightning's Brandon Hagel fined for boarding in Game 3 against Panthers
* Strong viewership of 2022 Second Round continues on ESPN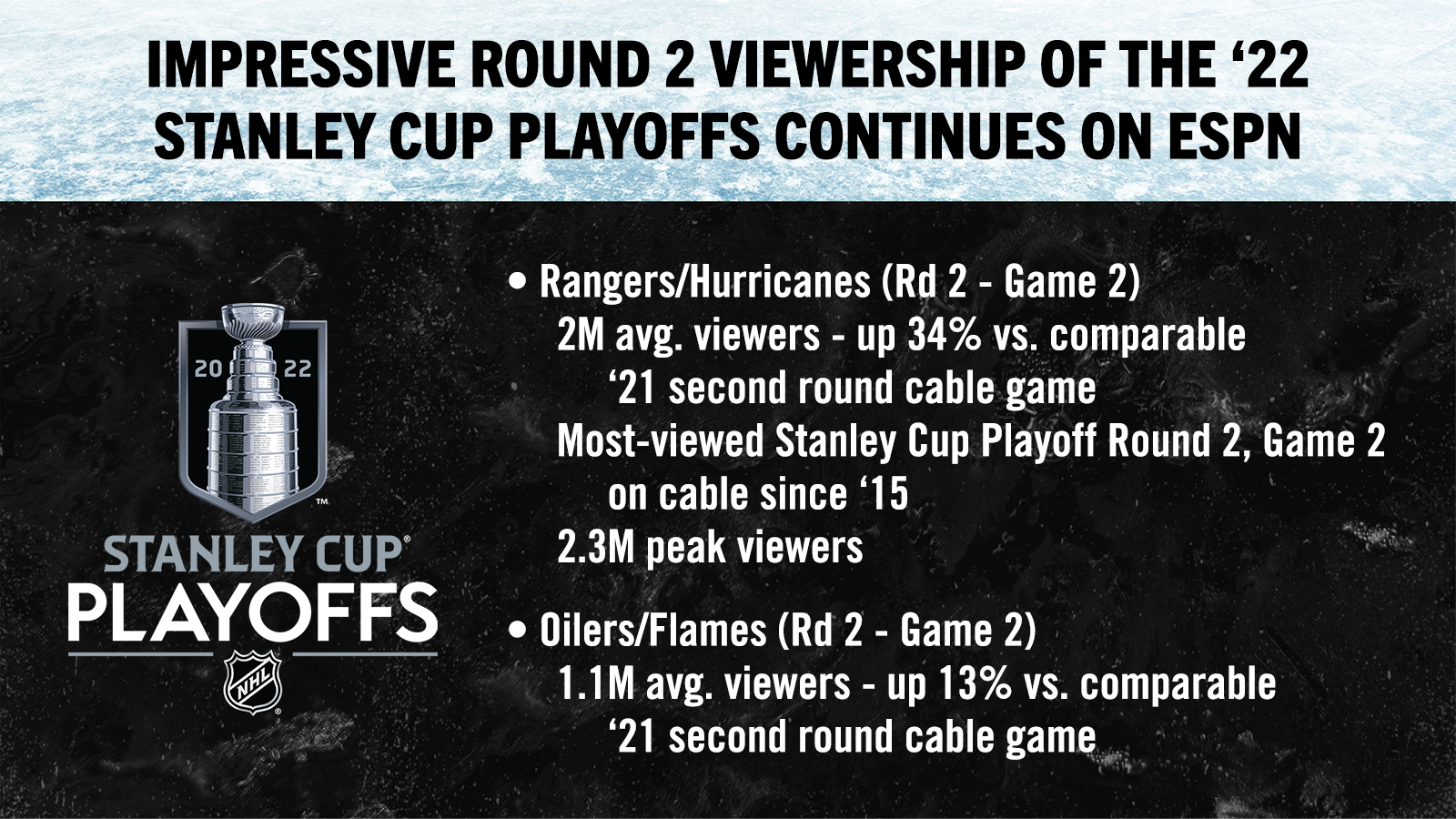 RANGERS, FLAMES HAVE SIGHTS SET ON TYING SECOND ROUND SERIES
The Rangers and Flames look to draw even in their Second Round series Tuesday, with New York looking to build on a tightly-contested victory at Madison Square Garden in Game 3 and Calgary looking to rebound from a road loss in the "Battle of Alberta".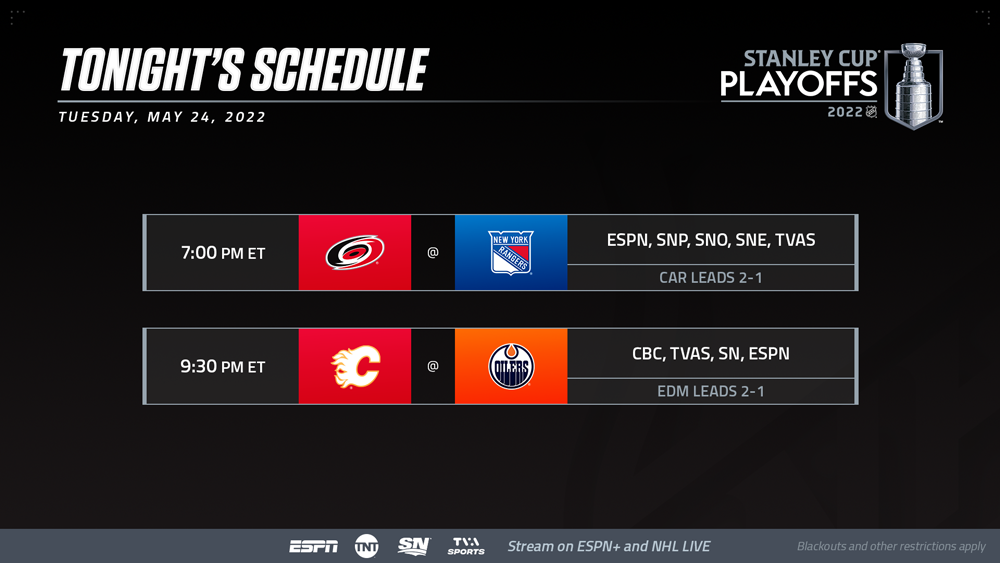 * A New York victory in Game 4 would also coincide with the disparity between Carolina's success at home and on the road during the 2022 Stanley Cup Playoffs. The Hurricanes are the third team in NHL history to be involved in at least 10 straight games where the home team won every contest to begin the postseason. The 1962 Maple Leafs (11 GP) and 1976 Maple Leafs (10 GP) both found themselves in that scenario.

* Meanwhile, Brendan Smith – who appeared in 235 regular-season contests and 15 postseason games for the Rangers – has found the score sheet in each of his past three games with the Hurricanes during the Second Round. Only one defenseman in Hurricanes/Whalers history has recorded a longer point streak than Smith's current stretch: Frantisek Kaberle (4 GP in 2006).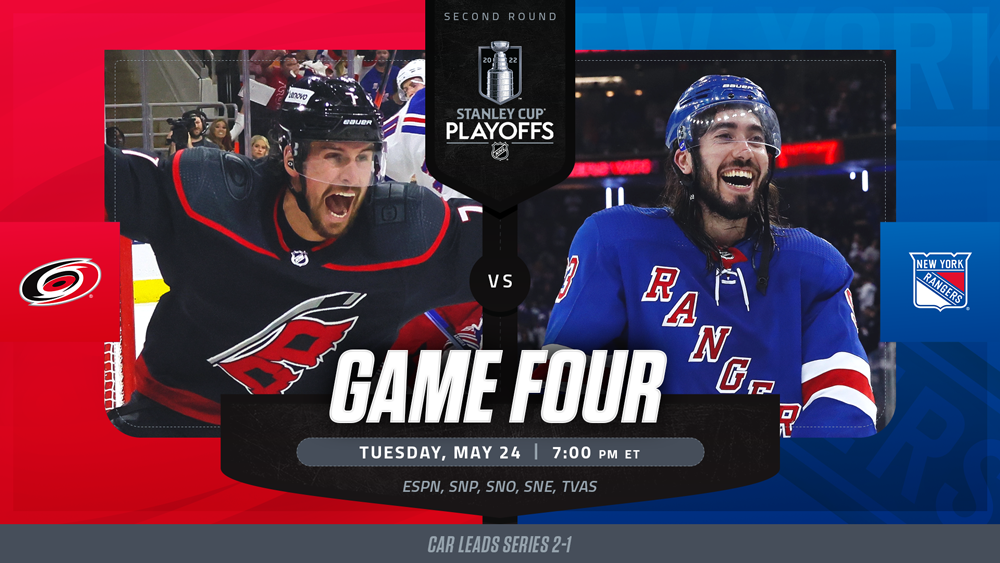 * While Evander Kane netted his second hat trick of the 2022 Stanley Cup Playoffs in Game 3, Leon Draisaitl had a record-breaking performance of his own with four assists. Draisaitl (7-12—19 in 10 GP) now sits one point shy of joining teammate Connor McDavid (6-17—23 in 10 GP) with 20 points. The Oilers can become just the seventh team in NHL history to have multiple 20-point scorers through their first 11 games of a postseason; the 2018 Penguins (Jake Guentzel: 21 & Sidney Crosby: 20) are the only team in 33 years to achieve the feat.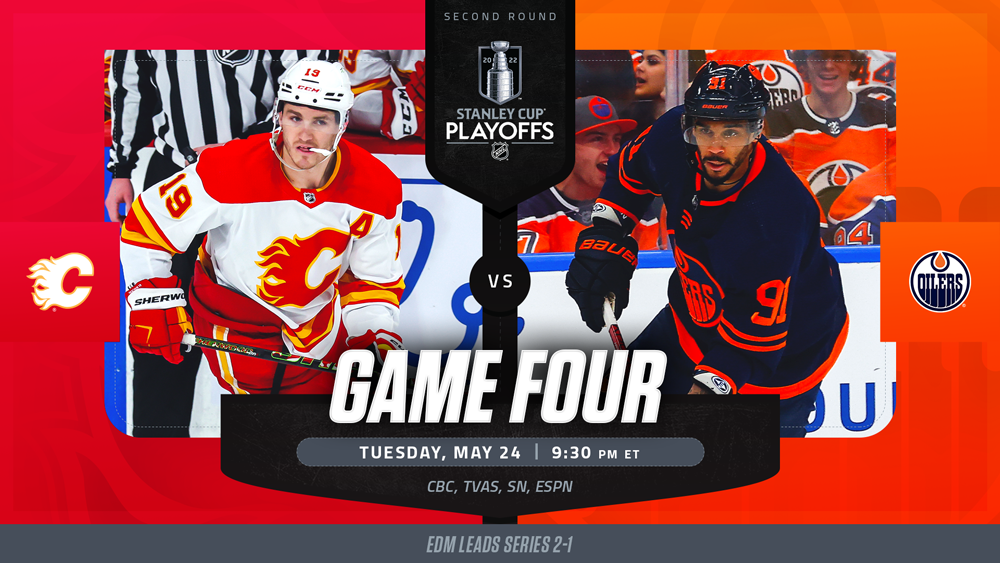 COURTESY NHLmedia.com