May 23, 2022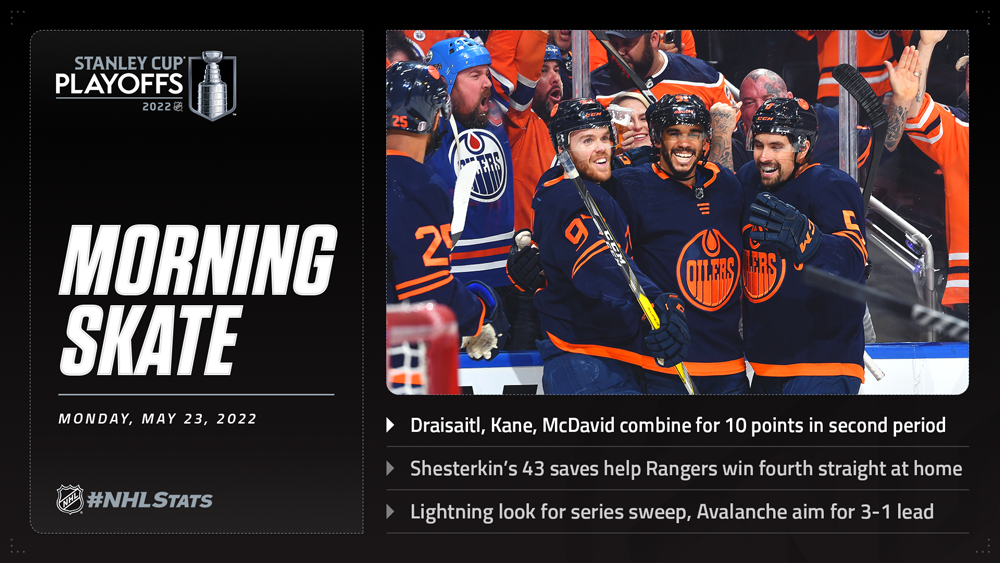 * The trio of Leon Draisaitl, Evander Kane and Connor McDavid propelled a second-period outburst by the Oilers and have now combined for 55 points through Edmonton's first 10 games of the 2022 Stanley Cup Playoffs.

* Nikita Kucherov posted his fourth career four-point playoff game to guide the Lightning to a 3-0 series lead against the Panthers, with the opportunity to advance to the Conference Finals on Monday.

* Igor Shesterkin improved to 11-1 in his career when making 40-plus saves in a game (regular season and playoffs combined), with his only loss coming in New York's triple overtime loss to Pittsburgh in the First Round.




SECOND-PERIOD FRENZY PROPELS OILERS TO SERIES LEAD
Shortly after Canadian soccer star and Edmonton native Alphonso Davies told Scott Oake of Hockey Night in Canada that the Oilers would win Game 3 entering a scoreless second period, the trio of Leon Draisaitl (0-4—4), Evander Kane (3-0—3) and Connor McDavid (0-3—3) combined for 10 points in the middle frame as Edmonton took a 2-1 series lead in the "Battle of Alberta".

* After also netting a hat trick in Game 3 of the First Round, Kane scored three consecutive times in a span of six minutes and became the fourth Oilers player to score multiple hat tricks in a single postseason, joining Jari Kurri (4 in 1985), Mark Messier (3 in 1983) and Wayne Gretzky (2 in 1985, 1983 & 1981). The last player on any team to do so was Jaden Schwartz (2) with the Blues in 2019.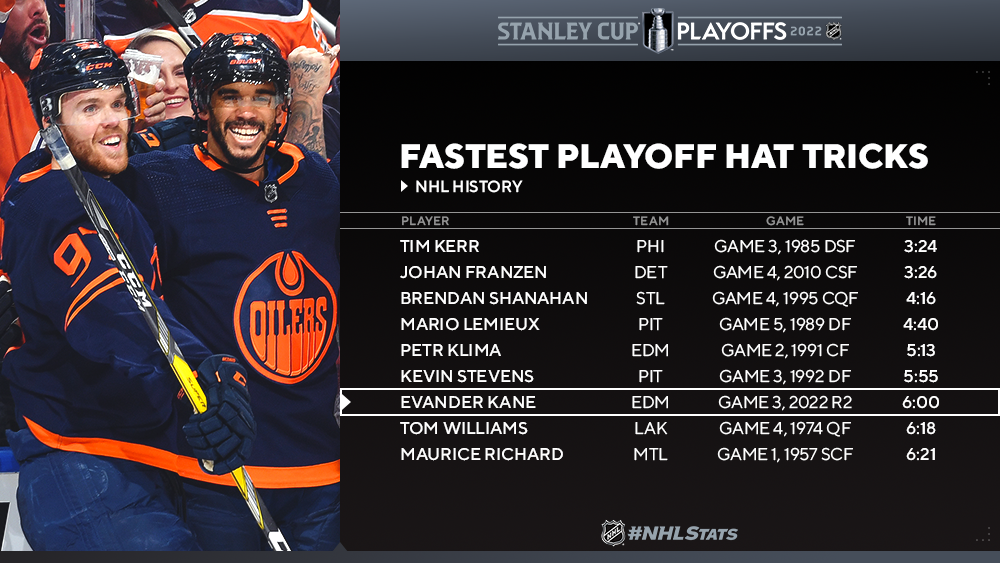 * In the process, Kane boosted his totals to 10-3—13 in the 2022 Stanley Cup Playoffs and overtook Pittsburgh's Jake Guentzel (8 G in 7 GP) for the most goals. Only four other players in the NHL's modern era (since 1943-44) have scored 10 or more goals through their first 10 playoff games with a franchise: Maurice Richard (12 in 1944-45 w/ MTL), Mario Lemieux (11 in 1989 w/ PIT), Ray Ferraro (11 in 1993 w/ NYI)and Dino Ciccarelli (10 in 1989-90 w/ WSH).

* McDavid (6-17—23 in 10 GP) continued to produce at a historic level by extending his streak of multi-point playoff games to six contests, a feat only Wayne Gretzky (8 GP in 1983 w/ EDM), Tony Currie (7 GP in 1981 w/ STL), Darryl Sittler (7 GP in 1977 w/ TOR), Evgeni Malkin (6 GP in 2009 w/ PIT) and Dale Hawerchuk (6 GP in 1993 w/ BUF) have accomplished.

* The Oilers captain has found the score sheet in all but one game during the 2022 Stanley Cup Playoffs, with Game 4 of the First Round standing as the lone blemish on his string of recent success. With multiple points in each of the other nine, McDavid became the first player in NHL history with nine multi-point performances through 10 games of a postseason.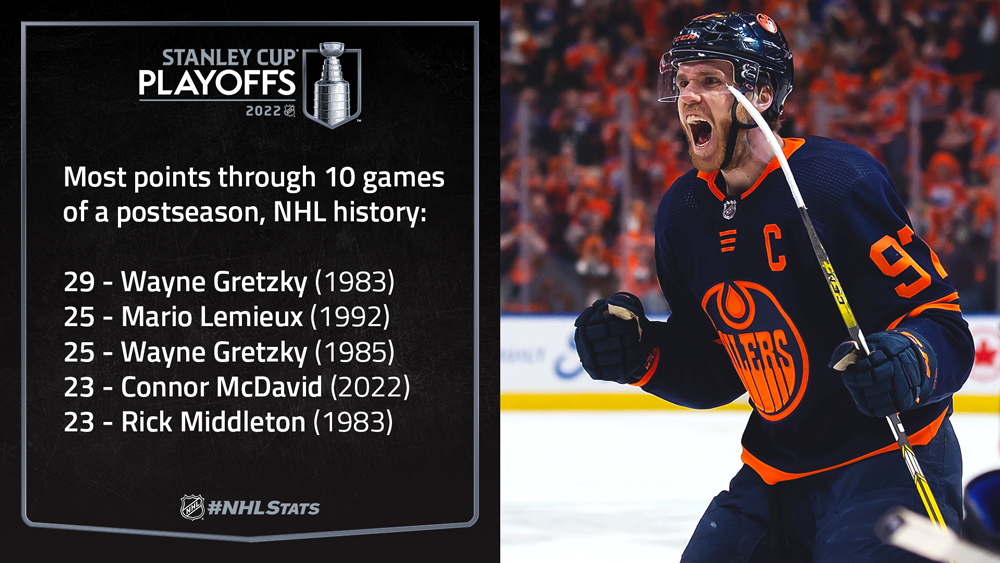 * Draisaitl assisted on all four Edmonton goals in the middle frame and became the first player in NHL history to record four assists in a playoff period. Draisaitl also became just the fourth different player in Oilers history to register four assists in a postseason game, let alone a period, joining Gretzky (8x), Paul Coffey (2x) and Glenn Anderson (0-5—5 in Game 5 of 1987 CF).

DID YOU KNOW?
The trio of Connor McDavid (6-17—23), Leon Draisaitl (7-12—19) and Evander Kane (10-3—13) have combined for 55 points through Edmonton's first 10 games of the 2022 Stanley Cup Playoffs. The last time three teammates on any team combined for 55 or more points through 10 playoff games was with the 1988 Oilers, when eight different combinations did so, led by Wayne Gretzky (5-17—22), Jari Kurri (9-9—18) and Mark Messier (7-15—22), who combined for 62 points.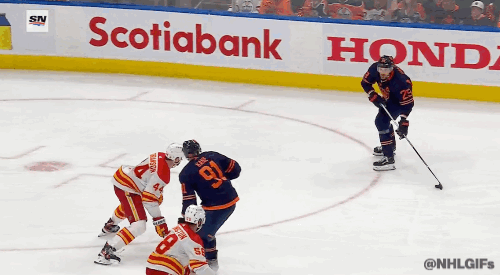 KUCHEROV HELPS LIGHTNING PUSH PANTHERS TO BRINK OF ELIMINATION
Nikita Kucherov (1-3—4) factored on four of his team's five goals, including both of Steven Stamkos' tallies, as the Lightning extended their win streak to five games and took a 3-0 series lead. Tampa Bay can punch its ticket to the Conference Finals for the sixth time in eight seasons with a victory in front of its home fans at Amalie Arena on Monday.

* Kucherov recorded his fourth career four-point playoff game – the most among all active skaters – to boost his career Stanley Cup Playoff totals to 48-94—142 (123 GP). His 48 career postseason goals tied Logan Couture for the ninth most among active skaters – Alex Ovechkin (72) paces the list.

* Kucherov (4-11—15 in 10 GP) also reached the 10-assist benchmark for the third consecutive postseason – the first Lightning player to ever do so. Only two other active players have recorded at least 10 helpers in three or more consecutive playoff years: Sidney Crosby (3 from 2016-18 and 3 from 2008-10) and Patrick Kane (3 from 2013-15).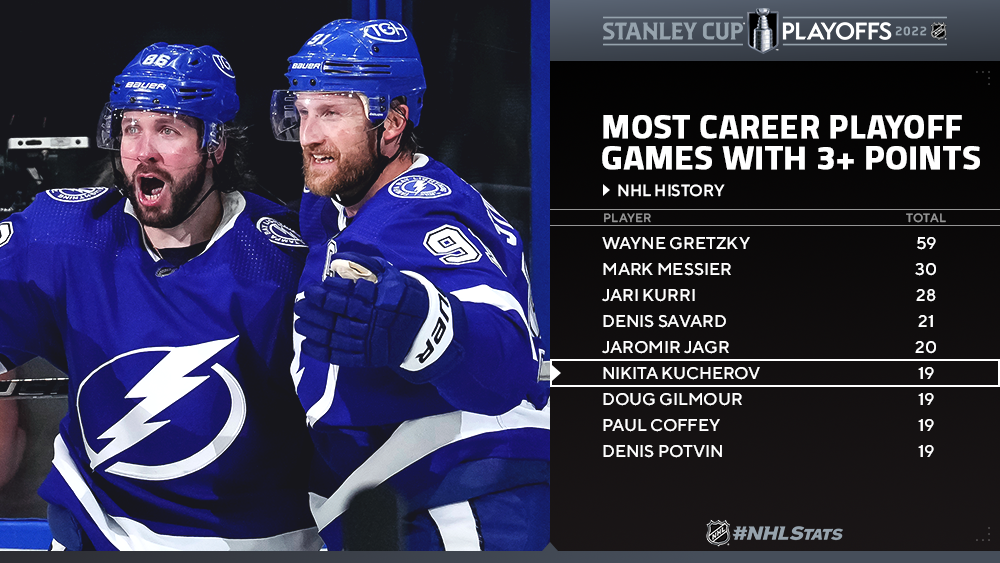 * Tampa Bay owns an all-time series record of 4-0 (1.000) when leading a series 3-0, including a 2-0 (1.000) mark when starting on the road. Should they earn a win tonight, it would be just the second time a defending Stanley Cup champion has swept the Presidents' Trophy winner in the playoffs (since the trophy was introduced in 1986) – Edmonton achieved the feat against Calgary in the 1988 Division Finals en route to another championship.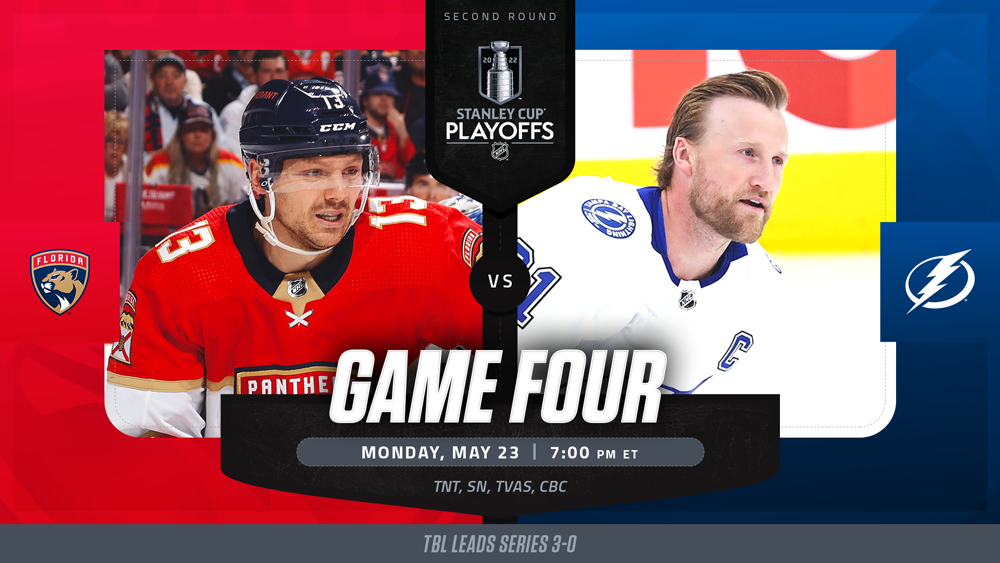 SHESTERKIN STIFLES HURRICANES, BACKSTOPS RANGERS TO GAME 3 WIN
Igor Shesterkin turned aside 43 of 44 shots, including all 17 he faced in the first period, to help the Rangers earn their first win of their Second Round series with the Hurricanes and extend their home win streak this postseason to four contests.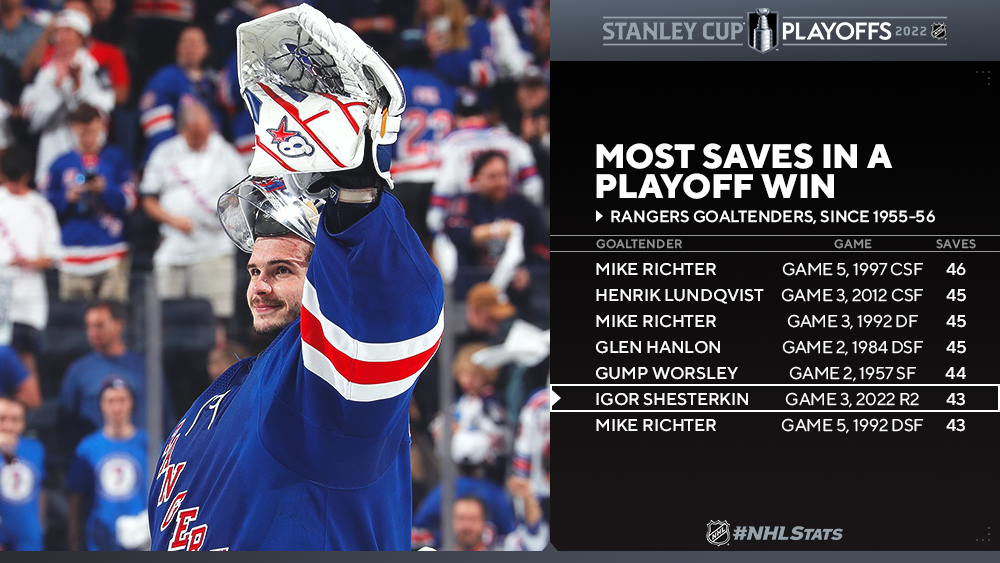 * Shesterkin, already with a 79-save performance in the opening game of the 2022 Stanley Cup Playoffs, earned his first career 40-save win in the postseason and has turned aside 339 shots for New York during its current playoff run – the most by a Rangers goaltender through his first 10 games of a postseason (since 1955-56 when shots on goal were first tracked), besting Mike Richter's mark in 1997 (329).

* Chris Kreider,who eclipsed Mark Messier's franchise record for career game-winning goals earlier this postseason, netted his third game-winning goal of the 2022 Stanley Cup Playoffs. Only three players in Rangers history have had more in a single postseason: Frank Boucher (4 in 1928), Brian Leetch (4 in 1994) and Messier (4 in 1994).

QUICK CLICKS

* #NHLStats: Live Updates for Sunday, May 22
* Series Scenarios for Monday, May 23
* Mark Giordano signs two-year, $1.6 million contract with Maple Leafs
* Ville Husso reclaims starting role, tries to rally Blues against Avalanche
* Cale Makar finding his way in Second Round with Avalanche

AVALANCHE LOOK FOR 3-1 SERIES LEAD WITH ANOTHER ROAD WIN
The Avalanche will look to push the Blues to the edge of elimination at Enterprise Center on a two-game Monday. Teams that take a 3-1 lead in a best-of-seven hold a series record of 296-31 (.905), which includes an 0-1 mark in the 2022 First Round.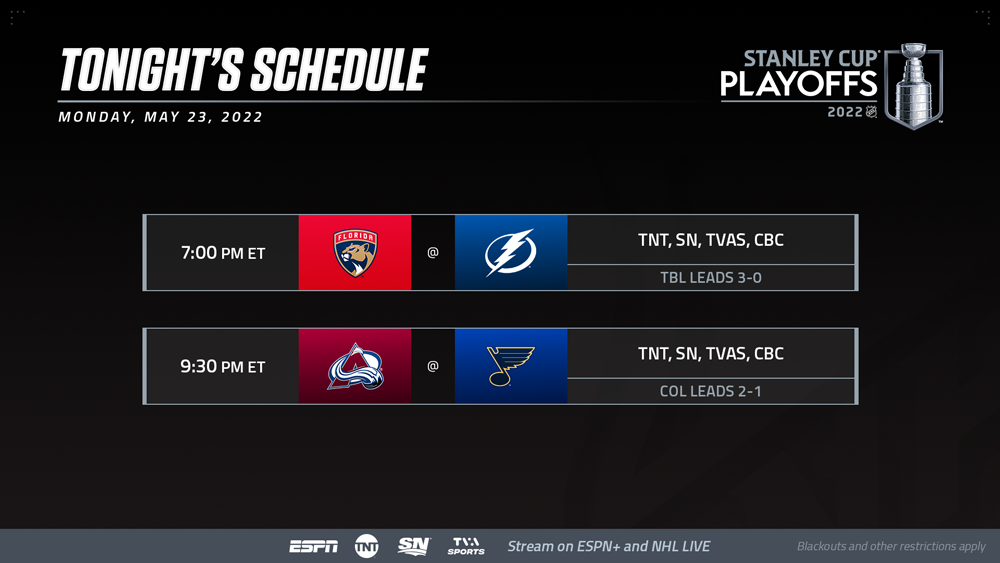 * The Avalanche have won all three games they have contested as visitors this postseason. With a victory, Colorado would match its second longest playoff-opening road win streak in franchise history (4 GP in 2001), which trails only a seven-game run in 1999.

* The Blues, meanwhile, look to even the series at two games apiece. St. Louis owns an all-time series record of 8-19 (.296) when trailing 2-1 in a best-of-seven, most recently overcoming that deficit to defeat the Wild in the First Round this year. Prior to 2022, they also erased a 2-1 series deficit during the 2019 Conference Finals (vs. SJS) and 2019 Stanley Cup Final (vs. BOS) en route to the franchise's first championship.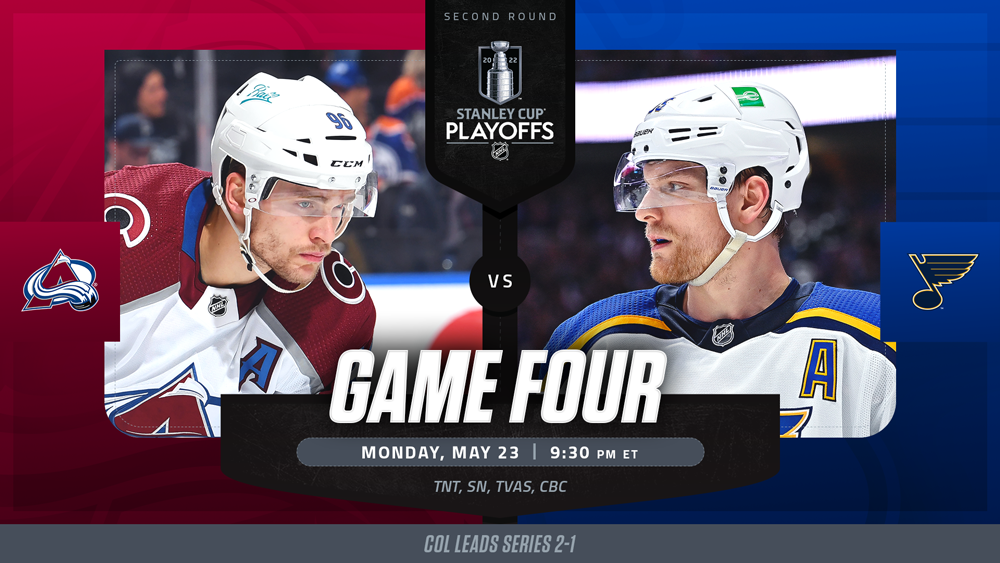 COURTESY NHLmedia.com