May 22, 2022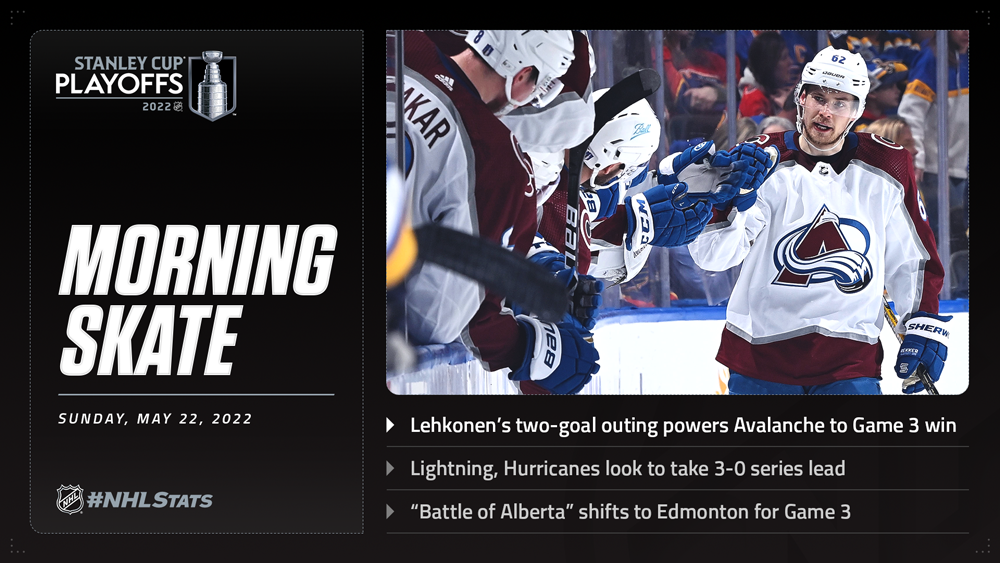 * The Avalanche took a 2-1 series lead thanks in part to Artturi Lehkonen, who scored his first game-winning goal in the postseason since last year when he powered the Canadiens into the Stanley Cup Final.
* Gabriel Landeskog, Nathan MacKinnon and Mikko Rantanen all factored on the same goal once again in the Stanley Cup Playoffs to join a pantheon of all-time great NHL trios.
* Sunday is set to feature three more Second Round Game 3s, with the slate opening at 1:30 p.m. ET when the Lightning host the Panthers at AMALIE Arena.

LEHKONEN LIFTS AVALANCHE TO 2-1 LEAD IN SECOND ROUND SERIES
Artturi Lehkonen scored the winner at 17:15 of the second period and added another marker to record his first career multi-goal game in the Stanley Cup Playoffs and help Colorado claim a 2-1 lead in its Second Round series.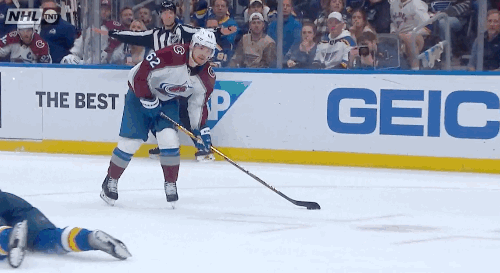 * Lehkonen scored his fourth career winning goal in the postseason and first since Game 6 of the 2021 Stanley Cup Semifinals, when he tallied in overtime to clinch the Canadiens' first Final berth since 1993. Lehkonen, who was acquired by the Avalanche ahead of the 2022 NHL Trade Deadline, is one of four current Colorado players to appear in the Stanley Cup Final (also Andre Burakovsky, Andrew Cogliano & Darren Helm).

* Gabriel Landeskog put the Avalanche up 4-2 late in the third period with Nathan MacKinnon and Mikko Rantanen (0-2—2) drawing assists. Landeskog, MacKinnon and Rantanen all factored on the same goal for the 14th time in the Stanley Cup Playoffs, tied for the most by a trio of teammates in Avalanche/Nordiques franchise history (w/ Peter Forsberg, Valeri Kamensky & Claude Lemieux).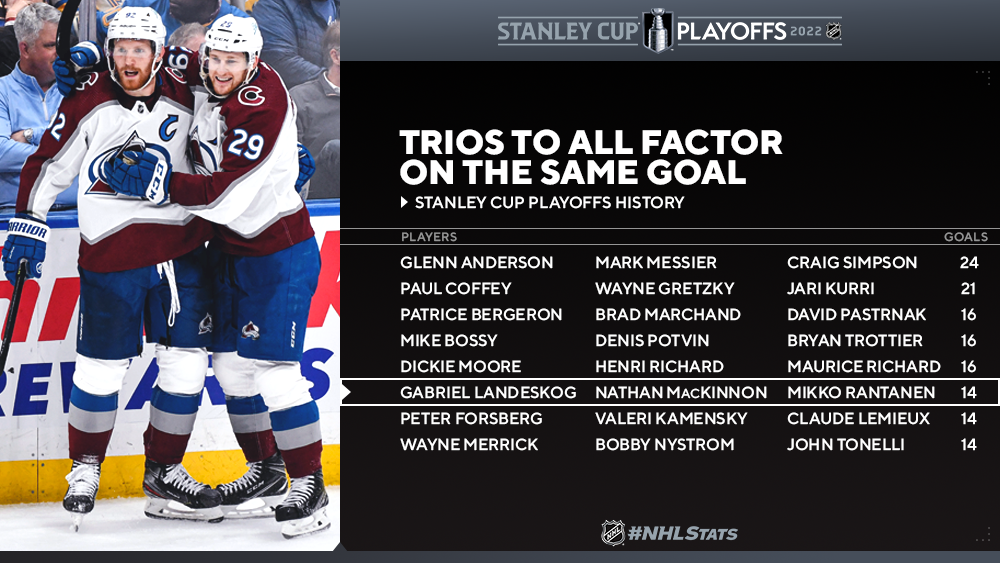 * Cale Makar (10-32—42 in 42 GP) had an assist to record the 42nd playoff point of his NHL career, tying Adam Foote (7-35—42 in 170 GP) for third place on the franchise's all-time list among defensemen. Makar (3-8—11 in 7 GP) reclaimed sole possession of the League scoring lead among blueliners in the 2022 Stanley Cup Playoffs.

* Colorado improved to 6-1 in the 2022 Stanley Cup Playoffs, including a perfect 3-0 mark as visitors. The Avalanche recorded a three-game postseason-opening road winning streak for the first time since 2006 – the only longer such runs by the franchise were in 1999 (7-0) and 2001 (4-0).

QUICK CLICKS

* #NHLStats: Live Updates for Saturday, May 21
* Series Scenarios for Sunday, May 22
* Andrei Vasilevskiy in fine form after tough start to playoffs for Lightning
* Jaccob Slavin emulating Nicklas Lidstrom for Hurricanes entering Game 3 against Rangers
* Duncan Keith's playoff experience boosts Oilers entering Game 3 against Flames

THREE MORE SECOND ROUND GAME 3s GO SUNDAY
Sunday's slate features the Lightning and Hurricanes looking to go up 3-0 against the Panthers and Rangers, respectively, as well as the high-scoring "Battle of Alberta" shifting to Rogers Place with a 2-1 series lead on the line.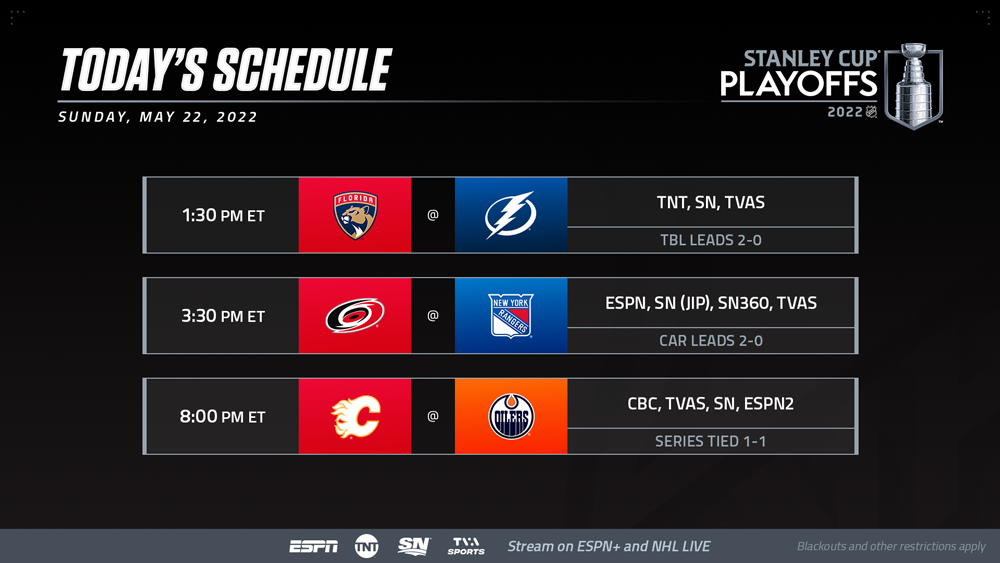 * Tampa Bay goaltender Andrei Vasilevskiy is 4-0 in his last four appearances (1.39 GAA, .955 SV%) after starting the 2022 Stanley Cup Playoffs with a 2-3 record (3.65 GAA, .880 SV%). The longest postseason winning streak of his NHL career is six games, a mark set in 2020 en route to helping the Lightning capture their first of two straight championships.

* Tampa Bay forwards Ross Colton and Corey Perry have found the back of the net in both games to start the Second Round, with Colton scoring the winner during the dying seconds of regulation in Game 2. Colton has collected a team-leading five goals in the 2022 Stanley Cup Playoffs, while Perry ranks second among Lightning skaters with four.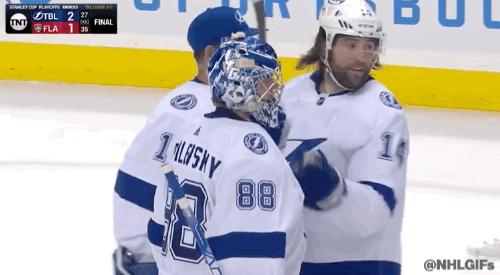 * Carolina goaltender Antti Raanta has backstopped the Hurricanes to victory in three consecutive games, allowing two goals or fewer in each contest (0.98 GAA, .962 SV%, 1 SO). Raanta went 9-10-2 in 25 regular-season appearances at Madison Square Garden when he played for the Rangers from 2015-16 to 2016-17 (2.42 GAA, .909 SV%, 2 SO).

* Defensemen have accounted for the game-winning goal in each of Carolina's last two contests, with another former Rangers player Brendan Smith scoring the decisive marker while shorthanded in Game 2.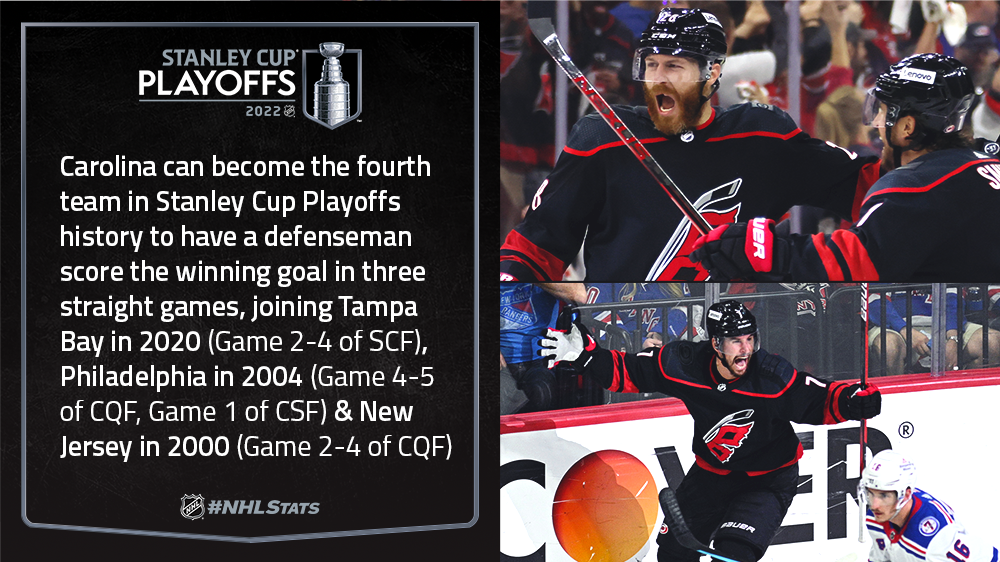 * Flames forward Johnny Gaudreau (2-10—12 in 7 GP) has found the score sheet in each of Calgary's last seven contests and can become the fifth player in franchise history with an eight-game point streak in a playoff year. Gaudreau has at least one helper in all seven contests and owns the second-longest postseason assist streak by a Flames skater, behind Al MacInnis who manufactured a 10-game run en route to winning the Stanley Cup with Calgary in 1989.

* Oilers captain Connor McDavid (6-14—20 in 9 GP) leads the 2022 Stanley Cup Playoffs in scoring, which includes multiple points in each of his last five games. He can become the sixth player in NHL history with multiple points in six consecutive contests during a single postseason, following Wayne Gretzky (8 GP in 1983), Tony Currie (7 GP in 1981), Darryl Sittler (7 GP in 1977), Evgeni Malkin (6 GP in 2009) and Dale Hawerchuk (6 GP in 1993).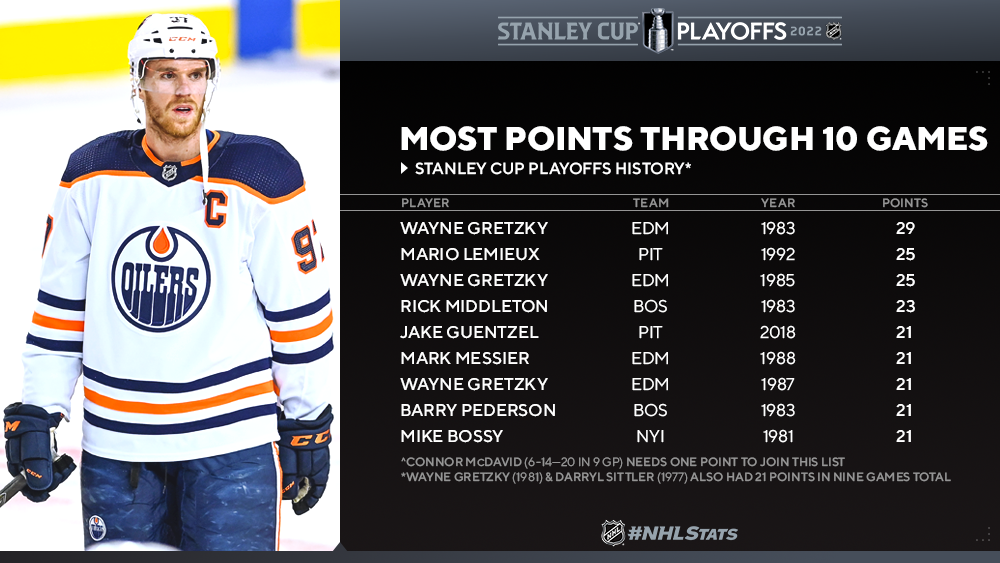 COURTESY NHLmedia.com