May 19, 2022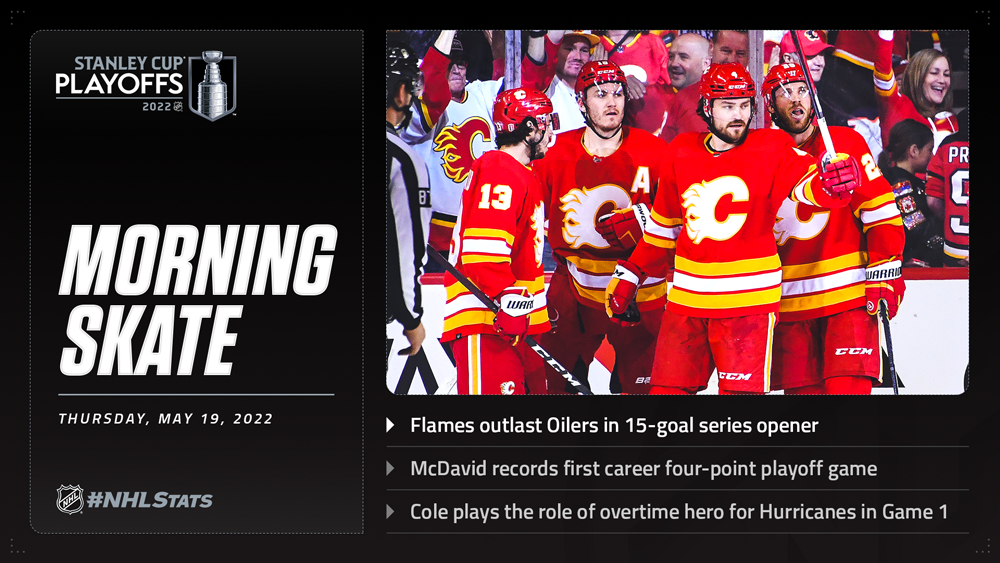 * The "Battle of Alberta" lived up to the hype, with the teams combining for 15 goals including the fastest two from the start of a playoff game in NHL history, a tying tally from the Oilers who climbed back from a four-goal deficit and a hat trick.

* Connor McDavid continued his scorching start to the 2022 Stanley Cup Playoffs, recording his seventh multi-point outing in Edmonton's first eight games.

* A tying goal by the Hurricanes in the final three minutes of regulation paved the way for Ian Cole to record his second career playoff tally. Cole became just the third defenseman in franchise history to score an overtime winner in the postseason and the third blueliner to do so in the 2022 Stanley Cup Playoffs.
* All eyes shift to Sunrise and Denver for a pair of Game 2s where the two-time defending champion and the No. 1 seed in the Western Conference each look to pull ahead 2-0 in their respective series.

FLAMES WIN ROLLERCOASTER GAME 1 OF THE "BATTLE OF ALBERTA"
The first playoff "Battle of Alberta" in 31 years was a high-scoring, back-and-forth contest reminiscent of the '80s heyday of the two clubs when they met in the playoffs on a regular basis. The Flames scored three goals in the opening 6:05 of the game, including two in the first 51 seconds, but Connor McDavid helped the Oilers rally from a four-goal deficit to tie the game early in the third period before the Flames sealed a Game 1 win with a Matthew Tkachuk hat trick.

* After scoring just 15 goals through seven games in the First Round versus Dallas, Calgary opened its series against intraprovince-rival Edmonton with nine goals and matched its franchise record for most in a playoff contest (also 9 in Game 3 of 1995 CQF, Game 2 of 1993 DSF & Game 1 of 1988 DSF). The two teams combined for 15 goals, marking the highest-scoring "Battle of Alberta" game in postseason history.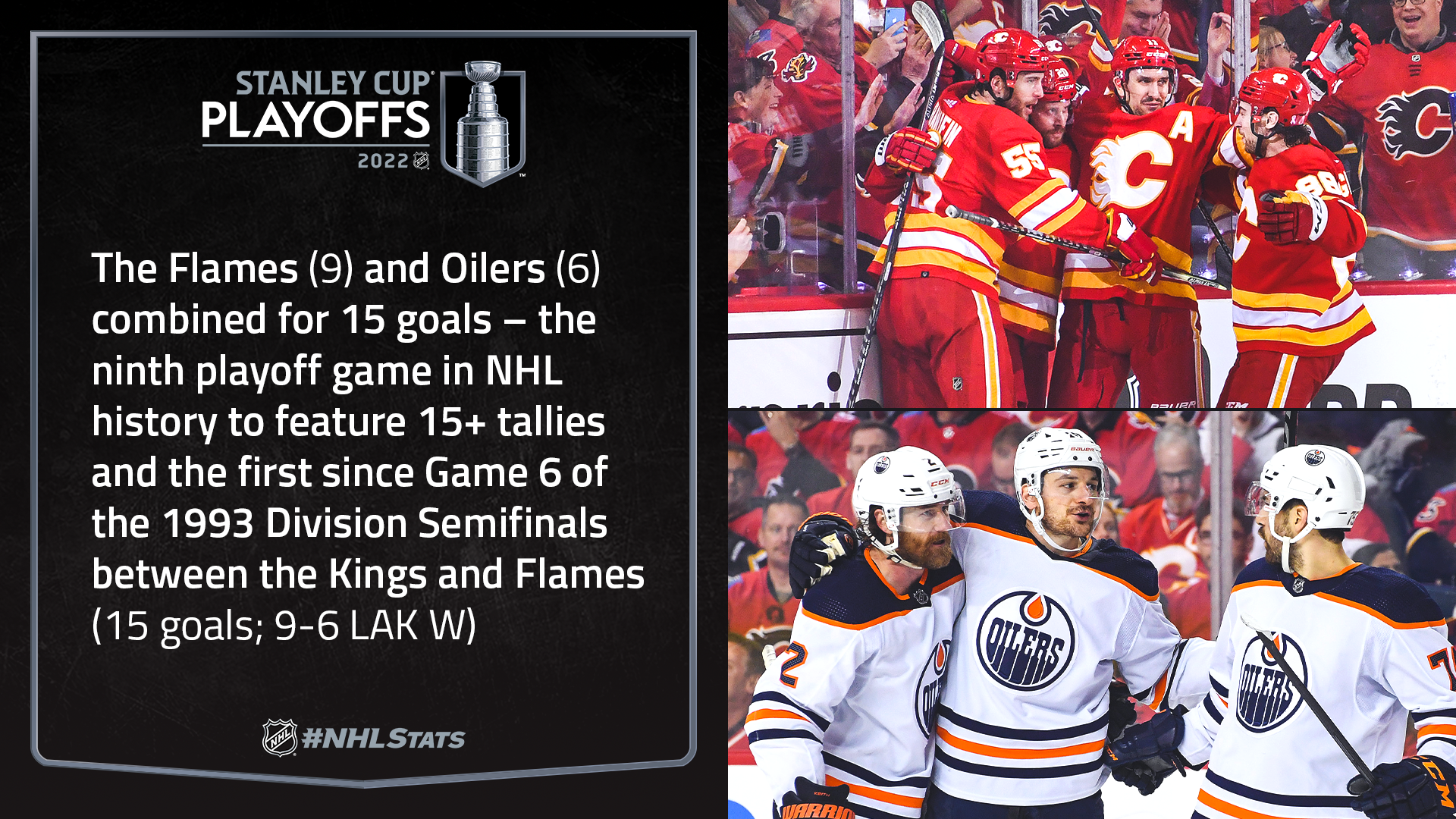 * Elias Lindholm and Andrew Mangiapane each scored in the opening 51 seconds of the first period, marking the fastest two tallies from the start of a playoff game in NHL history (single team or combined) – the previous best was 52 seconds, set in Game 2 of the 1993 Division Finals (Mark Hardy w/ LAK & Greg Adams w/ VAN).

* With his family in the stands, Tkachuk became the sixth different player in franchise history to score a playoff hat trick and first since Theo Fleury in Game 4 of the 1995 Conference Quarterfinals (4-1—5). Only one other Flames player has scored a playoff hat trick against the Oilers: Paul Reinhart (3-0—3 in Game 1 of 1983 DF).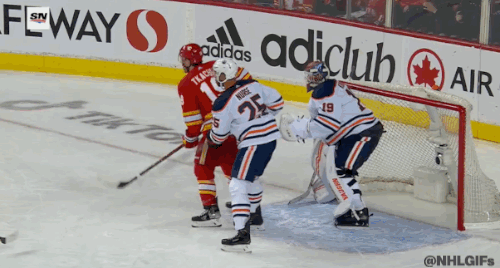 McDAVID ADDS TO NHL-SCORING LEAD WITH FOUR-POINT OUTING
Connor McDavid tallied a game-high 1-3—4 for his first career four-point outing in a playoff contest and improved his 2022 Stanley Cup Playoff totals to an NHL-leading 5-13—18 (8 GP).

* McDavid became the sixth Oilers player in the past 30 years to record 18 or more points in a single postseason, joining Joe Murphy in 1992 (8-16—24 in 16 GP), Chris Pronger in 2006 (5-16—21 in 24 GP), Shawn Horcoff in 2006 (7-12—19 in 24 GP), Bernie Nicholls in 1992 (8-11—19 in 16 GP) and Fernando Pisani in 2006 (14-4—18 in 24 GP).

* The Oilers captain has now recorded multiple points in seven of his first eight games of the 2022 Stanley Cup Playoffs. Only four other players in NHL history have notched as many multi-point outings through their first eight contests of a postseason: Glenn Anderson (1987 w/ EDM), Denis Savard (1985 w/ CHI), Tony Currie (1981 w/ STL) and Darryl Sittler (1977 w/ TOR).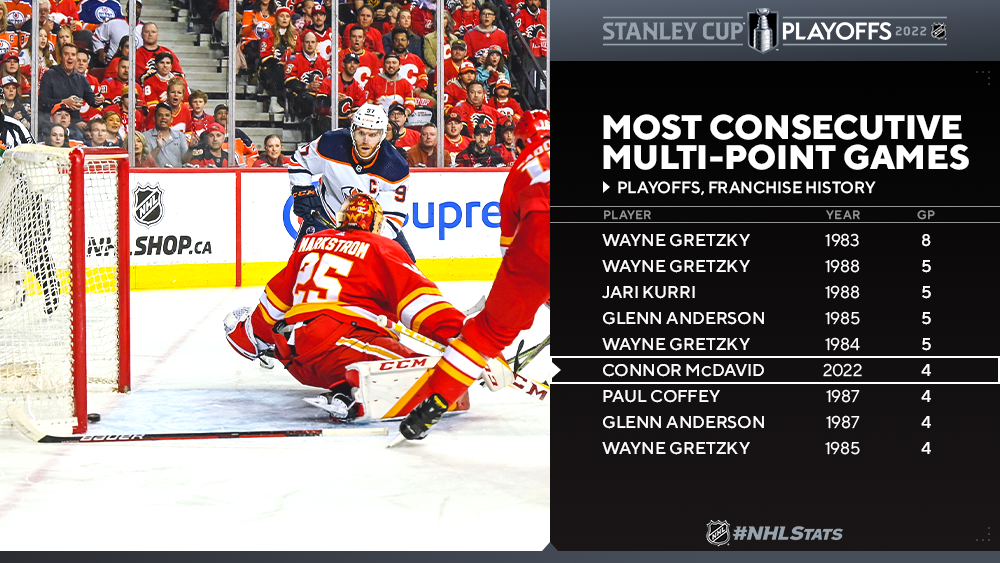 COLE PLAYS THE HERO IN HURRICANES OVERTIME WIN
After Sebastian Aho (1-0—1) tied the game with 2:23 remaining in regulation, defenseman Ian Cole ended the contest just 3:12 into the extra frame to give the Hurricanes a 1-0 series lead in the Second Round as well as their fifth straight win at PNC Arena – matching the franchise record for most consecutive home victories to start a postseason (also 5-0 from Game 3 of 2019 R1 – Game 4 of 2019 R2).

* Cole became the third blueliner in Hurricanes/Whalers history to score an overtime goal in the postseason as well as the third defenseman to do so in the 2022 Stanley Cup Playoffs alongside Cale Makar (Game 2 of First Round) and Josh Manson (Game 1 of Second Round). Only eight playoff years in NHL history have concluded with more unique defensemen scoring an overtime goal: 1995 (7), 2020 (6), 2001 (6), 2003 (5), 2013 (5), 2007 (5), 2019 (4) and 2014 (4).

* Cole's first playoff overtime goal marked just the second postseason tally of his career after skating in 104 contests through a span of nine playoff appearances. In fact, he scored just twice during the 2021-22 regular season (75 GP). The Hurricanes veteran is one of three players on Carolina's roster with a Stanley Cup, hoisting the trophy with the Penguins in 2016 and 2017.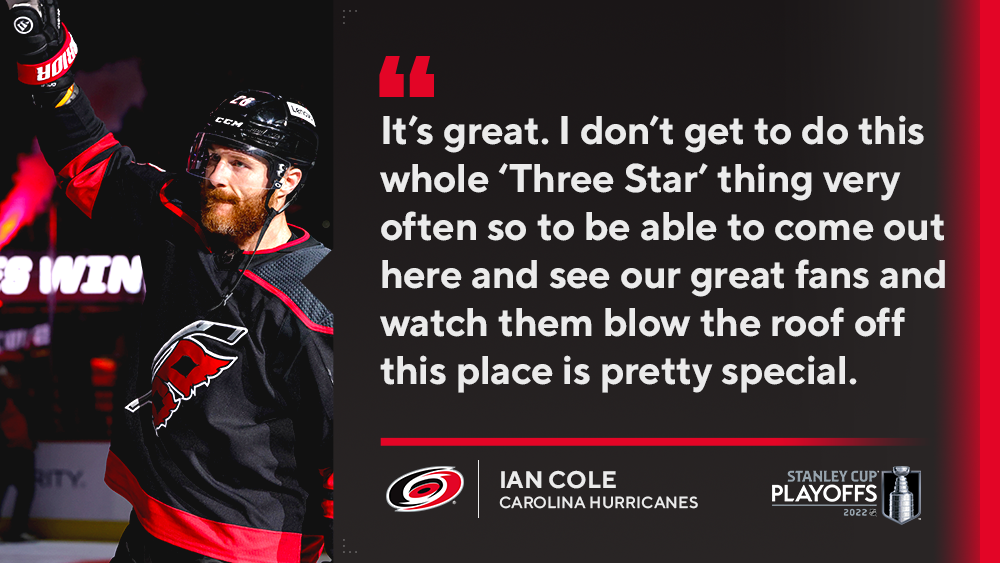 * Aho's goal, which was the latest game-tying tally by a Hurricanes skater in the playoffs since Jussi Jokinen (58:40) in Game 7 of the 2009 Conference Quarterfinals, also marked the 17th postseason goal of his career, matching Kevin Dineen for third place on the franchise's all-time list.

* Carolina's win marked the 10th overtime game of the 2022 Stanley Cup Playoffs, with four of them coming in the last four days.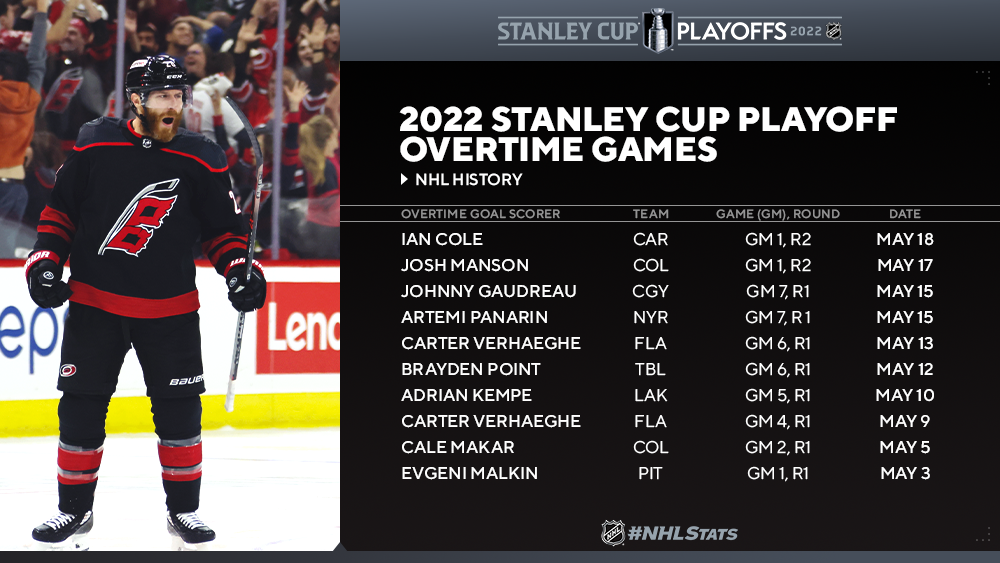 QUICK CLICKS
* #NHLStats: Live Updates for Wednesday, May 18
* Series Scenarios for Thursday, May 19
* Sabres join Bills, Bandits in supporting East Side
* Panthers defenseman Ben Chiarot Fined for Head-Butting
* Kyle Connor, Jaccob Slavin and Jared Spurgeon voted Lady Byng Trophy finalists
* Lightning named Sports Business Journal Team of the Year

GAME 2s ARE A GO IN SUNRISE, DENVER BEFORE SERIES SHIFT
The two-time defending champion and the No. 1 seed in the Western Conference will look to pull ahead 2-0 in their respective series Thursday as the first Game 2s of the Second Round are contested in Sunrise and Denver. Tampa Bay has held a 2-0 series lead nine times, claiming each series in no more than six games, while Colorado is 15-4 when winning the first two contests in a best-of-seven series.
* Just the second Presidents' Trophy winner to drop Game 1 in each of the first two rounds (also BOS in 2014), Florida will look to pull even for the second straight series while St. Louis will try to head home with a two-game split for a second straight round. Teams that win Game 2 to even a best-of-seven series at 1-1 own an all-time series record of 179-164 (.522), including a 4-2 mark in the 2022 First Round.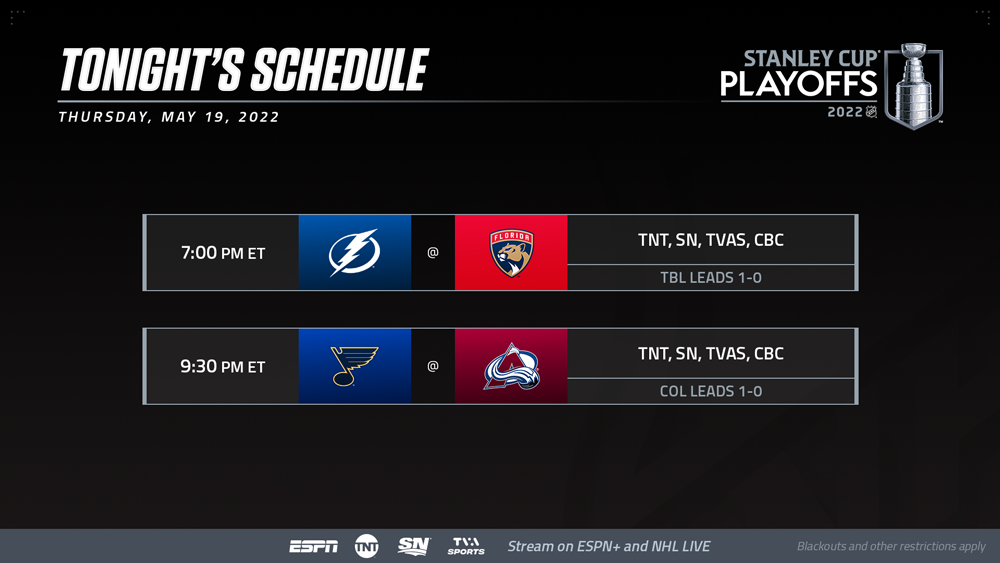 PANTHERS LOOK TO SPARK POWER PLAY AND REBOUND IN GAME 2
After ranking fifth in the NHL with a 24.4% power-play percentage during the regular season, Florida has reached the Second Round despite being the only team without a goal on the man advantage in the 2022 Stanley Cup Playoffs (0-for-21).
* The Panthers, who fired a playoff-high six shots on goal with the man advantage in Game 1, have scored 19 of their 21 goals this postseason at five-on-five, third in the NHL behind the Oilers (22) and Penguins (20). Florida is the first team since 2009-10 to score at least 90% of its goals at five-on-five through seven games in a playoff year (the first season for which the data is available).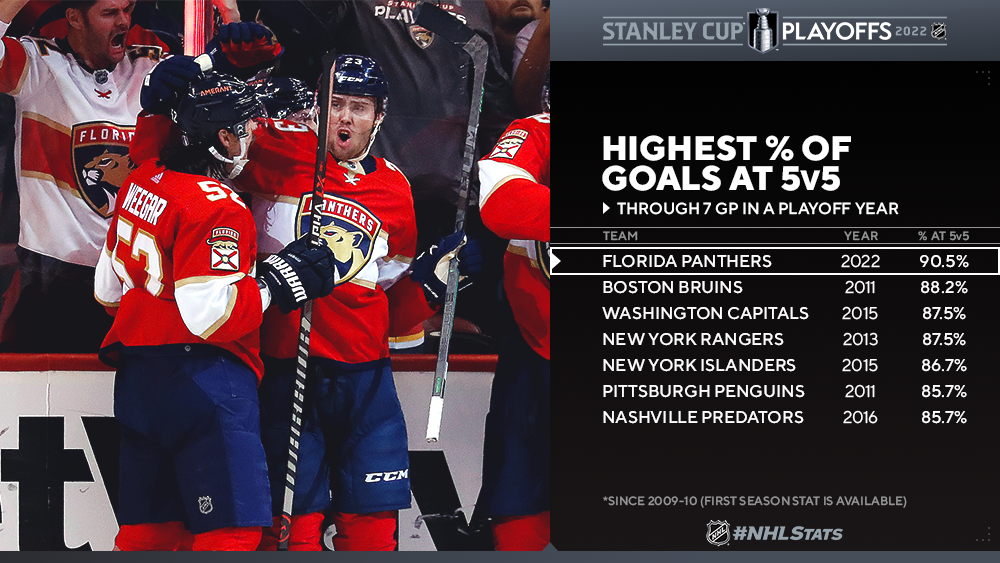 FRANCHISE RECORDS COULD BE SET, MATCHED AS BLUES VISIT AVS FOR GAME 2
After falling in their first overtime game of the 2022 Stanley Cup Playoffs, Ryan O'Reilly and the Blues will look to rebound for a Game 2 victory and halt the streaking Avalanche. O'Reilly can set a franchise playoff record by scoring a goal for a sixth straight game, while Colorado (5-0) will look to tie a club record for most consecutive postseason victories (for a second straight year).
* Jordan Binnington made 12 of his 51 saves in overtime during Game 1, the second most in an extra frame in franchise history behind 14 stops from Ryan Miller in Game 1 of the 2014 First Round against Chicago.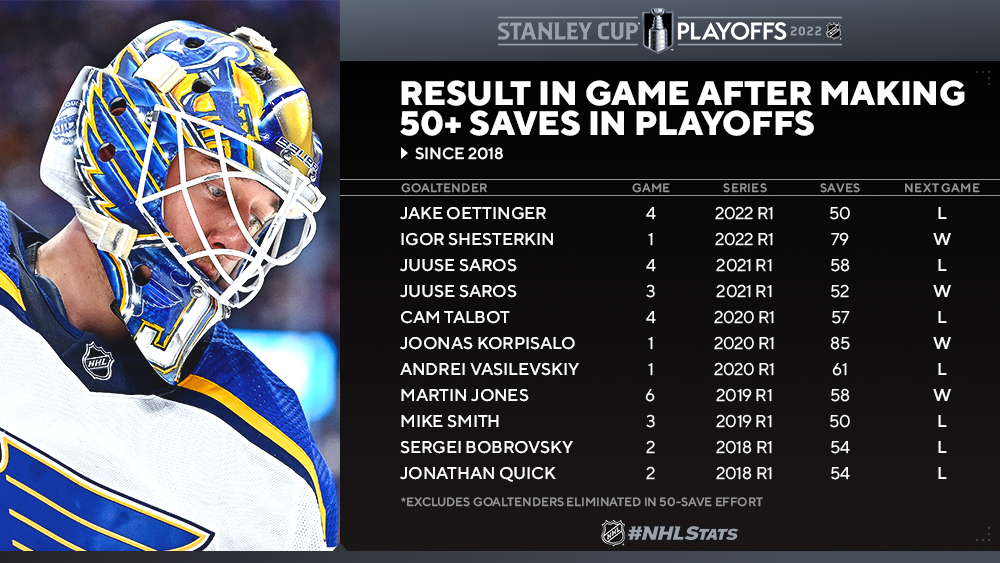 COURTESY NHLmedia.com