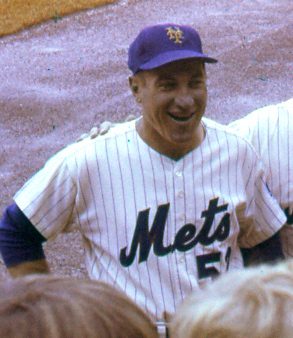 May 23rd, 2022
Joe Pignatano, the last living coach from the 1969 Miracle Mets, passed away this morning in Naples, FL from dementia. He was 92.
Pignatano, who played for the 1962 Mets, was the bullpen coach with the Mets from 1968-1981. He was well-known for cultivating a vegetable garden, specifically tomatoes, in the Shea Stadium bullpen. The Brooklyn native played in the Majors from 1957-1962 with the Brooklyn/Los Angeles Dodgers, Kansas City Athletics, San Francisco Giants and the Mets.
FROM WIKIPEDIA COMMONS
Joseph Benjamin Pignatano (August 4, 1929 – May 23, 2022) was an American professional baseball player and coach. The catcher appeared in 307 games in the Major Leagues during all or part of six seasons (1957–62) for the Brooklyn / Los Angeles Dodgers (1957–60), Kansas City Athletics (1961), San Francisco Giants (1962), and New York Mets (1962). He threw and batted right-handed, stood 5 feet 10 inches (1.78 m) tall, and weighed 180 pounds (82 kg). He was a Brooklyn native and lifelong resident of Brooklyn and Staten Island in New York City. He signed with his hometown Dodgers in 1948, and spent almost seven full seasons (interrupted by two years of military service) in their farm system before three brief auditions with the 1957 big-league team. He was the last living coach from the 1969 Mets.
As a coach
After his 15-year professional playing career ended in 1964, Pignatano was a coach for the Washington Senators (1965–67), New York Mets (1968–81), and Atlanta Braves (1982–84), working under Gil Hodges from 1965 to 1971 and earning a second World Series ring with the 1969 "Miracle Mets." During his years as the Mets' bullpen coach, Pignatano cultivated a vegetable garden in the bullpen, and was often out on the field during batting practice engaging with the young Mets fans.[8] He was also related to two other former Met players, pitchers Pete Falcone and John Franco, a cousin.
COURTESY NEW YORK METS MEDIA RELATIONS, MLBpressbox.com & WIKIPEDIA COMMONS