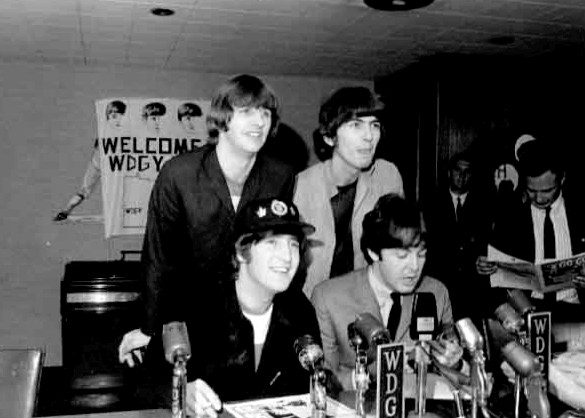 FROM WIKIPEDIA COMMONS
The Beatles were an English rock band, formed in Liverpool in 1960, that comprised John Lennon, Paul McCartney, George Harrison and Ringo Starr. They are regarded as the most influential band of all time and were integral to the development of 1960s counterculture and popular music's recognition as an art form. Rooted in skiffle, beat and 1950s rock 'n' roll, their sound incorporated elements of classical music and traditional pop in innovative ways; the band later explored music styles ranging from ballads and Indian music to psychedelia and hard rock. As pioneers in recording, songwriting and artistic presentation, the Beatles revolutionised many aspects of the music industry and were often publicised as leaders of the era's youth and sociocultural movements.
Led by primary songwriters Lennon and McCartney, the Beatles evolved from Lennon's previous group, the Quarrymen, and built their reputation playing clubs in Liverpool and Hamburg over three years from 1960, initially with Stuart Sutcliffe playing bass. The core trio of Lennon, McCartney and Harrison, together since 1958, went through a succession of drummers, including Pete Best, before asking Starr to join them in 1962. Manager Brian Epstein moulded them into a professional act, and producer George Martin guided and developed their recordings, greatly expanding their domestic success after signing to EMI Records and achieving their first hit, "Love Me Do", in late 1962. As their popularity grew into the intense fan frenzy dubbed "Beatlemania", the band acquired the nickname "the Fab Four", with Epstein, Martin and other members of the band's entourage sometimes given the informal title of "fifth Beatle".
By early 1964, the Beatles were international stars and had achieved unprecedented levels of critical and commercial success. They became a leading force in Britain's cultural resurgence, ushering in the British Invasion of the United States pop market, and soon made their film debut with A Hard Day's Night (1964). A growing desire to refine their studio efforts, coupled with the untenable nature of their concert tours, led to the band's retirement from live performances in 1966. At this time, they produced records of greater sophistication, including the albums Rubber Soul (1965), Revolver (1966) and Sgt. Pepper's Lonely Hearts Club Band (1967), and enjoyed further commercial success with The Beatles (also known as "the White Album", 1968) and Abbey Road (1969). Heralding the album era, their success elevated the album to be the dominant form of record consumption over singles; they also inspired a greater public interest in psychedelic drugs and Eastern spirituality, and furthered advancements in electronic music, album art and music videos. In 1968, they founded Apple Corps, a multi-armed multimedia corporation that continues to oversee projects related to the band's legacy. After the group's break-up in 1970, all principal members enjoyed success as solo artists and some partial reunions have occurred. Lennon was murdered in 1980 and Harrison died of lung cancer in 2001. McCartney and Starr remain musically active.
The Beatles are the best-selling music act of all time, with estimated sales of 600 million units worldwide. They hold the record for most number-one albums on the UK Albums Chart (15), most number-one hits on the Billboard Hot 100 chart (20), and most singles sold in the UK (21.9 million). The band received many accolades, including seven Grammy Awards, four Brit Awards, an Academy Award (for Best Original Song Score for the 1970 documentary film Let It Be) and fifteen Ivor Novello Awards. They were inducted into the Rock and Roll Hall of Fame in 1988, and each principal member was inducted individually between 1994 and 2015. In 2004 and 2011, the group topped Rolling Stone's lists of the greatest artists in history. Time magazine named them among the 20th century's 100 most important people.
TODAY'S ALMANAC
Truman Day is celebrated in Missouri on May 8 to honor the birthday of Harry S Truman, the 33rd U.S. president. Truman was born in 1884 in Lamar, Missouri. His parents couldn't decide whether Truman's middle name should honor maternal grandfather Solomon Young or paternal grandfather Anderson Shipp Truman, so they chose the letter "S" as the name instead. Truman usually signed his name with a period after the "S," however.
Although the custom of setting aside a day to honor mothers has ancient roots, our observance of Mother's Day originated in 1907 with the efforts of a devoted daughter, Anna M. Jarvis of Philadelphia, who conceived the idea of an annual nationwide celebration. The public and the press quickly embraced the idea, and villages, towns, cities, and states soon began unofficial Mother's Day observances. On May 8, 1914, President Woodrow Wilson signed a proclamation designating the second Sunday in May Mother's Day, and within a few years, the idea gained worldwide prominence. The day is now characterized by gift giving, sending greeting cards and flowers, and giving mother a "day off" by taking the family out to eat.
→ Read more about Mother's Day!
Question of the Day
What does "philom." stand for, as seen in old books?It's an abbreviation of philomath, a student of mathematics and philosophy. The word was popularly applied to astronomers and astrologers and was used by old almanac makers. It is rarely used today, and not by The Old Farmer's Almanac.
Advice of the Day
To remove dried paint from glass, apply hot lemon juice with a soft cloth.
Home Hint of the Day
Pound short, heavy stakes in the corners of your garden beds. That way, next time you're dragging a hose around the garden, it will come up against the stakes rather than mowing down all your seedlings.
Word of the Day
BollixMake a mess of, destroy or ruin.
Puzzle of the Day
Where do sheep go to get their hair cut?To the baa-baa shop!
Born
Harry S Truman (33rd U.S. president) – 1884
Red Nichols (musician) – 1905
Roberto Rossellini (director) – 1906
Sloan Wilson (writer) – 1920
Don Rickles (comedian) – 1926
Sir David Attenborough (naturalist) – 1926
Ricky Nelson (singer) – 1940
Toni Tennille (singer) – 1943
Beth Henley (dramatist) – 1952
Melissa Gilbert (actress) – 1964
Enrique Iglesias (singer) – 1975
Died
Rudolf Serkin (pianist) – 1991
George Peppard (actor) – 1994
Bandit (billed as the world's heaviest raccoon, died. He lived with his owner in Palmerton, PA. Bandit tipped the scales at nearly 75 pounds, three times the average for his breed. Bandit was born with a bad thyroid gland. When he hit 52.5 pounds in 1999, his girth garnered him a spot in the Guinness Book of World Records) – 2004
Dom DiMaggio (baseball player; holds the record for the longest consecutive game hitting streak in Boston Red Sox history) – 2009
Maurice Sendak (children's books author and illustrator) – 2012
Jeanne Cooper (actress) – 2013
Events
Coca-Cola went on sale– 1886
Bill Miner robbed train near Kamloops, British Columbia– 1906
First Catholic mass in an airship (Hindenburg) over ocean– 1936
The German High Command surrendered unconditionally to the Allies (WW II – VE Day)– 1945
The Beatles' album Let It Be, was released in the U.K.– 1970
Nancy Mace became the first female cadet to graduate from The Citadel military college– 1999
Steve Nash of the Phoenix Suns was named MVP for the 2004-05 basketball season. He was the first Canadian to receive the honor– 2005
Weather
Dallas and Fort Worth, Texas, saw hailstones as big as grapefruits– 1981
Midland, Texas, saw a temperature of 103 degrees F– 1989
Asheville, North Carolina, saw a temperature of 26 degrees F– 1989
A large water spout twisted the waters on Barnegat Bay between Toms River and Seaside Heights, New Jersey, at about 2:30 pm.– 2021
COURTESY www.almanac.com