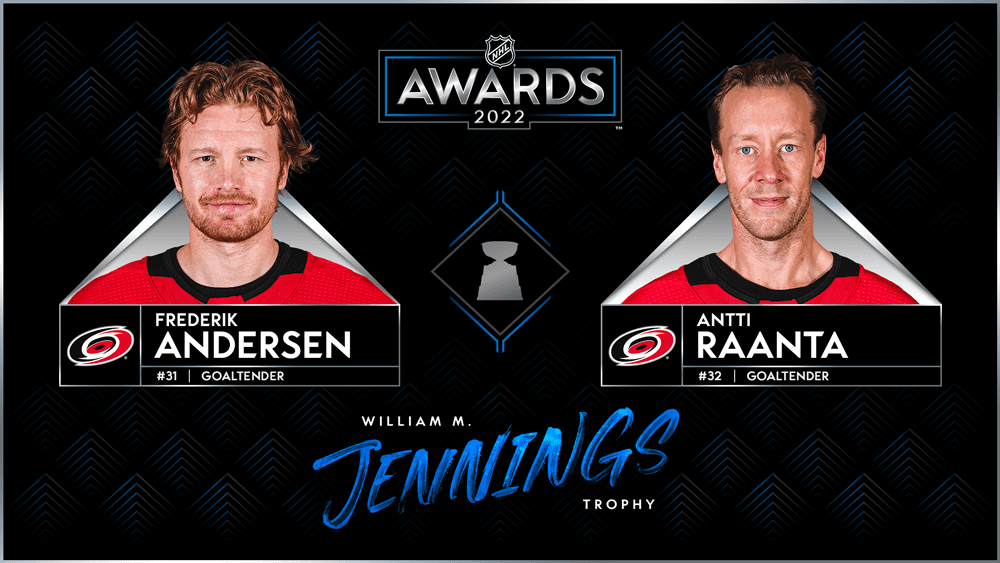 NEW YORK (April 28, 2022) – The Carolina Hurricanes tandem of Frederik Andersen and Antti Raanta have won the 2021-22 William M. Jennings Trophy, presented annually to the goaltenders who play a minimum of 25 games for the team allowing the fewest goals during the regular season.
Carolina, which concluded its regular-season schedule tonight, yielded a League-low 202 goals (including shootout-deciding goals) to finish ahead of its nearest competition, the Calgary Flames (203 through the second period of tonight's contest) and New York Rangers (205) – who both still have games remaining.
Signed as free agents on July 28, 2021, Andersen and Raanta combined to earn the first Jennings Trophy in Hurricanes/Hartford Whalers history. They also became the first duo to claim the award while both playing their first season with a team, though seven prior individuals have done so: Brian Hayward (1986-87 w/ MTL), Mike Dunham (1996-97 w/ NJD), Roman Turek (1999-00 w/ STL), Robert Esche (2002-03 w/ PHI), Niklas Backstrom (2006-07 w/ MIN), Brian Elliott (2011-12 w/ STL) and Robin Lehner (2018-19 w/ NYI).
Andersen went 35-14-3 in 52 games this season, ranking among the top netminders in goals-against average (2nd; 2.17), save percentage (4th; .922), shutouts (t-6th; 4) and wins (7th; 35) entering tonight's action. Andersen, who also won the Jennings Trophy with the Anaheim Ducks in 2015-16, became the eighth player to capture the award with multiple teams, following Ed Belfour (CHI and DAL), Manny Fernandez (MIN and BOS), Jaroslav Halak (STL and BOS), Dominik Hasek (BUF and DET), Lehner (NYI and VGK), Patrick Roy (MTL and COL) and Turek (DAL and STL).
Raanta appeared in 28 contests this season, going 15-5-4 with a 2.45 goals-against average, .912 save percentage and two shutouts. His goals-against average placed seventh in the League entering tonight's schedule.
COURTESY NHLmedia.com