April 29, 2022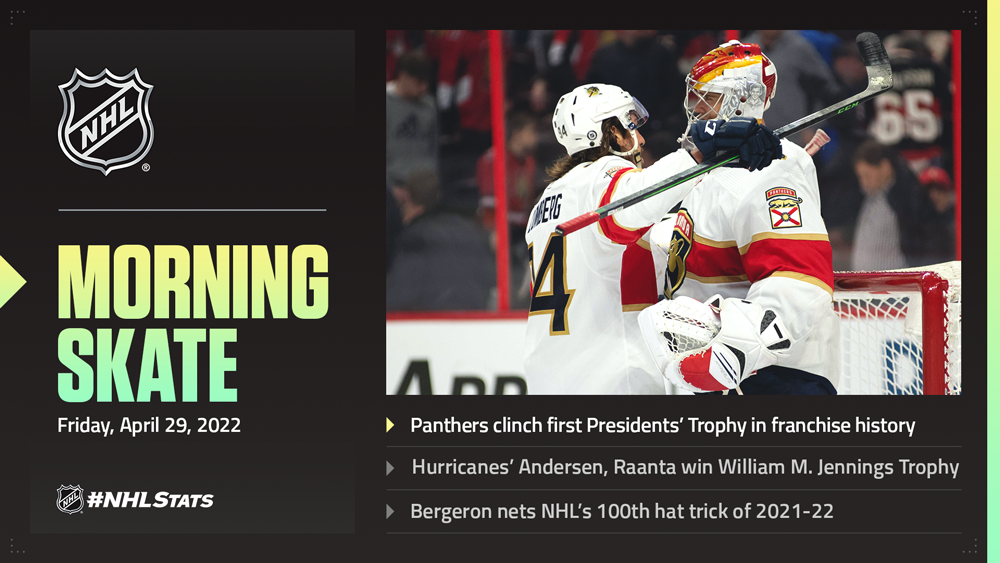 * After Florida blanked Ottawa and Nashville posted a third-period comeback win against Colorado, the Panthers clinched the 2021-22 Presidents' Trophy, becoming the fifth team to debut in the 1990s or later to claim the award.

* Awarding of NHL hardware for the 2021-22 campaign began Thursday when Carolina's tandem of Frederik Andersen and Antti Raanta earned the William M. Jennings Trophy, presented annually to the goaltender(s) who play a minimum of 25 games for the team allowing the fewest goals during the regular season.

* The high-scoring theme of the 2021-22 campaign continued as Patrice Bergeron recorded the NHL's 100th hat trick and two more players added their names to the list of 40- and 20- goal scorers.

* The rest of the 2022 Stanley Cup Playoffs bracket (including all four First Round matchups in the Eastern Conference) will be confirmed Friday as 30 teams take to the ice in the NHL's first 15-game day since May 1, 2021.


KNIGHT BLANKS SENATORS, PANTHERS CLINCH PRESIDENTS' TROPHY
The Panthers (58-17-6, 122 points) clinched their first Presidents' Trophy in franchise history after Spencer Knight (27 saves) earned his second career shutout and the Predators defeated the Avalanche. Florida has sat atop the NHL standings for 80 days this season, eight more than the next-closest team (COL: 72 days).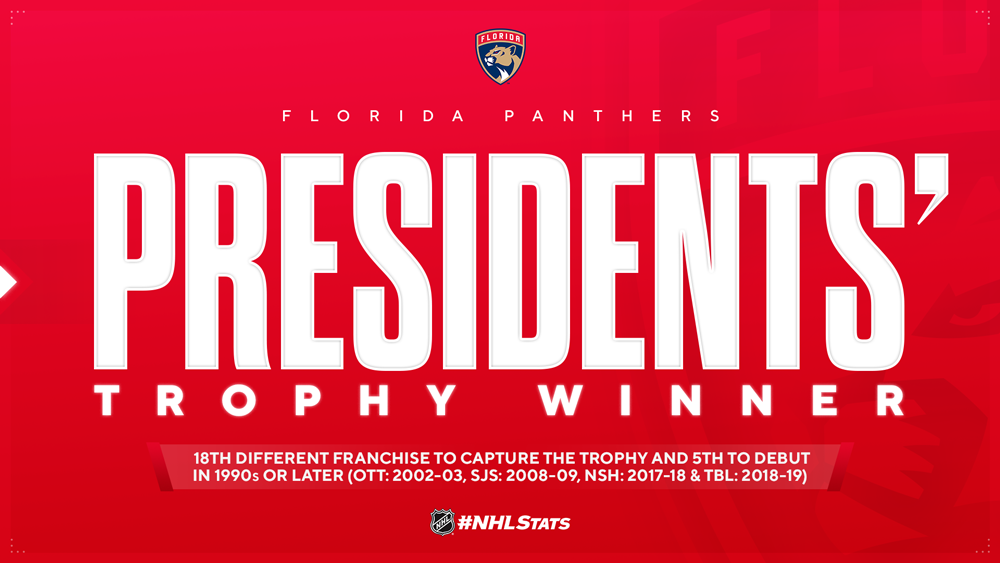 * The 2021-22 campaign marks the sixth consecutive season in which a unique team has captured the Presidents' Trophy. While the Presidents' Trophy was first awarded in 1985-86, this six-year stretch also marks the longest in NHL history that a unique team has finished atop the standings.

* Knight (21 years, 9 days) recorded his second career shutout and became the second rookie goaltender in Panthers history to earn multiple shutouts in a campaign, joining Roberto Luongo in 2000-01 (5). Only one active goaltender has recorded multiple career shutouts at a younger age than Knight: Carey Price (20 years, 208 days on March 11, 2008).

HURRICANES DUO CAPTURES JENNINGS TROPHY
The Hurricanes tandem of Frederik Andersen and Antti Raanta have won the 2021-22 William M. Jennings Trophy, presented annually to the goaltender(s) who play a minimum of 25 games for the team allowing the fewest goals during the regular season.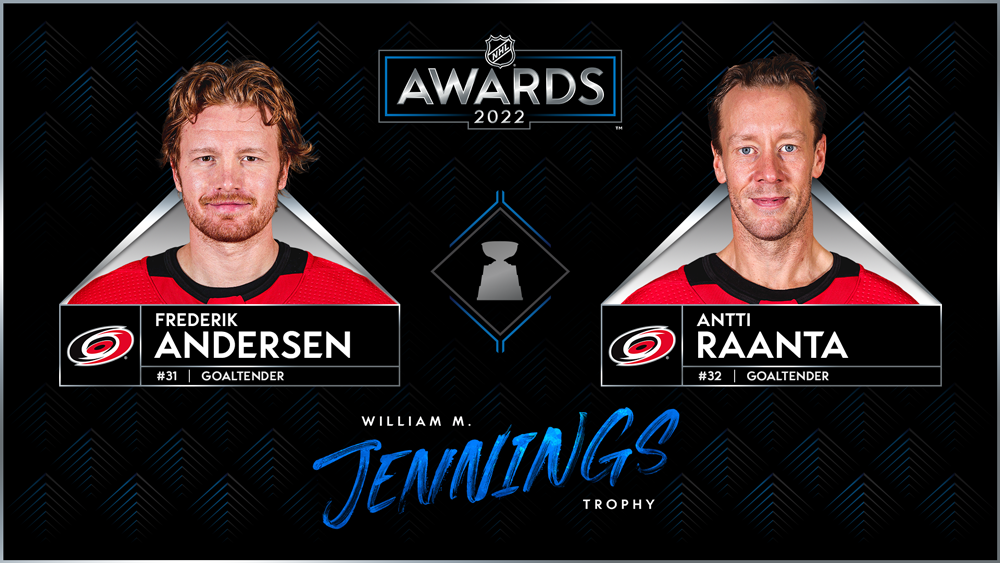 * Carolina, which concluded its regular-season schedule Thursday, yielded a League-low 202 goals (including shootout-deciding goals) to finish ahead of its nearest competition, the Flames (205) and Rangers (205) – who both still have games remaining.
* Signed as free agents on July 28, 2021, Andersen and Raanta combined to earn the first Jennings Trophy in Hurricanes/Whalers history. They also became the first duo to claim the award while both playing in their first season with a team, though seven prior individuals have done so: Brian Hayward (1986-87 w/ MTL), Mike Dunham (1996-97 w/ NJD), Roman Turek (1999-00 w/ STL), Robert Esche (2002-03 w/ PHI), Niklas Backstrom (2006-07 w/ MIN), Brian Elliott (2011-12 w/ STL) and Robin Lehner (2018-19 w/ NYI).
BERGERON, PASTRNAK, HALL ADD TO LEAGUE TRENDS
Patrice Bergeron (3-1—4), David Pastrnak (1-1—2) and Taylor Hall (1-1—2) each contributed to notable League scoring trends during the Bruins' win Thursday as Boston (51-25-5, 107 points) stayed in the hunt for third place in the Atlantic, moving within one point of Tampa Bay (50-23-8, 108 points). The clubs' respective First Round matchups will be determined Friday when each contest their final game as the Bruins visit the Maple Leafs and the Lightning take on the Islanders – a Tampa Bay win would guarantee a series against Toronto, leaving Boston to face Carolina.

*Bergeron(400-582—982 in 1,216 GP) recorded his second hat trick of 2021-22 – and the NHL's 100th this season – to reach the 400-goal mark on his career. The Bruins captain became just the fourth skater to reach the milestone with the franchise, joining Johnny Bucyk (545), Phil Esposito (459) and Rick Middleton (402).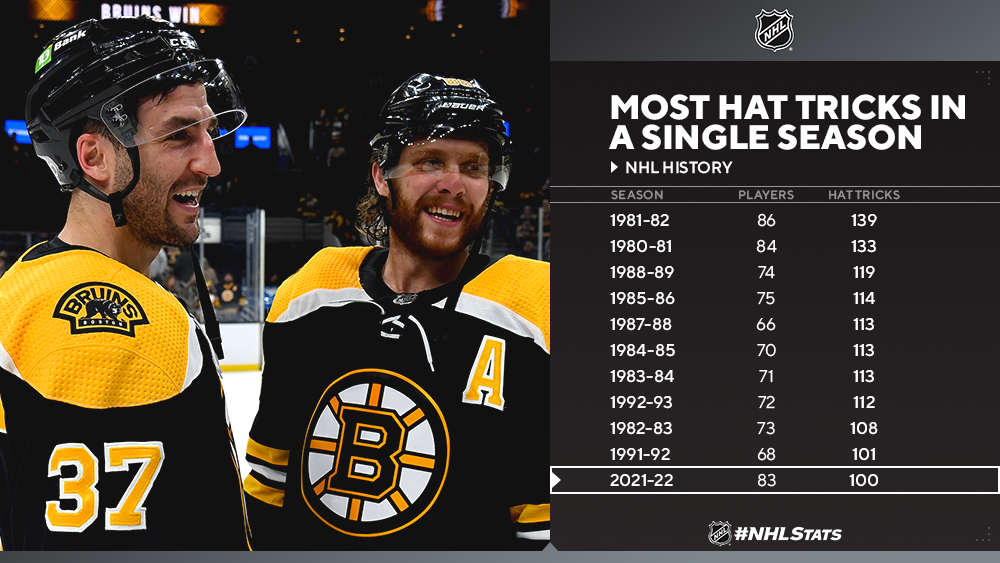 * Pastrnak (40-37—77 in 72 GP) and Calgary's Johnny Gaudreau (40-75—115 in 81 GP) became the 15th and 16th skaters to reach the 40-goal plateau this season, marking the fifth campaign in the past 30 years to feature as many players reach the mark. The others: 1992-93 (25), 1993-94 (23), 1995-96 (18) and 1991-92 (17).

* Hall (20-41—61 in 81 GP) and Edmonton's Kailer Yamamoto (20-20—40 in 80 GP) each scored their 20th goals of the season, bringing the League-wide count of 20-goal scorers to 135 and tying the 1980-81 campaign for the highest single-season total in NHL history.

WILD CONTINUE HUNT FOR HOME ICE ADVANTAGE IN #NHLSTATS: LIVE UPDATES
Kirill Kaprizov scored the overtime winner to help the Wild (52-22-7, 111 points) move two points ahead of the Blues (49-21-11, 109 points) for second place in the Central Division. Both teams continue to chase home ice advantage in their 2022 head-to-head First Round matchup with each club closing out its regular season Friday. For more notes from Thursday, visit the most recent edition of #NHLStats: Live Updates.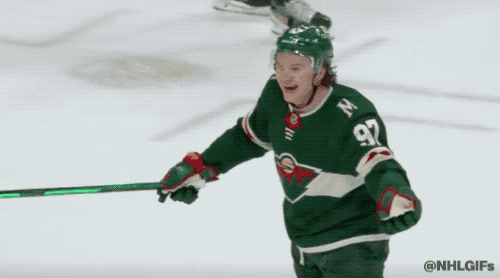 QUICK CLICKS

* Auston Matthews, Maple Leafs take in Raptors NBA playoff game
* Nikita Kucherov extends goal streak to career-high eight games
* Sidney Crosby says playoffs could be Penguins core's last chance at Cup
* NHL has 'come through an extraordinary challenging time,' Gary Bettman says
* Dustin Brown to retire after Stanley Cup Playoffs for Kings
REST OF PLAYOFF BRACKET SET TO MATERIALIZE DURING 15-GAME FRIDAY
Six remaining First Round matchups in the 2022 Stanley Cup Playoffs will be confirmed as 28 teams contest their regular-season finales during the 19th 15-game day in NHL history. Los Angeles and Carolina concluded their campaigns Thursday, while Winnipeg and Seattle are set to square off in the League's 1,312th and final game of the regular season Sunday.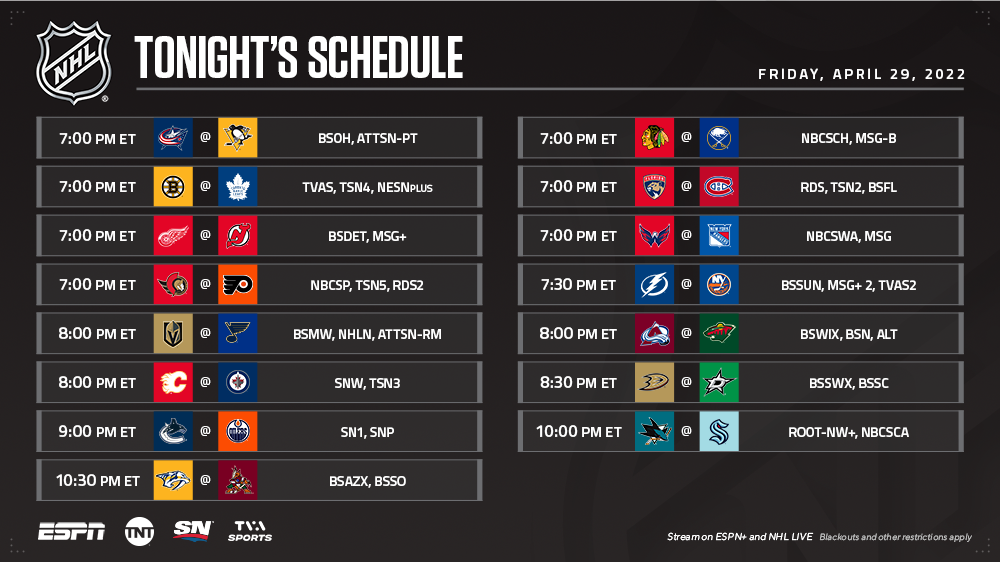 COURTESY NFLmedia.com