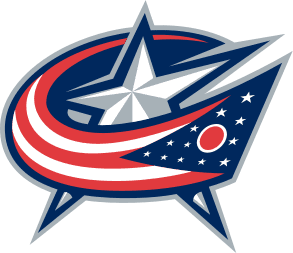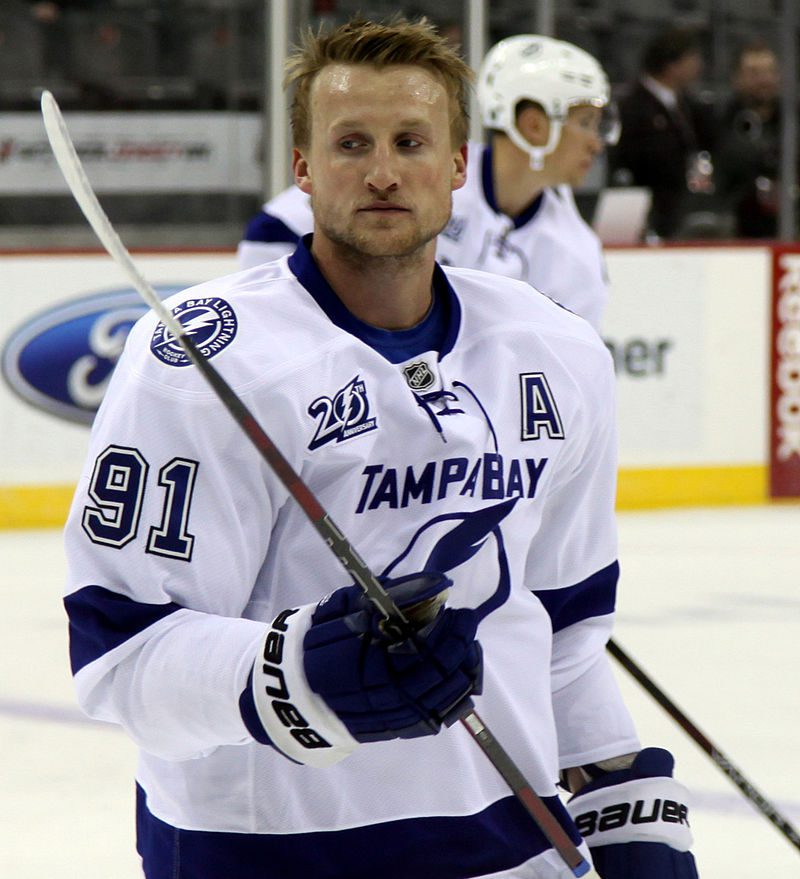 Steven Stamkos, in his 14th season in the NHL with the Tampa Bay Lightning, had never had a 100 point season. That is hard to believe considering he is the star of the team and top goal scorer most seasons.
The closest he had come was 98 points (45 goals, 53 assists) in 82 games in 2018-19.
Now the 32-year-old center from Markham, Ontario, Canada can now mark that off his list because he achieved it in last night's 4-1 win over the visiting Columbus Blue Jackets.
With two goals and two assists, he reached the 100-point plateau. His season totals, Stamkos has 39 goals and 62 assists in 79 games.
Nikita Kucherov had a goal and three assists and goalie Andrei Vasilevskiy notched 20 saves.
The Lightning at 50-22-8, have won four in a row and stays three points ahead of the Boston Bruins for third place in the Atlantic Division.
The Jackets, who got their only goal off the stick of Oliver Bjorkstrand, are 1-4-1 in their past six games and overall are 36-37-8 for 79 points.
BLUE JACKETS NOTES:\
Defenseman Zach Werenski returned after missing three games because of an upper-body injury. He assisted on the Bjorkstrand goal.
Bjorkstrand has goals in back-to-back games after not scoring in the previous 11.
LIGHTNING NOTES:
RW Nikita Kucherov has 20 points (nine goals, 11 assists) during his seven-game point streak.
This is the fourth time that Tampa Bay has won 50 games in a season (2014-15, 2017-18, 2018-19) since their NHL debut year of 1992.
PRE-GAME NOTES:
THE MATCHUP
COLUMBUS BLUE JACKETS
2021-22 Record: 36-36-7, 79 pts. (6th, Metropolitan Division)
Goals: 3.15 Goals-For/3.62 Goals-Against… Shots: 30.0 Shots-For/35.2 Shots-Against
Power Play: 17.8 percent (24th, NHL)… Penalty Kill: 78.8 percent (20th, NHL)
Penalty Minutes: 7.7 PIM (4th, NHL)… Overtime Record (Shootout): 11-4-3 (4-3)
TAMPA BAY LIGHTNING
2021-22 Record: 49-22-8, 106 pts. (3rd, Atlantic Division)
Goals: 3.46 Goals-For/2.76 Goals-Against… Shots: 30.9 Shots-For/29.7 Shots-Against
Power Play: 23.3 percent (10th, NHL)… Penalty Kill: 81.2 percent (12th, NHL)
Penalty Minutes: 11.2 (31st, NHL)… Overtime Record (Shootout): 12-3-5 (2-5)
Players to Watch: C Steven Stamkos leads the Lightning with 37-60-97 in 78 games, ranking eighth-T in the NHL in scoring… D Victor Hedman ranks second-T among NHL blueliners in assists and third in goals and points with 20-61-81 in 79 outings in 2021-22… G Andrei Vasilevskiy ranks third-T in the NHL in wins, posting a 37-18-5 record, with a 2.49 GAA and .917 SV% in 61 appearances this season.
ALL-TIME SERIES
Results: Columbus has gone 13-21-7 in 41 all-time meetings vs. Tampa Bay, including 5-11-4 on the road… Of Note: The Blue Jackets have gone 3-4-3 in the past 10 regular season meeting but the Lightning have won the four most recent games (CBJ; 0-3-1)… Columbus picked up a point in its most recent visit to Tampa Bay, falling 4-3 in overtime on Apr. 25, 2021… The winning team has scored four-plus goals in four of the last five games of the series… The Lightning own six of the eight shutouts in the all-time series and both penalty shot attempts… Neither team has recorded a hat trick in the all-time series.
This Season (CBJ, 0-1-0)
Jan. 4, 2022 – TBL 7, at CBJ 2
Apr. 26, 2022 – at Tampa Bay (7 p.m. ET)
Apr. 28, 2022 – at COLUMBUS (7 p.m. ET)
CBJ TEAM NOTES
Columbus snapped a four-game losing streak (0-3-1) with a 5-2 victory over Edmonton on Sunday… The club has scored 249 goals this season, seven shy of tying the franchise record of 256 recorded in 2018-19… CBJ have scored three or more goals (incl. SO goals) in 46 of their 79 games this season (33-10-3)… The club is also 30-5-1 when scoring four-plus goals in a game in 2021-22… CBJ rank sixth in the League in win percentage after regulation (11-4-3; .611)… The Blue Jackets have trailed in 23 of their 36 victories this season, including nine of their last 12 wins, after coming back from down 2-1 to defeat the Oilers. The 23 comeback victories are the sixth-most in the NHL and are a new single season record in franchise history (20; 2005-06, 2018-19)… The club tied the franchise record with its ninth victory when trailing after two periods (2005-06) on Sunday. Only NHL-leading Florida (11) has done it more this season… CBJ boast four 50-point scorers. It's the third-most total in a single-season in CBJ history, trailing only five 50-point scorers registered in 2009-10 and 2016-17… The club also has four players record at least 20 goals this season, tied for the second-most in a single-season in franchise history (5; 2018-19)… The Blue Jackets rank sixth in the NHL in goals (42) and 14th-T in points (169) by defensemen. The club's defensemen have combined for 9-32-41 in the last 21 outings, posting two-plus points in 14 of those contests… Columbus has killed off 26-of-29 opponent power play attempts over the last nine games to rank fifth in the NHL in PK pct. since Apr. 4 (89.7 pct.)… CBJ have scored a power play goal in three-straight contests (3-of-9; 33.3 pct.) for the fourth time this season and first time since a season-high four-game PPG streak from Mar. 17-25 (5-of-15; 33.3 pct.)… The club plays its sixth and final home-and-home set of the season against the Lightning after also facing off against Colorado (Nov. 3-6), New Jersey (Jan. 6-8), NY Islanders (Mar. 29-31), Boston (Apr. 2-4) and Philadelphia (Apr. 5-7).
CBJ PLAYER NOTES
D Nick Blankenburg notched his first career multi-point effort (1-1-2), including his first career goal and game-winner with 9:34 left in the game in Sunday's victory over Edmonton… F Kent Johnson, who made his NHL debut on Apr. 13 vs. Montreal, has collected assists in two of the last three games… C Sean Kuraly ranks 10th in the NHL with 240 hits (3th-most in CBJ history; since 2005-06). The forward has set a single-season career high in goals and points with 14-16-30 in 77 games… LW Gus Nyquist registered his third multi-assist effort in his last seven games (0-8-8) with two assists on Sunday and has totaled 3-11-14 in the last 17 games and 4-15-19 in his past 24 outings. He reached the 30-assist mark in a season (33) for the third time in his career… D Andrew Peeke ranks fourth-T in the NHL in blocked shots this season with 165 which also trails only Ryan Murray's 171 blocked shots registered in 2015-16 for the most in a single season in club history (stat since 2005-06)… C Jack Roslovic, who has goals in three-straight games (4-0-4) and points in four consecutive (4-1-5), has recorded 9-2-11 with three multi-goal efforts in the last seven outings. His nine goals and 11 points (tied) are the most in the month of April in franchise history… He has registered 13-10-23, while averaging 17:43 of ice time in his last 29 outings since Feb. 24 to help set single-season career highs in goals, assists (tied) and points with 21-22-43 in 78 games this season… C Cole Sillinger has collected 4-5-9 in his last 11 games after collecting 1-1-2 on Sunday. His 15 goals are the fourth-most among CBJ rookies in a single season in franchise history and his 30 points are tied for seventh-most… RW Jakub Voracek recorded his first three-assist game of the season on Sunday and now has 4-28-32 in his last 36 appearances since Jan. 31. His 10 assists in April are tied for the most in the month in club history (Dubinsky, 2013). He leads the club in assists with 54, which is the third-highest total in CBJ history (Artemi Panarin – 59 in 2018-19 and 55 in 2017-18). His 39 primary assists (7th in NHL), meanwhile, are the second-most in a single season in CBJ history (Panarin, 44 in 2018-19)… D Zach Werenski has recorded 2-10-12 in his last 15 games played and 5-21-24 in 31 outings since Jan. 23. The 24-year-old has tied his single-season career highs in assists and points with 11-36-47 in 67 contests this season (11-36-47 in 78 GP in rookie campaign in 2016-17).
MILESTONES
• C Sean Kuraly is two points from 100 for his NHL career (38-60-98, 347 GP).
• LW Gus Nyquist is two points from 400 for his NHL career (163-235-398, 649 GP).
• RW Jakub Voracek is three points from 800 for his NHL career (221-576-797, 1,044 GP).
OhioHEALTH INJURY REPORT
• G Daniil Tarasov (hip; Injured Reserve on Jan. 4) is out indefinitely
• C Alexandre Texier (fractured finger; Injured Reserve on Jan. 26) is expected to miss 4 weeks
• C Boone Jenner (lower back; Injured Reserve on Mar. 11) is week-to-week
• G Joonas Korpisalo (hip) is out indefinitely
• RW Patrik Laine (upper body: First game missed Apr. 17) is day-to-day
• D Zach Werenski (upper body; First game missed Apr. 19) is day-to-day
• D Adam Boqvist (lower body; First game missed Apr. 22) is day-to-day
TOTAL MAN GAMES LOST: 346
COURTESY CBJ COMMUNICATIONS