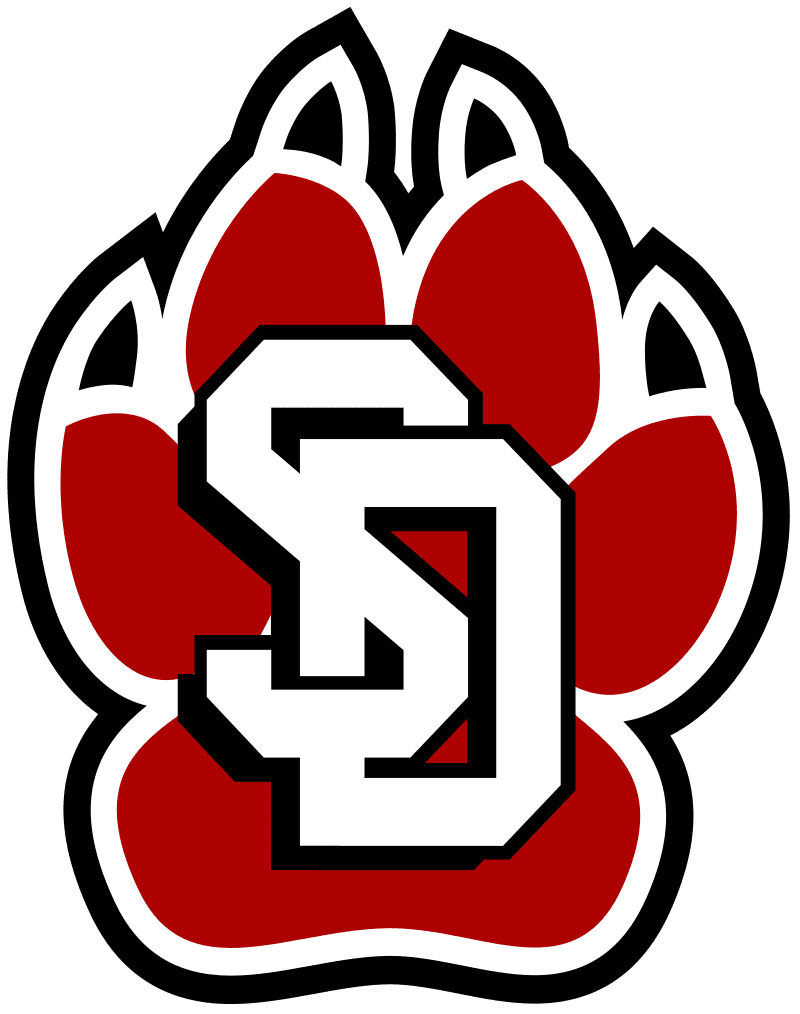 VERMILLION, S.D. – The University of South Dakota athletic department introduced head men's basketball coach Eric Peterson Wednesday afternoon. Peterson returns to South Dakota after previously serving as an assistant coach at Utah and Utah State. Prior to that, Peterson was an assistant coach at USD under Craig Smith from 2014-18. He is the 19th head coach in program history.
University of South Dakota Athletic Director David Herbster and President Sheila Gestring provided a speech before Peterson's turn at the podium.
"President Gestring and I were extremely focused on the attributes and characteristics of what we were looking for in our next head men's basketball coach, and Eric, without a doubt, checked all the boxes and more," said Herbster. "Words like integrity, passion, character, accountability, teamwork, and confidence."
"When we hire leadership positions on campus anywhere, especially in athletics, we hire a person of character, a person with a proven track record with significant experience, and someone who embodies what we are when we say 'Coyote family' and 'Coyote values' and lives that every single day," said Gestring. "When we use that criteria, one name rose to the top – Eric Peterson was the clear choice."
Peterson opened his speech with thanks and appreciation towards his family and those who have mentored him and developed his coaching attributes. When introducing his family one by one, nearly all had memories of Vermillion and were excited to be back in a place they call home.He then went into detail about his first time talking to the team.
"I think we have a great group of guys in our locker room, and we are really close to cutting down the nets in Sioux Falls," said Peterson.
Peterson talked about the community of Vermillion. His wife, Lindsey, previously worked for the Vermillion Chamber of Commerce, and he stated that community involvement was important to him and a huge reason why he and his family decided to come back.
As for why USD? Peterson talked about wanting to be a head coach again.
"I wanted to go somewhere to grow and get better as a coach," said Peterson. "You can always impact people as an assistant coach, but I feel as a head coach, you can impact kids at a much greater level. There were some other opportunities, and we weren't just going to take any job, but this place means a lot to me, and we are pumped to be back here."
Peterson is an alum in that he earned his master's degree while on staff with Smith. He thanked Dr. Robin Ammon, the chair of the kinesiology and sport management department at USD, for helping him through that process and spoke of the value of education for him and his players.
Finally, he touched on what to expect from the Coyotes in the near future. A return of "GATA", coined by Coach Smith, was mentioned. Diving on the floor for loose balls, taking charges, winning the defensive end are all things Peterson hopes to bring back to the program. He wants to recruit kids that compete in the classroom, make socially responsible decisions, and guys who want to compete at the national level.
"I wouldn't come back here if I didn't think we could win a championship. I feel like we can cut down the nets and get to the NCAA tournament. We had three great years at Utah State and made three straight NCAA tournaments – there's no other feeling like making the NCAA tournament. That's what I want to do here. I want to get us back there."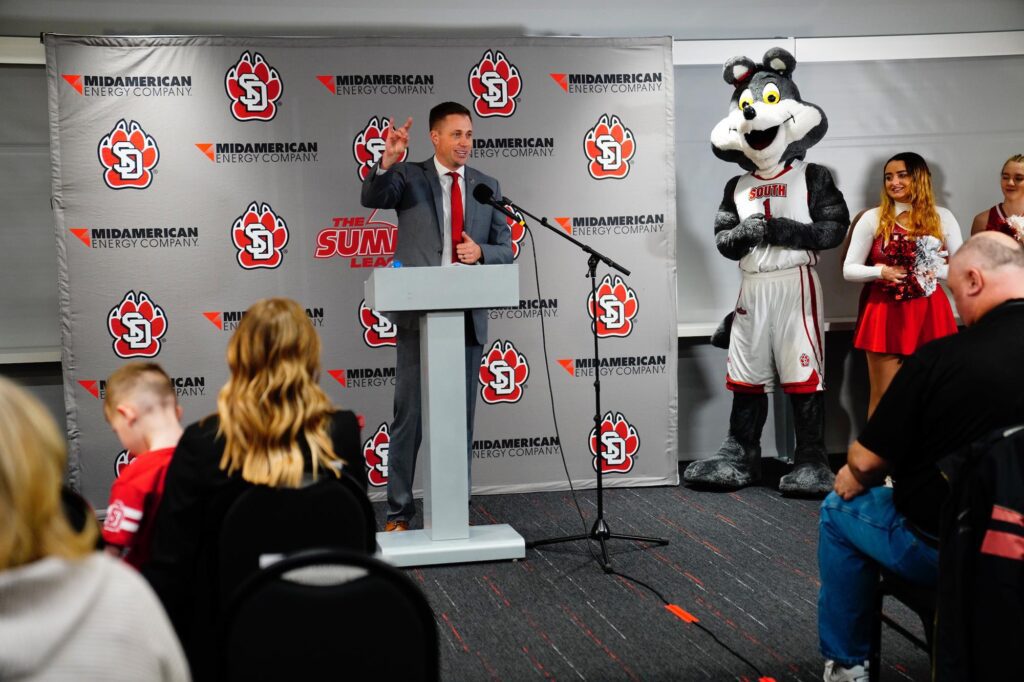 COURTESY SOUTH DAKOTA ATHLETIC COMMUNICATIONS