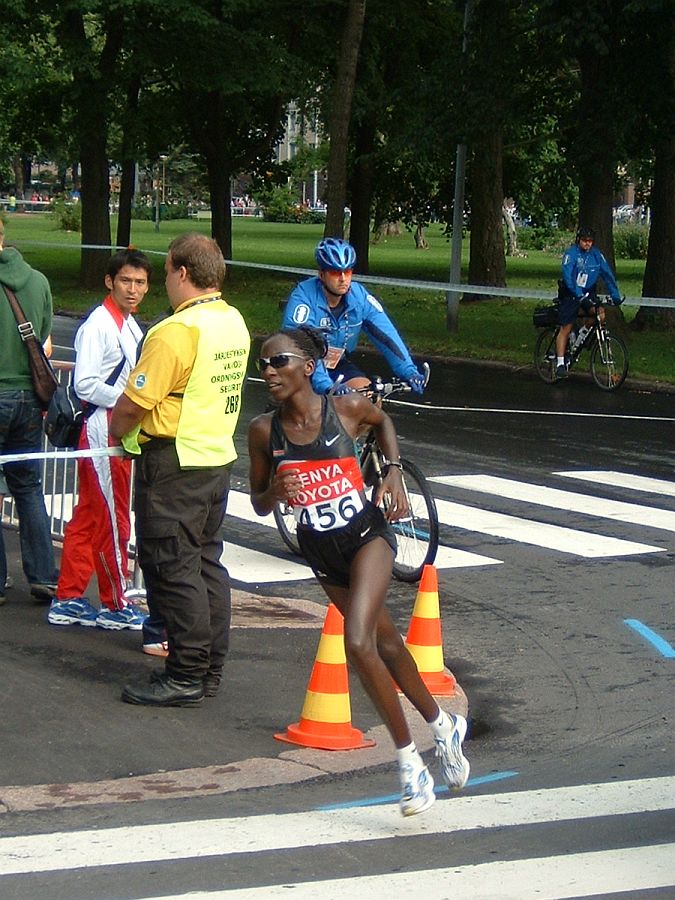 FROM WIKIPEDIA COMMONS
Catherine Nyambura Ndereba (born 21 July 1972) is a Kenyan marathon runner. She has twice won the marathon at the World Championships in Athletics and won silver medals at the Summer Olympic Games in 2004 and 2008. She is also a four-time winner of the Boston Marathon. Ndereba broke the women's marathon world record in 2001, running 2:18:47 at the Chicago Marathon.
In 2008, Ndereba was described by Chicago Tribune sportswriter Philip Hersh as the greatest women's marathoner of all time.
TODAY'S ALMANAC
At 5:12 A.M. on Wednesday, April 18, 1906, an earthquake woke up residents of San Francisco and tossed them from their beds. Little did they know that it was going to be one of the deadliest natural disasters in the history of the United States. Read our article, Remembering the 1906 San Francisco Earthquake.""
Question of the Day
What is a cumulo-pileus cloud? How rare is it, and under what conditions is it likely to be formed? Also any information on other rare cloud formations and conditions would be helpful.A cumulus cloud is a detached, fair-weather cloud with a relatively flat base and dome-shaped top. A pileus cloud is a smooth-cap cloud that forms in a stable layer above a cumulus cloud when air is temporarily forced upwards by the vigorous thermal below. Its shape explains its name, which is Latin for a close-fitting cap used by ancient Romans. We don't think it would be considered a rare formation. There are so many cloud variations that it is impossible to describe them all, let alone their rarity or lack thereof, but two come to mind. First are nacreous clouds, often called "mother of pearl" clouds because of their iridescence. They form in the stratosphere and are visible at night when illuminated against a dark sky by the Sun from below the horizon. They are frequently sighted in Antarctica and were first described in 1911 by a member of Scott's last expedition. Second are noctilucent clouds, which are seen in latitudes higher than 50 degrees, usually about midnight. They look rather like cirrostratus clouds with a blue or yellow tinge. They appear to form at altitudes of about 50 miles and travel northeast at 100 to 300 mph, but it is not yet known if they consist of ice crystals or dust.
Advice of the Day
Time flies whether you're having fun or not.
Home Hint of the Day
If your wood-splitting maul handle is continually getting chewed up when you miss your target, take a 6-inch piece of 1-1/2-inch black plastic water pipe, slit one side, slip it over the handle up by the head and clamp it down with a couple of hose clamps.
Word of the Day
LeewayThe lateral movement of a ship to the leeward of her course; drift.
Puzzle of the Day
What animal should you never play games with?A cheetah.
Died
Edouard Albert Roche (astronomer) – 1883
Albert Einstein (physicist) – 1955
Thor Heyerdahl (Norwegian adventurer and author) – 2002
Dick Clark (entertainer) – 2012
Born
James Woods (actor) – 1947
Eric Roberts (actor) – 1956
Conan O'Brien (talk show host) – 1963
Melissa Joan Hart (actress) – 1976
Miguel Cabrera (baseball player) – 1983
America Ferrera (actress) – 1984
Events
San Francisco earthquake– 1906
Beatification ceremony for Joan of Arc held in Rome, Italy– 1909
Old Yankee stadium opened in N.Y.C.– 1923
First U.S. public laundromat opened, Fort Worth, Texas– 1934
League of Nations dissolved– 1946
Actress Grace Kelly married Prince Rainier of Monaco in a civil ceremony– 1956
Lighted fishing pole patented– 1978
The longest professional baseball game started on this night. The 33-inning game spanned 3 days, beginning on April 18, extending into April 19, and ending on June 23. The Pawtucket (Rhode Island) Red Sox beat the Rochester (New York) Red Wings 3-2. Cal Ripken was playing 3rd base for the Red Wings– 1981
Beauty and the Beast was the first Disney animated film to become a Broadway musical. It opened on this day at New York's Palace Theater– 1994
Cardinals gathered in Rome to select Pope John Paul II's successor– 2005
Catherine Ndereba, of Kenya, won the 109th Boston Marathon for an unprecedented fourth time in the women's division– 2005
Aaron Caissie set a world record by balancing 17 spoons on his face– 2009
Weather
The temperature soared to 90 degrees F in New York City– 1896
Logan Airport in Boston reported a temperature of 2 degrees F– 1964
The Red River in the Fargo-Moorhead region of North Dakota rose more than 20 feet above flood stage.– 1997
The temperature reached 104 degrees Fahrenheit in Del Rio, Texas– 2006
COURTESY www.almanac.com