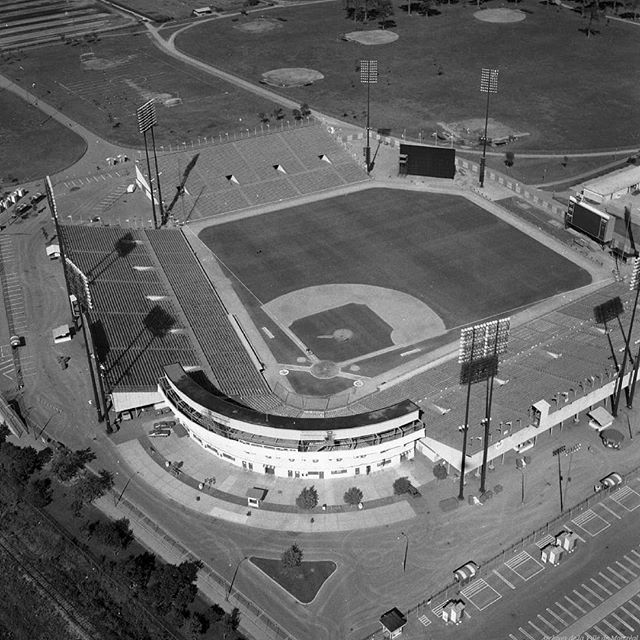 FROM WIKIPEDIA COMMONS
Jarry Park Stadium (French: Stade Parc Jarry[stad paʁk ʒaʁi]) is a tennis stadium in Montreal, Quebec, Canada. It was formerly a baseballstadium, home to the Montreal Expos (now Washington Nationals), from 1969 to 1976. The Expos were Major League Baseball's first Canadian franchise. It served as a temporary home (for eight seasons) until the domed Olympic Stadium was finished and made available to the Expos. The ballpark was typically called simply (and inaccurately, since the stadium was built within the larger park) "Jarry Park" or Parc Jarry. The stadium hosted two National Football League preseason games in 1969; August 25 (Detroit Lions vs Boston Patriots) and September 11 (New York Giants vs Pittsburgh Steelers).
TODAY'S ALMANAC
Maundy Thursday is the Thursday before Easter. On this day, Christians recall Jesus' final Passover meal—which we now call the Lord's Supper—at which he washed the feet of His disciples, demonstrating his humility to value others above himself. He then commanded them to do the same for each other. "Maundy" is a shortened form of mandatum (Latin), which means "command." It was on the next day, Good Friday, that Jesus was crucified. Today is also a holy day for those who serve as clergy for they often renew their ordination vows, recommitting themselves to service.
Question of the Day
How do I take care of a sick spider plant?Spider plants have a tendency to become pot-bound, and if yours is looking pale and sickly, this may be the reason. Take the plant out of the pot and trim back the roots. Repot with fresh soil, place where it will receive light, and take care not to overwater.
Advice of the Day
If fowls roll in the sand, rain is at hand.
Home Hint of the Day
Before you can install new cedar shingles (either white or red) on a roof, you must remove the old roofing material and pull out or drive in all nails.
Word of the Day
ConjunctionThe time at which two or more celestial bodies appear closest in the sky. Inferior: Mercury or Venus is between the Sun and Earth. Superior: The Sun is between a planet and Earth.
Puzzle of the Day
What did one hurricane say to the other hurricane?I have my eye on you.
Born
Anne Sullivan (teacher and mentor to Helen Keller) – 1866
Loretta Lynn (singer) – 1935
Pete Rose (baseball player) – 1941
Brad Garrett (actor) – 1960
Adrien Brody (actor) – 1973
Sarah Michelle Gellar (actress) – 1977
Abigail Breslin (actress) – 1996
Died
Burl Ives (actor & singer) – 1995
Buck Baker (race car driver) – 2002
Don Ho (entertainer) – 2007
Trevor Bannister (actor) – 2011
Walter Breuning (retired railroad worker from Montana who was, at the time of his death, the world's oldest man at 114 years old.) – 2011
Events
The sky was full of unknown moving objects in Nuremberg, Germany– 1561
Noah Webster's American Dictionary of the English Language printed– 1828
President Abraham Lincoln was shot by John Wilkes Booth at Ford's Theater, Washington, D.C.– 1865
New Jersey passed the first law providing state aid for public roads– 1891
John Harvey Kellogg patented process to make cornflakes– 1896
James Cash Penney opened his first store, Kemmerer, Wyoming– 1902
President William Howard Taft threw a pitch to open the baseball season– 1910
The world's largest passenger ship, the RMS Titanic, struck an iceberg in the North Atlantic on its maiden voyage– 1912
Judge ruled "aspirin" is generic trademark in U.S.– 1921
Katharine Hepburn became the first to win three Best Actress Oscars– 1969
First major league baseball game in Canada, Expos vs. Cardinals– 1969
Don Calhoun won $1 million by making a 79-foot shot in a basketball contest– 1993
51-pound 4-ounce monkfish caught in Stellwagen Bank, Massachusetts– 2008
Beatle George Harrison received a star on Hollywood's Walk of Fame– 2009
A massive fireball shot across the evening sky, visible for about 15 minutes in the Midwest. A sonic boom and lightning were reported.– 2010
A 7.1-magnitude earthquake devastated China's Yushu County in the Qinghai Province– 2010
Weather
Severe coastal storm, Virginia and North Carolina– 1877
Devastating tornado cut 20 mile path through St. Cloud, Minnesota– 1886
Today into the following day: 87 inches of snow fell in 27.5 hours in Silver Lake, Colorado– 1921
The Black Blizzard, a huge dust storm, blew through the drought-stricken Great Plains. The day became known as "Black Sunday."– 1935
Minneapolis and St. Paul, Minnesota, received 13 inches of snow– 1983
COURTESY www.almanac.com