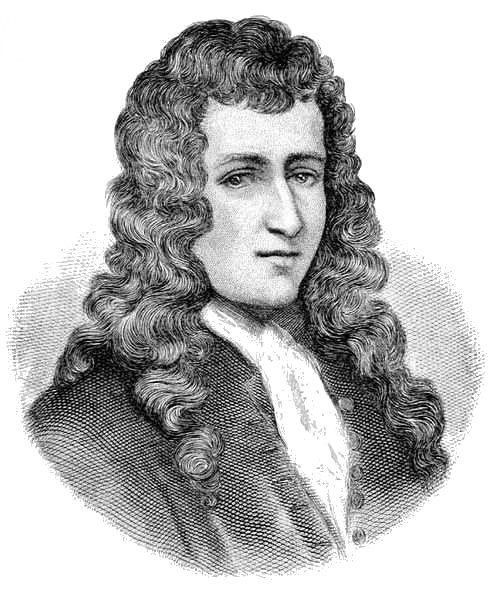 FROM WIKIPEDIA COMMONS
René-Robert Cavelier, Sieur de La Salle (/ləˈsæl/; November 22, 1643 – March 19, 1687), was a 17th-century French explorer and fur trader in North America. He explored the Great Lakes region of the United States and Canada, the Mississippi River, and the Gulf of Mexico. He is best known for an early 1682 expedition in which he canoed the lower Mississippi River from the mouth of the Illinois River to the Gulf of Mexico; there, on 9 April 1682, he claimed the Mississippi River basin for France after giving it the name La Louisiane. One source states that "he acquired for France the most fertile half of the North American continent".
La Salle is sometimes credited with being the first European to traverse the Ohio River, and sometimes the Mississippi as well. Although Joliet and Marquette preceded him on the upper Mississippi in their journey of 1673–74, La Salle extended exploration, and France's claims, all the way to the river's mouth, while the existing historical evidence does not indicate that La Salle ever reached the Ohio/Allegheny Valley.
TODAY'S ALMANAC
Question of the Day
What was the first export of produce made by the first American settlers, and for whom was it made?Merchantable timber was the first product exported by the settlers. As early as 1640 beams, masts, spars, and planks for shipbuilding, and all sizes of lumber were sawed and split in huge quantities, shipped mainly to Britain, but also to far distant ports.
Advice of the Day
Robins arrive now with this advice: "Cheer up, cheer up, cheer up."
Home Hint of the Day
You can mix concrete by hand in a wheelbarrow, but be careful to mix it well. If you're planning to mix more than a few wheeelbarrows of concrete, you're better off renting a small gas-powered cement mixer from a rental company.
Word of the Day
Evening starA planet that is above the western horizon at sunset and less than 180° east of the Sun in right ascension.
Puzzle of the Day
What two words have the most letters?Post office.
Died
Pope Benedict VIII – 1024
Frank Lloyd Wright (architect) – 1959
Harry Babbitt (sang with the Kay Kyser big band on such hits as The White Cliffs of Dover" and voiced the laugh of Woody Woodpecker") – 2004
Born
Theobald Boehm (inventor and musician, who perfected the modern flute) – 1794
Eadweard Muybridge (photographer, motion picture pioneer) – 1830
Hugh Hefner (editor & publisher) – 1926
Carl Perkins (musician) – 1932
Dennis Quaid (actor) – 1954
Seve Ballesteros (golfer) – 1957
Cynthia Nixon (actress) – 1966
Keshia Knight Pulliam (actress) – 1979
Jesse McCartney (actor & singer) – 1987
Kristen Stewart (actress) – 1990
Elle Fanning (actress) – 1998
Events
Great Britain's King Henry I was reprimanded in church for his long hair– 1105
Explorer La Salle claimed the Mississippi basin for France, calling it Louisiana– 1682
First tax-supported U.S. public library founded, Peterborough, New Hampshire– 1833
Confederate general Robert E. Lee surrendered to Union general Ulysses S. Grant at Appomattox Court House, Virginia– 1865
Jumbo the circus elephant arrived in the U.S.– 1882
Aerial Ferry Bridge opened in Duluth, Minnesota– 1905
The Boston Red Sox played Harvard University in the first official baseball game at Fenway Park. (The Sox won 2-0.)– 1912
Battle of Vimy Ridge (WWI) began in France– 1917
The Boston Celtics became the first NBA team to sweep an NBA championship series– 1959
NASA introduced first seven astronauts to press– 1959
Golfer Arnold Palmer won his third Masters Tournament– 1962
Sir Winston Churchill proclaimed an honorary U.S. citizen– 1963
First baseball game in indoor stadium, Houston, Texas– 1965
Nature magazine published the longest known scientific name, which was about 207,000 letters– 1981
Prince Charles married Camilla Parker Bowles– 2005
Rare Bactrian camel born at Budapest Zoo.– 2014
Weather
Dust storm in Colorado and Wyoming– 1895
F5 tornado hit Glazier and Higgins, Texas, and Woodward, Oklahoma– 1947
Texas experienced a bad dust storm– 1956
Sixteen inches of snow fell in Eastport, Maine– 1971
COURTESY www.almanac.com