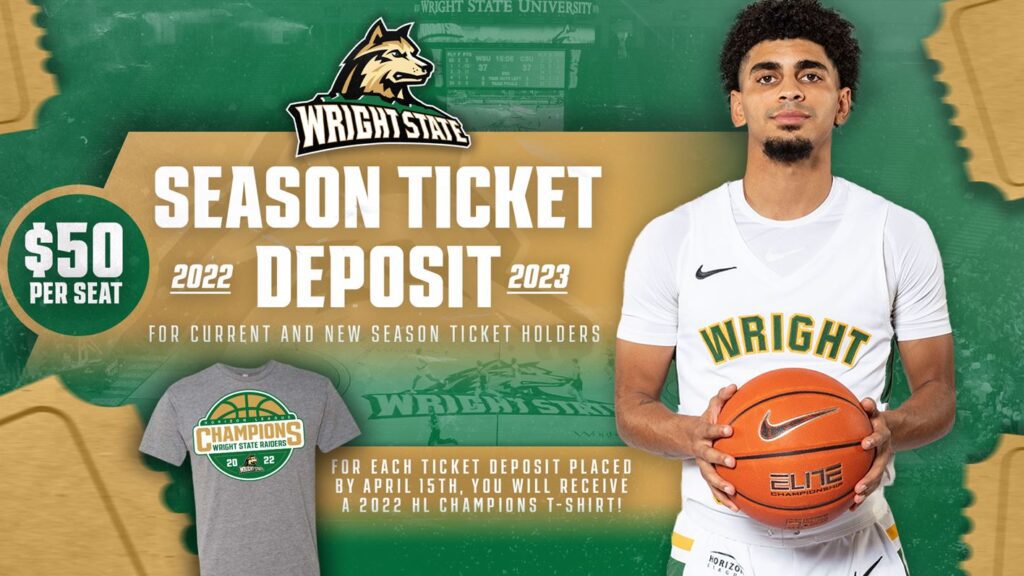 March was historic for the Wright State men's basketball program as it earned a bid to the NCAA Tournament by winning the Horizon League Championship. The Raiders then headed to the NCAA Tournament First Four to take on Bryant at UD Arena, winning 93-82 to record the first Division I tournament win in team history in front of over 13,000 Daytonians. This marked the program's second trip to the NCAA Tournament in the past five years, and it continues a run of five seasons with some form of a Horizon League title for the Raiders.
Be a part of the excitement and growth of Raider Basketball by locking in your 2022-23 season tickets today! Fans interested in season tickets can place a $50 per-seat deposit for a limited time and will receive a Horizon League Tournament Champions t-shirt for each per-seat deposit paid. By making a deposit, new season ticket holders will be able to select their seats before the general public in August. Existing season ticket holders will see any deposits made reflected on their renewal invoice later this summer. This offer will expire on 11:59 pm on April 15, 2022.

Fans will notice that the deposits will be listed as GA, which is how our ticketing system denotes an early deposit. All deposits are non-refundable, but may be used as a credit toward other future ticket packages.
To place your deposit you can access your WSU Account HERE or call the ticket office at (937)-775-4934.
Frequently Asked Questions
If I'm a current season ticket holder and I do not want to place my deposit, will I lose my seats?
No, this is an opportunity for you to celebrate the excitement of the season by getting a championship t-shirt and getting on board early for next season.
What if I change my mind and decide not to get season tickets?
While the $50 deposit is non-refundable, the t-shirt is yours to keep, and you are not obligated to pay further for season tickets. You are able to leave the deposit as a credit on your ticketing account for future purchases.

Can I select or change my seat location at this time?
No. Seats will be selected during the renewal process later this summer.
COURTESY WRIGHT STATE ATHLETIC COMMUNICATIONS