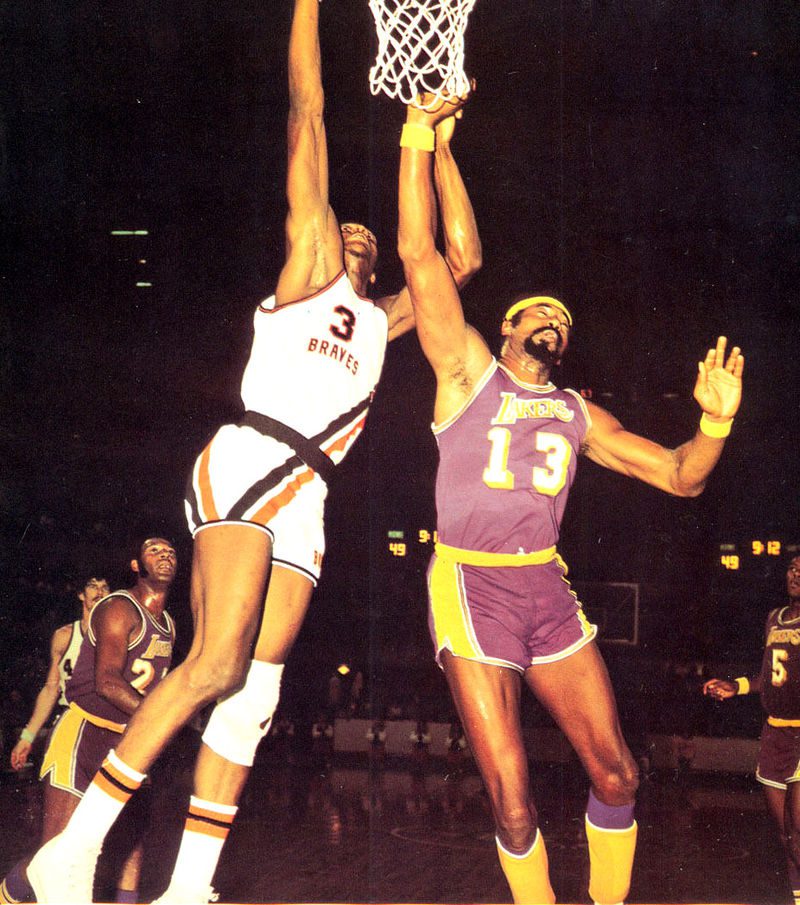 FROM WIKIPEDIA COMMONS
Wilton Norman Chamberlain (/ˈtʃeɪmbərlɪn/; August 21, 1936 – October 12, 1999) was an American professional basketball player who played as a center and is widely regarded as one of the greatest players in the sport's history. He played for the Philadelphia/San Francisco Warriors, the Philadelphia 76ers, and the Los Angeles Lakers of the National Basketball Association (NBA). Chamberlain played for the Kansas Jayhawks and the Harlem Globetrotters before joining the NBA, and he stood 7 ft 1 in (2.16 m) tall.
Chamberlain holds numerous NBA regular season records in scoring, rebounding, and durability categories. He is the only player to score 100 points in a single NBA game, and average more than 40 and 50 points in a season. He won seven scoring, eleven rebounding, nine durability, and nine field goal percentage titles, and he led the league in assists once. Chamberlain is the only player in NBA history to average at least 30 points and 20 rebounds per game in a season, which he accomplished seven times. He is also the only player to average at least 30 points and 20 rebounds per game over the entire course of his NBA career. Although Chamberlain suffered a long string of NBA Finals losses during his career, he had a successful career, winning two NBA championships, earning four regular-season NBA Most Valuable Player (MVP) awards, the NBA Rookie of the Year award, one NBA Finals MVP award, and one NBA All-Star Game MVP award, and he was selected to thirteen NBA All-Star Games and ten All-NBA Teams (seven First and three Second teams). Chamberlain was enshrined in the Naismith Memorial Basketball Hall of Fame in 1978, elected into the NBA 35th Anniversary Team in 1980, and was chosen as one of the 50 Greatest Players in NBA History in 1996. In October 2021, he was named to the NBA 75th Anniversary Team.
Chamberlain was known by several nicknames during his basketball playing career. He disliked the ones that called attention to his height, such as "Goliath" and "Wilt the Stilt". A Philadelphia sportswriter coined the nicknames during Chamberlain's high school days. He preferred "The Big Dipper", which was inspired by his friends who saw him dip his head as he walked through doorways. After his professional basketball career ended, Chamberlain played volleyball in the short-lived International Volleyball Association (IVA), was president of the IVA, and is enshrined in the IVA Hall of Fame for his contributions. He was a successful businessman, authored several books, and appeared in the 1984 movie Conan the Destroyer. Chamberlain was also a lifelong bachelor and became notorious for his statement of having had sexual relations with as many as 20,000 women.
TODAY'S ALMANAC
Question of the Day
What exactly is a "kosher" dill pickle?Kosher is from a Hebrew word meaning "right," "proper," or "fit." It is usually applied to food, especially to meat that has been slaughtered and prepared according to the prescribed manner. Kosher salt is not treated with additives and is as close to pure solar salt as you can get. If you taste a kosher dill pickle, you'll know it's been prepared the best possible way.
Advice of the Day
A fault denied is twice committed.
Home Hint of the Day
Before you paint, ventilate. Keep a window or outside door open in the room you are painting to avoid breathing noxious fumes.
Word of the Day
Moonrise/MoonsetThe Moon's rising above or descending below the horizon.
Puzzle of the Day
What letter causes a small word to make a loud noise?D makes in into din.
Born
William Byrd (satirist) – 1674
August Anheuser Busch Jr. (brewer) – 1899
Rudolf Serkin (pianist) – 1903
Marlin Perkins (zookeeper) – 1905
Nelson Algren (novelist) – 1909
Edmund Muskie (politician) – 1914
Freddie Bartholomew (actor) – 1924
Dianne Wiest (actress) – 1948
Reba McEntire (country singer) – 1955
Vince Vaughn (actor) – 1970
Julia Stiles (actress) – 1981
Lady Gaga (entertainer) – 1986
Died
Dwight D. Eisenhower (34th U.S. president) – 1969
Maria von Trapp (singer) – 1987
Eugene Ionesco (playwright) – 1994
Peter Ustinov (actor, playwright, novelist, & director) – 2004
Art James (television game show host and announcer) – 2004
Richard Griffiths (actor) – 2013
James Noble (actor) – 2016
Peggy Fortnum (illustrator) – 2016
Events
Cat eating condemned by England's Richard II– 1384
The U.S. Senate voted to censure President Jackson for the removal of federal deposits from the Bank of the U.S.– 1834
First world weightlifting championships held in London– 1891
Emma Goldman gave a shocking speech (on contraception) to an audience in NYC. She was arrested and given a choice of paying a $100 fine or going to jail for 15 days. She chose jail– 1915
Mary Pickford married Douglas Fairbanks– 1920
U.S. and U.N. officials signed an agreement permitting the U.N. to issue its own postage stamps– 1951
Tsunami struck Port Alberni, British Columbia– 1964
The rock musical Hair opened at the Biltmore Theater in New York City– 1968
Basketball's Wilt Chamberlain played his last professional game. In 14 years, 1,045 games, he never fouled out of a game– 1973
Rocky, starring Sylvester Stallone, won the Academy Award for Best Picture– 1977
Three Mile Island nuclear power plant in southeastern PA seriously malfunctioned, raising fears of a meltdown of the reactor's core, causing the evacuation of thousands and creating widespread concern about the safety of such facilities– 1979
El Chichon volcano in Mexico began series of eruptions, killing and injuring hundreds– 1982
Mt. Kilauea, Hawaii, erupted– 1983
Russian President Boris Yeltsin claimed victory after surviving attempts by the Russian Congress to depose him– 1993
A major earthquake struck off the west coast of Indonesia's Sumatra island– 2005
Around 6:15 a.m. EDT, a fireball was seen in the northeastern United States– 2019
Weather
The Ottauquechee River reached its highest level since 1869 at Woodstock, Vermont– 1913
The earliest ice out of Lake Winnipesaukee, N.H., on record– 1921
Twenty-two tornadoes spotted in the Carolinas– 1984
COURTESY www.almanac.com