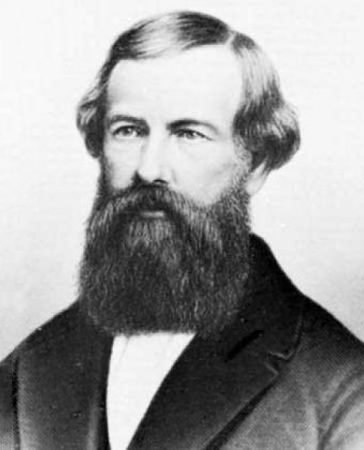 COURTESY WIKIPEDIA COMMONS
Elisha Graves Otis (August 3, 1811 – April 8, 1861) was an American industrialist, founder of the Otis Elevator Company, and inventor of a safety device that prevents elevators from falling if the hoisting cable fails.
Otis Worldwide
Otis Worldwide Corporation (branded as the Otis Elevator Company, its former legal name) is an American company that develops, manufactures and markets elevators, escalators, moving walkways, and related equipment.
Based in Farmington, Connecticut, U.S, Otis is the world's largest manufacturer of vertical transportation systems, principally focusing on elevators, moving walkways, and escalators. The company pioneered the development of the "safety elevator", invented by Elisha Otis in 1852, which used a special mechanism to lock the elevator car in place should the hoisting ropes fail.
The Otis Elevator Company was acquired by United Technologies in 1976, but it was spun off as an independent company 44 years later in April 2020 as Otis Worldwide Corporation.
TODAY'S ALMANAC
Question of the Day
I'm curious about Gregorian chants. Who was Gregory?There were 16 popes named Gregory, but the one who lent his name to the chants was Pope Gregory I, also known as Gregory the Great (540?-604). He was the father of the medieval papacy and a tremendous influence on his time. Gregorian chant proper is a body of music, purely vocal and ecclesiastical, that evolved from the papal choirs of the fifth and sixth centuries. It was codified in the time of Gregory I and stands as the basis for all Gregorian music.
Advice of the Day
Hang bird-nesting materials outside now. Dryer lint, hair clippings, yarn, and any natural fibers are good choices.
Home Hint of the Day
The intense heat from a chimney fire is likely to crack the bricks in the chimney, making it easy for the fire to ignite any woodwork that's in contact with it. For this reason, keep all structural members at least 2 inches from a chimney.
Word of the Day
OppositionThe Moon or a planet appears on the opposite side of the sky from the Sun (elongation 180°).
Puzzle of the Day
Why does a man paving the streets correct the public morals?Because he is amending the public ways.
Born
John Bartram (botanist) – 1699
Fannie Farmer (cookery expert) – 1857
Eric Fromm (psychoanalyst) – 1900
Joan Crawford (actress) – 1908
Werner von Braun (rocket scientist) – 1912
Roger Bannister (runner) – 1929
Ron Jaworski (football player) – 1951
Teofilo Stevenson (boxer) – 1952
Chaka Khan (singer) – 1953
Moses Malone (basketball player) – 1955
Amanda Plummer (actress) – 1957
Keri Russell (actress) – 1976
Nicholle Tom (actress) – 1978
Died
Barney Clark (first person to receive a permanent artificial heart) – 1983
Arthur Lithgow (actor, producer, and director who was a pioneer in American regional theater) – 2004
Elizabeth Taylor (actress) – 2011
Gary Dahl (creator of the Pet Rock) – 2015
Madeleine Albright (first woman to serve as U.S. secretary of state ) – 2022
Events
The first standing ovation was recorded at the first performance of Handel's Messiah. King George was so inspired (or restless) that he jumped to his feet; when the king did that, everyone else did– 1743
Halifax Gazette became Canada's first newspaper– 1752
In a speech to the Virginia Provincial Convention, Patrick Henry made a plea for independence from Britain, saying I know not what course others might take, but as for me, give me liberty, or give me death.– 1775
Society L'Institut Canadien du Quebec incorporated– 1848
Elisha Graves Otis installed the first commercial passenger elevator, in NYC store– 1857
Opera diva Nellie Melba recounted how she prepared toast, the original melba toast– 1901
SS Yongala sank in cyclone, near Townsville, Australia– 1911
Herbert Hoover became the first president to have a telephone installed on his desk– 1929
WWII relocation of Japanese-Americans away from the West Coast began– 1942
The World Meteorological Organization established by the UN– 1950
U.S. Army sold its last homing pigeons– 1957
NASA astronaut John Young smuggled a corned beef sandwich onboard Gemini 3– 1965
America's first two-person space flight began as Gemini 3 blasted off from Cape Kennedy with astronauts Virgil I. Grissom and John W. Young on board– 1965
President Reagan first proposed development of technology to intercept enemy missiles — a proposal that came to be known as the strategic defense initiative, or Star Wars– 1983
Billy Joel married model Christie Brinkley in NYC– 1985
Sandinistas and Contras signed a 60-day ceasefire accord– 1988
A 1910 Honus Wagner baseball card was sold at a Sotheby's auction for $451,000 to hockey great Wayne Gretzky and Los Angeles Kings owner Bruce McNall– 1991
Wayne Gretzky scored his 802nd career goal in front of a sellout crowd at the Great Western Forum, to break the legendary Gordie Howe's NHL all-time goal record– 1994
Mir space station deorbited as planned, falling into the South Pacific Ocean– 2001
An oil refinery explosion occurred in Texas City, Texas– 2005
Weather
Edmonton, Alberta, reached 22.2 degrees C (72 degrees F)– 1889
Easter Sunday tornado killed 94 in Omaha, Nebraska– 1913
First robin of the season seen, Dublin, N.H.– 1941
65 degrees F, Montreal, Quebec– 1979
COURTESY www.almanac.com
Its slogan is "Made to move you".