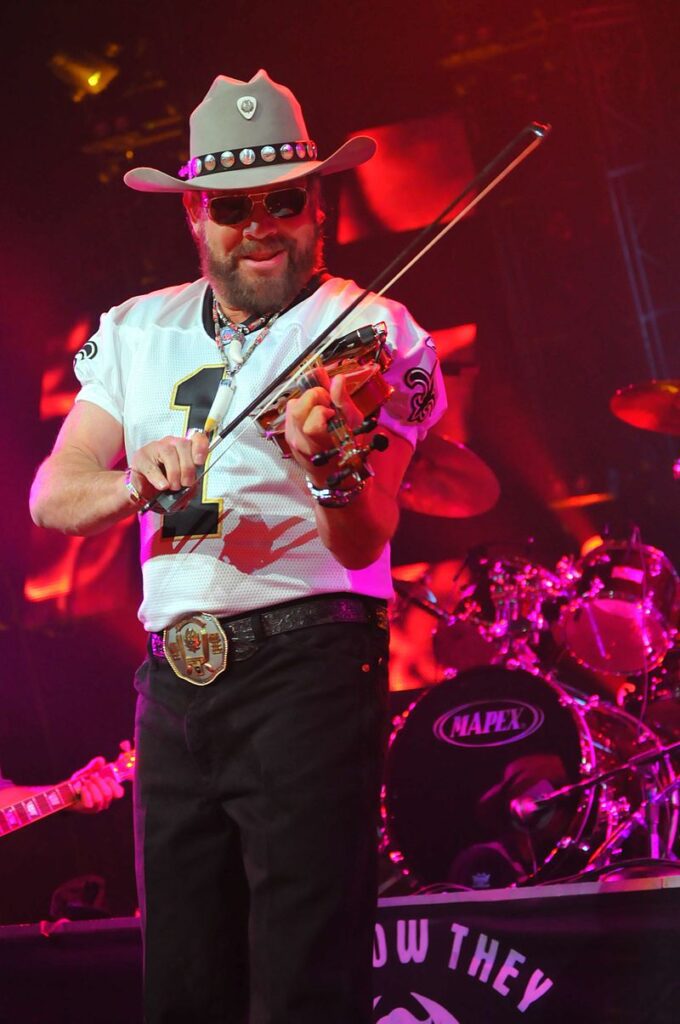 FROM WIKIPEDIA COMMONS
Randall Hank Williams (born May 26, 1949), known professionally as Hank Williams Jr. or Bocephus, is an American singer-songwriter and musician. His musical style is often considered a blend of Southern rock, blues, and country. He is the son of country music legend Hank Williams.
Williams began his career following in his famed father's footsteps, covering his father's songs and imitating his father's style. Williams' first television appearance was in a 1964 episode of ABC's The Jimmy Dean Show, in which at age fourteen he sang several songs associated with his father. Later that year, he was a guest star on Shindig!.
Williams' style evolved slowly as he struggled to find his own voice and place within country music. This was interrupted by a near-fatal fall off the side of Ajax Peak in Montana on August 8, 1975. After an extended recovery, he challenged the country music establishment with a blend of country, rock, and blues. As a multi-instrumentalist, Williams' repertoire of skills includes guitar, bass guitar, upright bass, steel guitar, banjo, dobro, piano, keyboards, saxophone, harmonica, fiddle, and drums.
From 1989 through October 2011, his song "All My Rowdy Friends Are Coming Over Tonight", refashioned as "All My Rowdy Friends Are Here on Monday Night", had been used to open broadcasts of Monday Night Football until it was pulled after Williams made controversial and widely criticized comments comparing President Barack Obama to Adolf Hitler. The song returned to open the show in 2017 although it was temporarily removed in 2020.
On August 12, 2020, Williams was selected to be inducted into the Country Music Hall of Fame.
TODAY'S ALMANAC
Question of the Day
In late winter/early spring, I am going to prune a large burning bush. I want to prune it to about half its size. Is that too much?You don't say what type of burning bush you own, but the most common variety is 'Compactus', which is a silly name for a plant that can grow ten feet tall. In fact, unless you have a dwarf version of the shrub, such as 'Nordine Strain' or 'Rudy Haag', you're going to end up with a pretty big plant. We didn't find any information on whether such excessive pruning will harm the plant, but since it sounds as if you want a smaller shrub anyway, go ahead and try it. If the plant dies, you can replace it with one of the smaller versions.
Advice of the Day
To relieve rheumatism, chew on parsley.
Home Hint of the Day
To fix a squeaky door, remove the top hinge pin and coat it lightly with any all-purpose oil such as 3-In-One Household Oil. Replace the pin. If the door still squeaks, repeat the process with the next hinge.
Word of the Day
PerigeeThe point in the Moon's orbit that is closest to Earth.
Puzzle of the Day
Did Jonah cry when the whale swallowed him?He thought he was going to blubber, but he didn't.
Died
Jean-Baptiste Lully (composer) – 1687
Johann Wolfgang von Goethe (writer) – 1832
Karl Wallenda (circus performer) – 1978
Sir Richard Sykes (British ambassador to the Netherlands, assassinated by Irish Republican Army) – 1979
David Strickland (actor) – 1999
Janet Akyuz Mattei (astronomer) – 2004
Aldabra tortoise Adwaitya (thought to be 255 years old, in Kolkata, India) – 2006
Israel Cachao" Lopez" (pioneer of mambo style music) – 2008
Born
Thomas Crawford (sculptor) – 1814
Randolph Caldecott (illustrator) – 1846
Robert Andrews Millikan (physicist) – 1868
Chico Marx (comedian) – 1887
Louis L'Amour (author) – 1908
Karl Malden (actor) – 1912
Marcel Marceau (mime) – 1923
Stephen Sondheim (composer) – 1930
William Shatner (actor) – 1931
George Benson (singer) – 1943
Andrew Lloyd Webber (composer) – 1948
Bob Costas (sports broadcaster) – 1952
Stephanie Mills (singer) – 1957
Reese Witherspoon (actress) – 1976
James T. Kirk (character on Star Trek series) – 2233
Events
Massasoit, chieftain of the Wampanoags, came to Plymouth to treat of peace with Pilgrims– 1621
Gambling made illegal in Boston– 1630
Stamp Act passed by the English Parliament, requiring American colonists to buy and affix British-issued stamps to most documents– 1765
Young Men's Hebrew Association founded– 1874
President Grover Cleveland appointed members of the first regulatory agency, the Interstate Commerce Commision– 1887
First women's basketball game was played at Smith College in Northampton, Massachusetts– 1893
Beer and Wine Revenue Act, signed by FDR, legalized wine and so-called 3.2 beer– 1933
Grand Coulee Dam on Colombia River began production of electric power– 1941
First U.S. rocket to leave the earth's atmosphere, launched from White Sands, New Mexico, attained height of 50 miles– 1946
7.0-magnitude earthquake occurred in Fox Islands, Alaska– 1957
Hank Williams Jr. made his stage debut at 8 years old– 1958
Louis B. Leakey announced his 1961 discovery of a 14 million-year-old hominoid in Kenya– 1962
The Beatles' first album, Please Please Me, was released in Britain– 1963
Muhammad Ali knocked out Zora Foley in NY. This was his last fight before being stripped of his title for avoiding the military draft– 1967
Proposed women's equal rights amendment to Constitution submitted to states for ratification– 1972
Presidential candidate Jimmy Carter revealed that the Grateful Dead, Led Zeppelin, and Bob Dylan inspired him while he worked late nights at the Georgia governor's mansion– 1976
U.S. Congress voted to overide President Reagan's veto and reinstate the Civil Rights Restoration Act. The law, which was designed to replace protections voided by 1984 U.S. Supreme Court decision, prohibitted discrimination by an institution receiving federal funds– 1988
A coyote was captured in Central Park, New York City. Named Hal by park workers, he was about a year old and weighed 35 pounds. First spotted on Sunday, March 19, the hunt began the afternoon of Tuesday, March 21 and ended Wednesday, March 22. He was taken to a wildlife center outside NYC. City Parks Commissioner Adrian Benepe said the coyote is believed to be only the second coyote ever spotted in Central Park.– 2006
Alaska's Mount Redoubt volcano erupted four times. An ash plume more than 9 miles was released into the air in the volcano's first emission in nearly 20 years– 2009
An animatronic T-rex caught fire in Canon City, Colorado– 2018
Weather
Deadly tornado struck Urbana, Ohio, blowing a Bible 15 miles– 1830
Kansas and Texas experienced a blizzard– 1957
Twenty degrees F at Barrow, Alaska– 1990
Ninth day of March record highs (78 to 87 degrees Fahrenheit) in Chicago, Illinois– 2012
COURTESY www.almanac.com