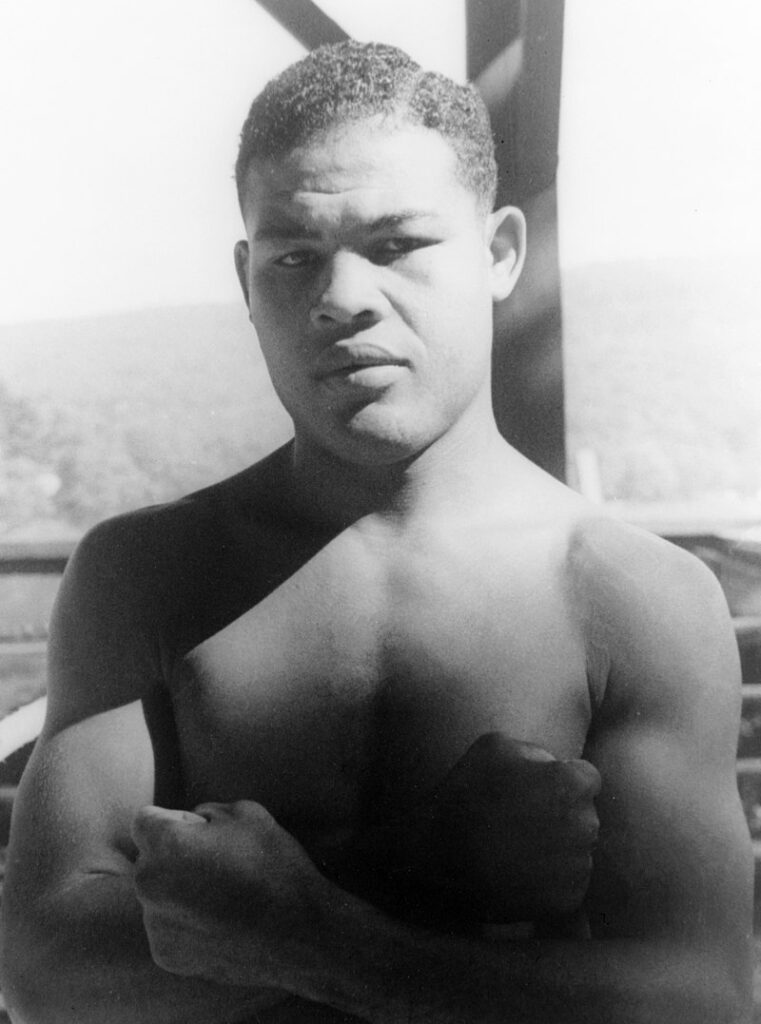 FROM WIKIPEDIA COMMONS
Joseph Louis Barrow (May 13, 1914 – April 12, 1981) was an American professional boxer who competed from 1934 to 1951. Nicknamed the Brown Bomber, Louis is widely regarded as one of the greatest and most influential boxers of all time. He reigned as the world heavyweight champion from 1937 until his temporary retirement in 1949. He was victorious in 25 consecutive title defenses, a record for all weight classes. Louis had the longest single reign as champion of any boxer in history.
Louis's cultural impact was felt well outside the ring. He is widely regarded as the first person of African-American descent to achieve the status of a nationwide hero within the United States, and was also a focal point of anti-Nazi sentiment leading up to and during World War II because of his historic rematch with German boxer Max Schmeling in 1938. He was instrumental in integrating the game of golf, breaking the sport's color barrier in America by appearing under a sponsor's exemption in a PGA event in 1952.
TODAY'S ALMANAC
Purim 2021 will begin at sundown on March 16 and conclude at nightfall on Friday, the 26th. One of the merriest days of the Jewish year is the early-spring holiday of Purim, celebrated on the 14th day of the month of Adar. It commemorates the deliverance of the Jews from the massacre plotted by Haman, the chief minister of King Ahasuerus of Persia. The source of the holiday is the biblical Book of Esther, which is read during special Purim services that are marked by great revelry. Each time Haman's name is read, congregants drown it out by making as much noise as possible—whistling, catcalling, hissing, booing, stomping, or using groggers (special Purim noisemakers). One of the traditional foods of this celebration is hamantaschen, a three-cornered filled pastry supposed to represent Haman's hat.
Question of the Day
What does "non sequitur" mean? It is the title of a comic strip, and I can't figure out the significance.This Latin phrase means "it does not follow." It is used to describe a statement that does not follow logically from anything previously said.
Advice of the Day
To remove chewing gum, rub it with vinegar.
Home Hint of the Day
Both sides of a sheet of plywood are graded. An A-A sheet would be used for furniture making. B-D might be used to panel a wall, putting the D side against the studs. D-D is used to enclose new homes, where neither surface of the plywood will be seen.
Word of the Day
Sun Fast/SlowWhen a sundial reading is behind (slow) or ahead of (fast) clock time.
Puzzle of the Day
What is lengthened by being cut at both ends?A ditch
Born
George Clymer (merchant) – 1739
Caroline Herschel (astronomer) – 1750
James Madison (4th U.S. president) – 1751
Matthew Flinders (navigator & explorer) – 1774
Georg Ohm (physicist) – 1789
Anna Atkins (English botanist, photographer) – 1799
Conrad Nagel (actor) – 1897
Mike Mansfield (politician) – 1903
Robert Rossen (director) – 1908
Pat Nixon (U.S. First Lady) – 1912
Jerry Lewis (comedian) – 1926
Lauren Graham (actress) – 1967
Alan Tudyk (actor) – 1971
Died
Aubrey Beardsley (artist) – 1898
T-Bone Walker (musician) – 1975
Ivan Dixon (actor) – 2008
Frank Thornton (actor) – 2013
Events
First recorded fire in Boston, Massachusetts– 1630
United States Military Academy at West Point, New York, established– 1802
Freedom's Journal, the first African American newspaper in the U.S., was printed in NYC– 1827
New York Stock Exchange's predecessor set a record for its slowest trading day in history, with only 31 shares sold. (Nowadays, an average of more than a billion shares are traded each day.)– 1830
The Scarlet Letter, written by Nathaniel Hawthorne, was first published– 1850
The Barnum and Bailey Circus made its debut in NYC– 1881
Robert Goddard launched first liquid fuel rocket, Auburn, MA– 1926
Germany abrogated the Treaty of Versailles by ordering universal military service– 1935
Brussels Pact, a 50-year military alliance, signed between Great Britain, France, Belgium, the Netherlands, and Luxembourg– 1948
Former heavyweight champion Joe Louis made his debut as a pro wrestler. He knocked out 320 pound cowboy Rocky Lee– 1956
Gemini VIII docked with an Agena rocket, the first docking of two vehicles in space. Astronauts Neil Armstrong and David Scott were on board the spacecraft. When it began to spin, the docking mission was aborted– 1966
My Lai and My Khe villagers were killed by American troops in Vietnam (Vietnam War)– 1968
Prisoner-of-war Col. Floyd J. Thompson released from N. Vietnam after almost 9 years– 1973
The Grand Ole Opry moved into its new 4,400-seat Opry House at the Opryland amusement park outside Nashville– 1974
William Buckley, first secretary of the U.S. embassy's political section and CIA station chief, was kidnapped in Beirut– 1984
Lt. Colonel Oliver North, Vice Admiral John Poindexter, Richard Secord, and Albert Hakim were indicted by a federal grand jury on charges of conspiring to defraud the U.S. government by funneling aid to the Nicaraguan contras (Iran-contra affair)– 1988
Julie Croteau from St. Mary's College in Maryland became the first woman to play on an NCAA men's baseball team– 1989
Tonya Harding pleaded guilty to conspiring to hinder the investigation into the attack on rival Nancy Kerrigan– 1994
Norman Thagard became first American to visit Russian space station Mir– 1995
Weather
Great New England storm moved from Gulf of Mexico to Maine– 1843
The Wabash River at Terre Haute, Indiana, crested 11 feet above flood stage– 1939
Storm brought 80-mph wind gust to Centerville, Utah– 1988
COURTESY www.almanac.com