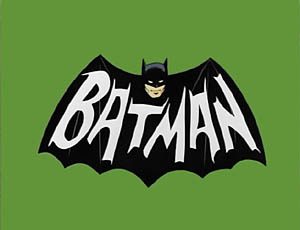 FROM WIKIPEDIA COMMONS
Batman is a 1960s Americanlive actiontelevision series, based on the DCcomic bookcharacter of the same name. It stars Adam West as Bruce Wayne/Batman and Burt Ward as Dick Grayson/Robin – two crime-fighting heroes who defend Gotham City from a variety of archvillains. It is known for its camp style, upbeat theme music, and its intentionally humorous, simplistic morality (aimed at its largely teenage audience). This included championing the importance of using seat belts, doing homework, eating vegetables, and drinking milk. It was described by executive producer William Dozier as the only situation comedy on the air without a laugh track. The 120 episodes aired on the ABC network for three seasons from January 12, 1966 to March 14, 1968, twice weekly during the first two seasons, and weekly for the third. In 2016, television critics Alan Sepinwall and Matt Zoller Seitz ranked Batman as the 82nd greatest American television show of all time. A companion feature film was released in 1966 between the first and second seasons of the TV show.
TODAY'S ALMANAC
A day for the 53 Commonwealth countries to acknowledge their shared values, their diversity, and their combined contributions to international harmony and prosperity. Since 1977, this day of observance occurs in Canada on the second Monday in March. The Royal Union flag is flown at many federal locations, and students learn about the Commonwealth via special activities.
Question of the Day
I have a cereus cactus that has never bloomed. It just keeps sending out shoots, getting long and leggy. How can I make it bloom?Cereus cacti have spectacular, fragrant blossoms, but they aren't known for blooming very often. We don't think the legginess has anything to do with your plant's inability to bloom, but perhaps you can trim some of the excess growth back and root the cuttings. To get your cactus to bloom annually, give it a mixture of equal parts water and 20-20-20 fertilizer monthly during the spring and summer. Don't feed it at all during the fall and winter, and let the plant go a bit dry between waterings. Since this plant prefers to be root-bound, don't repot it too often.
Advice of the Day
Bleach a pastry board or rolling pin with an occasional rubbing of fresh lemon.
Home Hint of the Day
Once an old metal file has grown too dull for further use, use an electric grinding wheel to grind down the end and make it into a chisel. You can make a handle out of a 6-inch length of broomstick.
Word of the Day
Plough MondayThe first Monday after Epiphany and Plough Sunday was so called because it was the day that men returned to their plough, or daily work, at the end of the Christmas holiday. It was customary for farm laborers to draw a plough through the village, soliciting money for a "plough-light," which was kept burning in the parish church all year. In some areas, the custom of blessing the plough is maintained.
Puzzle of the Day
Why is a dog dressed more warmly in summer than he is in winter?Because in winter he wears a fur coat, and in summer he wears a fur coat and pants.
Born
Johann Strauss, the Elder (composer) – 1804
Lucy Hobbs Taylor (first U.S. woman dentist) – 1833
John Luther Casey" Jones" (railroad engineer) – 1864
Albert Einstein (physicist) – 1879
Lester Brown (bandleader) – 1912
Max Shulman (novelist) – 1919
Hank Ketcham (cartoonist, creator of Dennis the Menace) – 1920
Frank Borman (astronaut) – 1928
Michael Caine (actor) – 1933
Quincy Jones (musician) – 1933
Billy Crystal (actor) – 1948
Kirby Puckett (baseball player) – 1961
Steph Curry (basketball player) – 1988
Simone Biles (Olympic gymnast) – 1997
Died
Emile Erckmann (novelist) – 1899
Henry Woods (federal judge) – 2002
Thomas Winship (editor of the Boston Globe from 1965-1984, Pulitzer Prize winner) – 2002
Peter Graves (actor) – 2010
Stephen Hawking (physicist) – 2018
Events
Eli Whitney patented the cotton gin– 1794
U.S. Congress adopted the gold standard– 1900
Pelican Island (Fla.) became first National Wildlife Refuge– 1903
Women granted the right to vote in Saskatchewan– 1916
Germany began retreat to Hindenburg Line (WWI)– 1917
First U.S. concrete seagoing ship, S.S. Faith, launched, Redwood City, California– 1918
U.S. President Warren G. Harding became the first chief executive to file an income tax report– 1923
Shirley Temple left her footprints and handprints in the wet cement at Grauman's Chinese Theatre in Hollywood– 1935
The U.S. Army Air Corp began bombing Osaka, Japan (WWII)– 1945
Possible UFO sighted in Healdsburg, California– 1958
Gordie Howe second player in NHL history to score 500 career goals– 1962
Jack Ruby was found guilty in Dallas of the murder of Lee Harvey Oswald, accused assassin of U.S. President John F. Kennedy– 1964
Batman, starring Adam West and Burt Ward, aired its last episode– 1968
OPEC agreed to lower the benchmark price for crude oil by 15%. It marked the first price cut since the group's formation in 1960– 1983
Marc Garneau chosen as first Canadian astronaut to go into space– 1984
Alligator River National Wildlife Refuge founded in Manteo, North Carolina– 1984
Lebanese hijacker, Fawaz Younis, brought to U.S. to stand trial, found guilty of air piracy in 1985 hijacking– 1989
The Soviet Congress elected Mikhail Gorbachev to the country's presidency, one day after clearing the post– 1990
Alice Cooper, Neil Diamond, Dr. John, Darlene Love, Tom Waits, Jac Holzman, Art Rupe, and Leon Russell were inducted into the Rock and Roll Hall of Fame– 2011
Weather
Red snow and hail fell in parts of Italy and present-day Slovenia– 1813
A tornado swept through Nashville, Tennessee– 1933
At the end of a four-day storm, a record for the state of Iowa was set in Iowa City, 27.2 inches of snowfall– 1951
COURTESY www.almanac.com