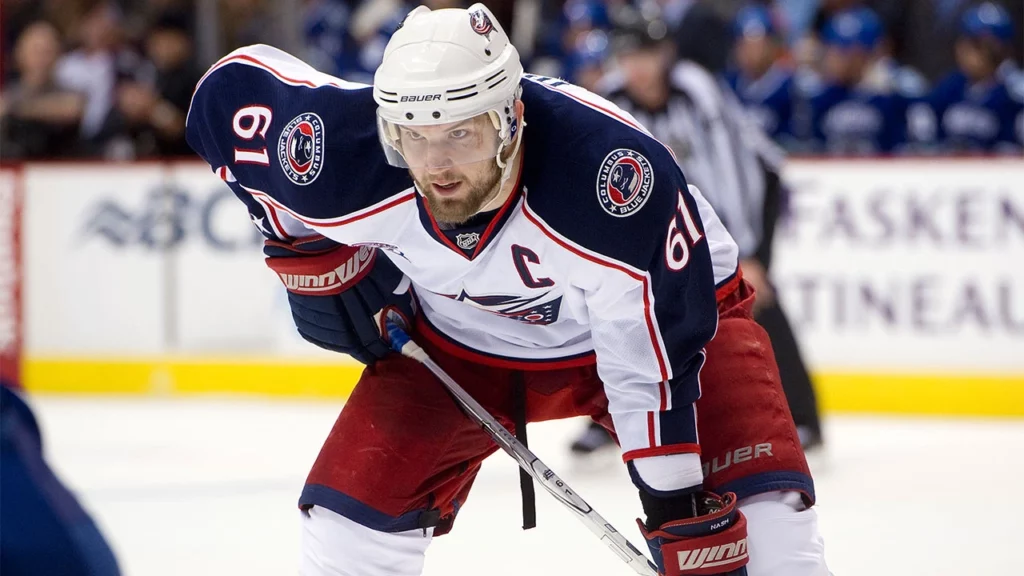 GAME AT A GLANCE
GOAL SCORERS
Columbus: G. Nyquist (14), V. Gavrikov (3), PP – Z. Werenski (9), PP – J. Voracek (3)
Boston: J. DeBrusk (15), E. Haula (8), C. Smith (10), PP – P. Bergeron (16), SO – D. Pastrnak

GOALTENDERS
Columbus: E. Merzlikins (28 saves, SOL)
Boston: J. Swayman (20 saves, SOW)
CBJ TEAM NOTES
The Blue Jackets fell to 10-4-2 in the last 16 games and have points in ten of their last 13 contests after tonight's shootout loss (8-3-2).
CBJ are 9-4-5 in 18 games vs. Boston since Nov. 21, 2014 and are 5-2-2 in the past nine contests since Dec. 27, 2016.
The winning team has scored three-plus goals in 19 of the past 22 games of the series.
With tonight's shootout loss, the club is 23-3-1 when scoring four goals or more in a contest this season, recording four-plus goals in six of the last nine games.
CBJ played their eighth of 15 back-to-back sets on Friday (LAK) and Saturday (BOS), falling to 2-5-1 in the 2nd game and 6-8-2 overall.
The Blue Jackets fell in the shootout for just the second time this season (Dec. 9 vs. ANA) and for just the third time after regulation (9-1-2).
With two goals by defensemen tonight, CBJ now have 33 goals and 126 points by blueliners this season.
CBJ scored a game tying goal 59:57 into the third period – the second latest tying in franchise history (March 7, 2008; 59:59).
Rick Nash, the Blue Jackets all-time leader in goals, assists, points and games played, became the first player in CBJ history to have his number retired with his number 61 lifted to the rafters in a pre-game ceremony.
Tonight's attendance was 19,434, setting a new franchise record for largest crowd at Nationwide Arena in CBJ history. It surpassed a crowd of 19,431 to watch Columbus and Boston face off in Game 4 of the 2019 Eastern Conference Semifinals on May 2, 2019.
CBJ PLAYER NOTES
· RW Oliver Bjorkstrand tallied an assist, giving him points in four consecutive games (3-1-4) and in 10 of the last 13 outings (7-4-11; overall 19-20-39 in 54 GP).
· D Vladislav Gavrikov scored the Blue Jackets second goal of the night, giving him points in two-straight games (1-1-2, overall 3-22-25 in 54 GP).
· C Boone Jenner registered an assist and now has 5-9-14 in the last 13 games and 11-13-24 with six multi-point efforts in the last 24 contests.
· C Sean Kuraly tallied an assist for his second-straight game (0-3-3, overall 8-13-21 in 56 GP).
· LW Patrik Laine recorded his 13th multi-point game of the season with two assists. He now has points in three consecutive games (2-3-5) and 15-11-26 and ten multi-point outings in the last 16 games (21-20-41 in 37 GP).
· C Gustav Nyquist scored the Blue Jackets first goal of the night, giving him 4-7-11 in the last 16 games and 10-12-22 with seven multi-point efforts in 29 games since Dec. 16.
· RW Jakub Voracek recorded his 10th multi-point game of the season with a goal and an assist. He has 1-9-10 in the last nine contests.
· D Zach Werenski scored a goal giving him 3-10-13 in his last 14 appearances (9-25-34 in 50 GP). He is one point (74-149-223, 383 GP) from surpassing Seth Jones (50-173-223, 381 GP) for the most in CBJ history among blueliners.
POST-GAME VIDEO INTERVIEWS
HC Brad Larsen | F Jakub Voracek | D Zach Werenski
CBJ UPCOMING SCHEDULE
Sunday, March 6 No Practice
Monday, March 7 vs. Toronto – 7pm ET at Nationwide Arena
Tuesday, March 8                    Practice – 12pm ET at Nationwide Arena
COURTESY BLUE JACKETS COMMUNICATIONS