NHL Public RelationsFebruary 28, 2022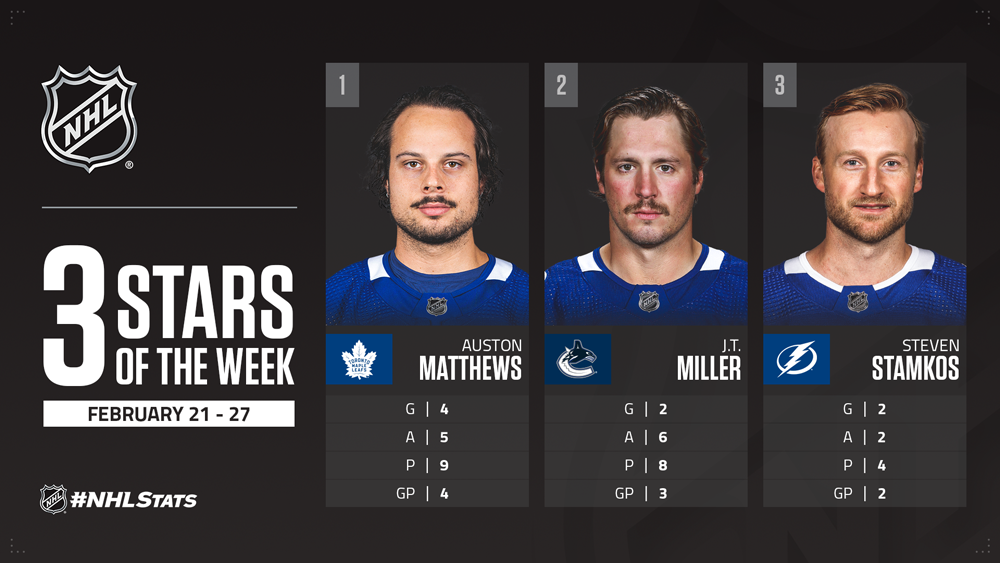 NEW YORK (Feb. 28, 2022) – Toronto Maple Leafs center Auston Matthews, Vancouver Canucks center J.T. Miller and Tampa Bay Lightning center Steven Stamkos have been named the NHL's "Three Stars" for the week ending Feb. 27.
FIRST STAR – AUSTON MATTHEWS, C, TORONTO MAPLE LEAFS
Matthews collected 4-5—9 in four games to move into first place in the Maurice "Rocket" Richard Trophy race and guide the Maple Leafs (34-14-4, 72 points) to a 2-1-1 week. After being held off the scoresheet in a 5-2 loss to the Montreal Canadiens Feb. 21, Matthews rebounded with multiple points in each of his next three outings. He factored on all three Toronto goals, posting 1-2—3 (including the primary assist on Jason Spezza's tying tally at 17:54 of the third period) in a 4-3 overtime loss to the Columbus Blue Jackets Feb. 22. Matthews then scored twice, highlighted by his sixth game-winning goal of the season, in a 3-1 triumph over the Minnesota Wild Feb. 24. He capped the week with 1-3—4, his 10th career four-point performance and second of the campaign (also Jan. 31 vs. NJD: 3-1—4), in a 10-7 victory against the Detroit Red Wings Feb. 26. The 24-year-old Scottsdale, Ariz., native and reigning Maurice "Rocket" Richard Trophy winner now leads the League with 37 goals in 49 total contests this season. He also ranks among the top 2021-22 performers in takeaways (3rd; 59), power-play goals (t‑3rd; 12), points (4th; 68), shots on goal (4th; 221), game-winning goals (t-5th; 6) and power-play points (7th; 22).
SECOND STAR – J.T. MILLER, C, VANCOUVER CANUCKS
Miller registered multiple assists/points in all three of his appearances, totaling 2-6—8 to propel the Canucks (26-22-6, 58 points) to a perfect week and within three points of the final playoff spot in the Western Conference. He notched a pair of assists in a 5-2 win over the Seattle Kraken Feb. 21. Miller then helped Vancouver snap the Calgary Flames' 10-game winning streak with 2-2—4, including the decisive goal, in a 7-1 triumph Feb. 24. He closed the week by defeating his former team, the New York Rangers, with two more assists in a 5-2 win Feb. 27. The 28-year-old East Palestine, Ohio, native – who has compiled 4-9—13 during an active six-game point streak dating to Feb. 12 – has played in 52 total games this season, topping the Canucks in goals (20), assists (39) and points (59) while also sitting among the League leaders in power-play points (3rd; 26), power-play assists (t-3rd; 20), assists (t-9th; 39) and points (12th; 59).
THIRD STAR – STEVEN STAMKOS, C, TAMPA BAY LIGHTNING
Stamkos posted 2-2—4 in two outings, including 1-2—3 in the 2022 Navy Federal Credit Union NHL Stadium Series, to help the Lightning (34-11-6, 74 points) move within one point of first place in the Atlantic Division. He scored once in a 5-3 triumph against the Edmonton Oilers Feb. 23. Stamkos then registered 1-2—3, highlighted by the winning goal, in his outdoor NHL game debut – a 3-2 victory over the Nashville Predators during the 2022 Navy Federal Credit Union NHL Stadium Series at Nashville's Nissan Stadium Feb. 26. The 32-year-old Markham, Ont., native and captain of the two-time defending Stanley Cup champions has appeared in 50 total contests this season, leading Tampa Bay and ranking among the top overall producers in both points (11th; 59) and goals (t-16th; 25).
COURTESY NHLmedia.com