NHL Public RelationsFebruary 28, 2022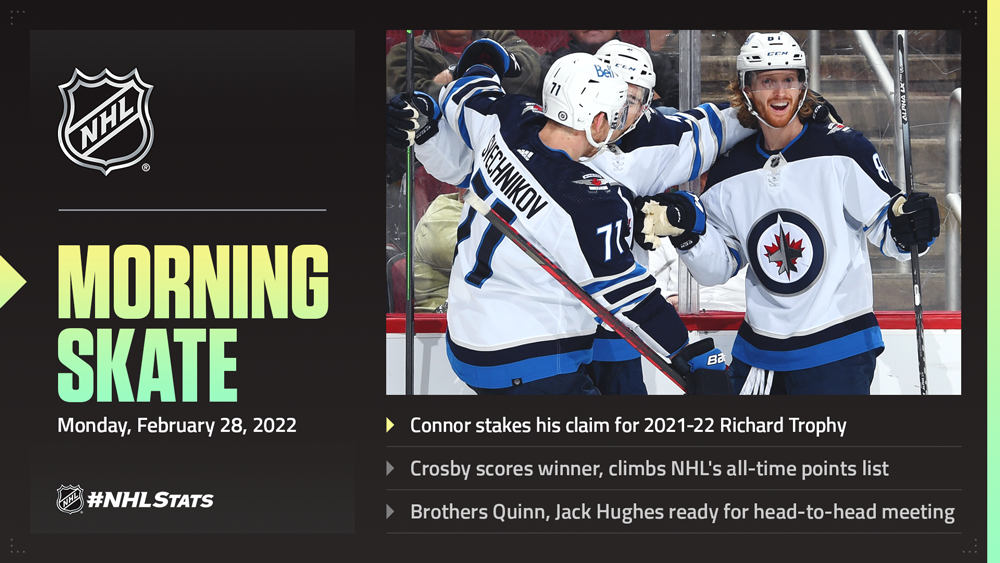 * Kyle Connor staked his claim for the 2021-22 Maurice "Rocket" Richard Trophy and sits as one of five U.S.-born players within the top 10 in goals this season.

* Sidney Crosby scored a late go-ahead goal and surpassed Mike Modano for sole possession of 25th place on the NHL's all-time points list.

* Brothers Quinn and Jack Hughes are set for the first head-to-head NHL game in more than two years, part of a three-game slate that also will feature two of the League's five 30-goal scorers.

CONNOR TALLIES TWICE, MOVES INTO TOP FIVE IN "ROCKET" RACE
Kyle Connor scored his 31st and 32nd goals of 2021-22 and tied Capitals captain Alex Ovechkin for fourth in the Maurice "Rocket" Richard Trophy race as the Jets (23-21-9, 55 points) erased a one-goal deficit to earn a win at Gila River Arena.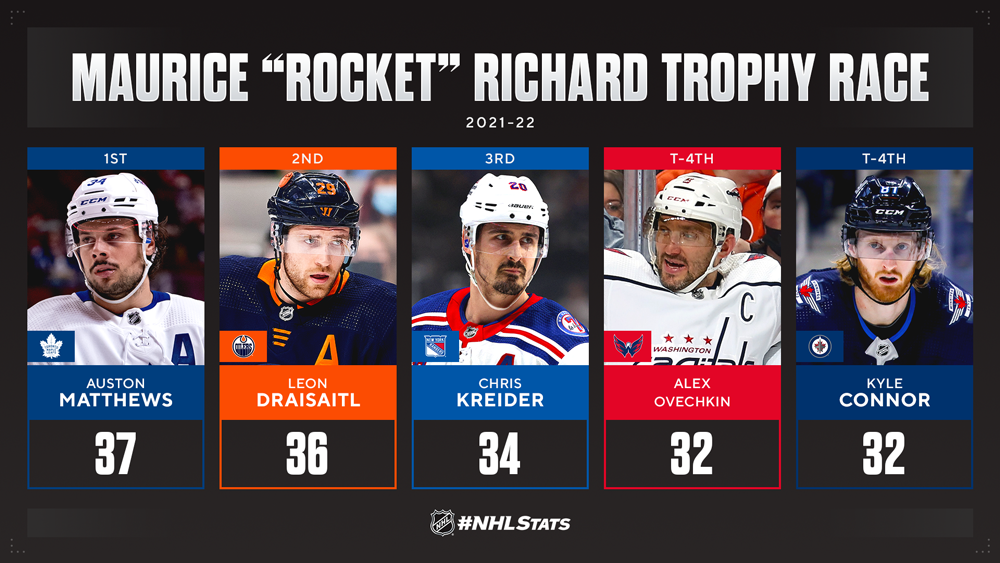 * Connor (Shelby Township, Mich.) is one of five U.S.-born players who rank within the top 10 in goals this season, three of which round out the top five (also Auston Matthews & Chris Kreider). The 2021-22 campaign can become just the second in NHL history to feature five U.S.-born skaters in the top 10 in goals at the end of a season, joining 2016-17.

* Connor can become just the second player in Jets/Thrashers history to win the Maurice "Rocket" Richard Trophy (since its inception in 1998-99) – Atlanta's Ilya Kovalchuk (41) shared the award with Columbus' Rick Nash and Calgary's Jarome Iginla in 2003-04.

CROSBY CAPS PENGUINS RALLY AND CLIMBS ALL-TIME LIST
After the Penguins erased 1-0 and 2-1 deficits, captain Sidney Crosby scored with 2:14 remaining in regulation to lift Pittsburgh to its sixth third-period comeback win of the season. In the process, Crosby boosted his career totals to 502-873—1,375 (1,082 GP) and passed Mike Modano (561-813—1,374 in 1,499) for sole possession of 25th place on the NHL's all-time points list.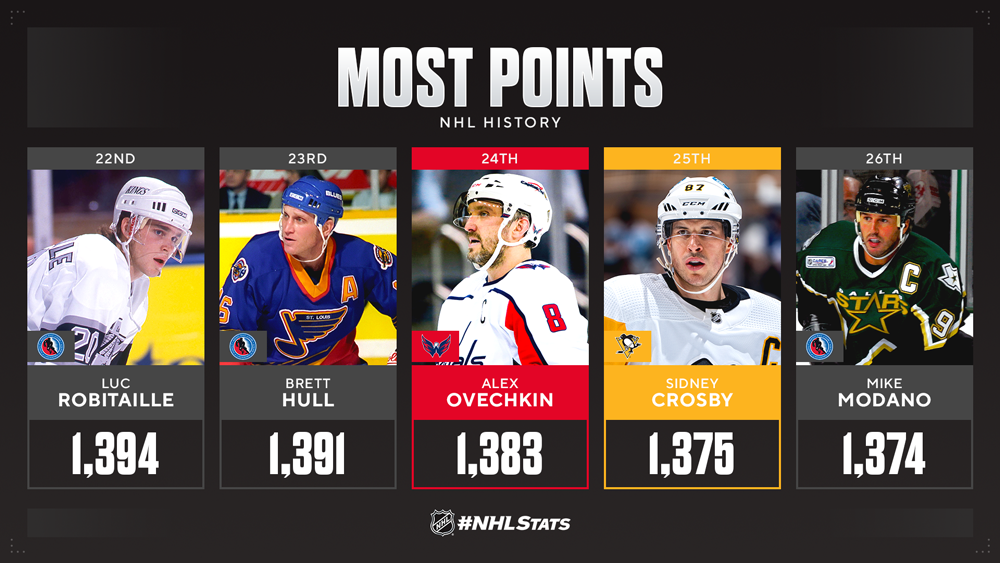 * Crosby, who joined Joe Thornton (No. 12) and Alex Ovechkin (No. 24) as the third active player within the NHL's top 25 in all-time scoring, netted a go-ahead goal within the final three minutes of regulation for the sixth time in his career – tied with Joe Pavelski for the most among active players.

MILLER HELPS CANUCKS KEEP PACE IN WILD CARD RACE
J.T. Miller (0-2—2) factored on two of five Vancouver goals to record his third consecutive multi-assist game and helped the Canucks (26-22-6, 58 points) move within three points of the Stars (29-20-3, 61 points) – who also won Sunday – for the second Wild Card spot in the Western Conference. Vancouver and Dallas are two of five teams involved in the race separated by six points.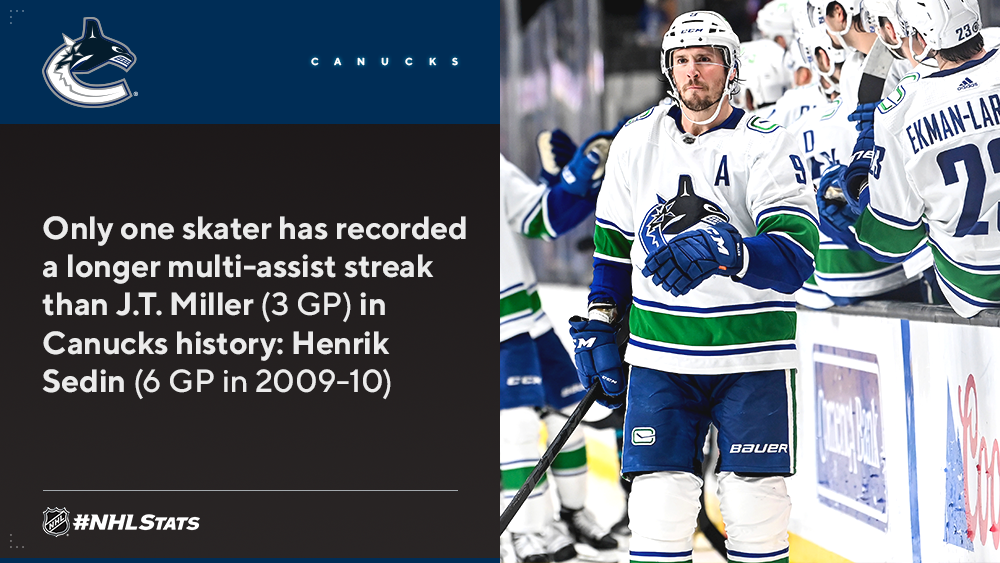 * The Canucks, who lead the NHL with 4.63 goals-per-game since All-Star Weekend, scored at least five tallies for the third straight contest and accomplished the feat for the fifth time in the past 25 years. The others: Oct. 22-30, 2019 (4 GP), Dec. 1-6, 2011 (3 GP) Oct. 14-18, 2005 (3 GP) and Feb. 6-25, 1998 (3 GP).

BLACK HOCKEY HISTORY SPOTLIGHT: QUINTON BYFIELD
During the 2020 NHL Draft, the Kings selected Quinton Byfield with the No. 2 pick and he became the highest-selected Black player in NHL history. Byfield surpassed Evander Kane (2009, ATL) and Seth Jones (2013, NSH), who were each chosen with the fourth-overall pick.
* Byfield spent the majority of 2020-21 with the Ontario Reign where he tallied 8-12—20 (32 GP) as an 18-year-old playing in his first professional season and recorded one assist in the six contests he played with the Kings. The Newmarket, Ont., native made his 2021-22 season debut Jan. 20 after recovering from injury and scored his first NHL goal Jan. 27.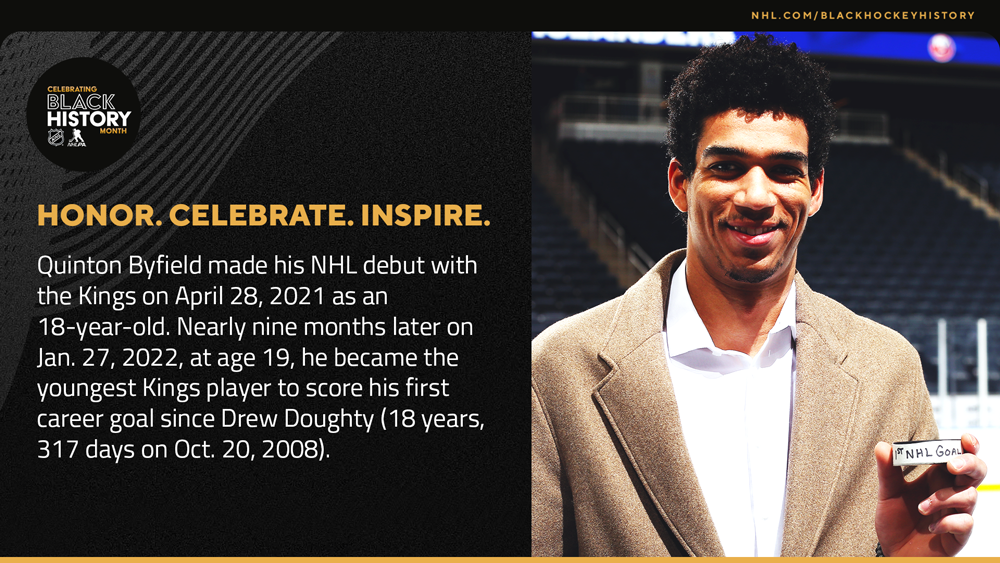 QUICK CLICKS

* Sunday Edition of #NHLStats: Live Updates
* In 14th NHL season, Stadium Series worth the wait for Steven Stamkos
* Red Wings youth hockey player scores Trevor Zegras-inspired goal
* Sharks, Kraken trade goals nine seconds apart
* Jordan Binnington's 10th career shutout backstops Blues

HUGHES BROTHER SET TO SQUARE OFF FOR THIRD TIME
The Canucks will contest the 4,000th regular-season game in franchise history when they visit the Devils in what is expected to be the third all-time NHL showdown – and first in more than two years – between brothers Quinn and Jack Hughes.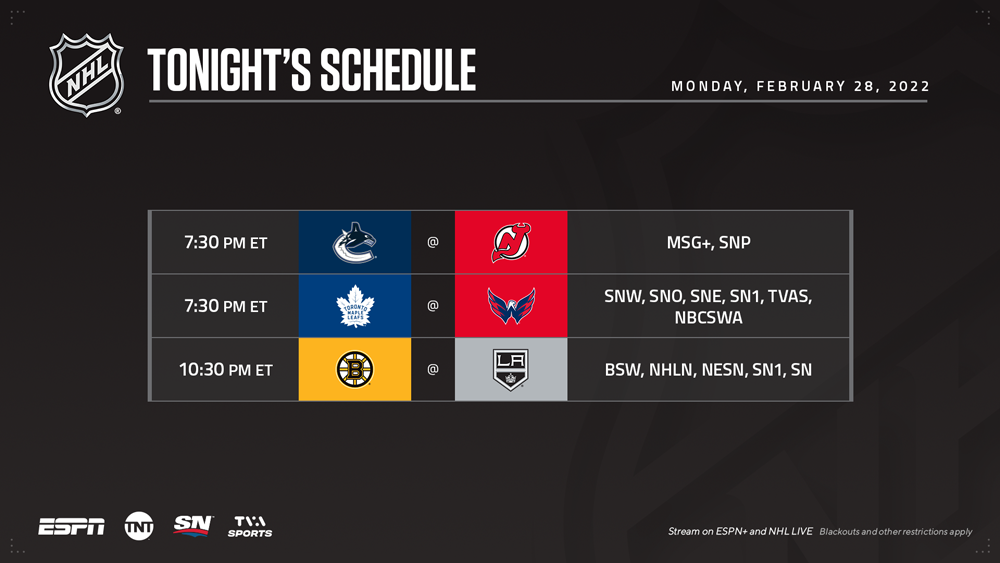 * The brothers first met Oct. 19, 2019, when Jack scored his first NHL goal (in his eighth game) to give the Devils a 1-0 victory against Quinn and the Canucks. The eldest Hughes brother found the score sheet in their second meeting, Nov. 10, 2019, with an assist on Vancouver's lone goal but Jack and New Jersey emerged with a win again.
* Future Canucks-Devils matchups could very well feature a Hughes trio rather than a Hughes duo after New Jersey selected the youngest brother, Luke, with the fourth overall pick in the 2021 NHL Draft. ESPN was on-site at the Hughes family home in Michigan for the virtual draft, which gave the family multiple unique distinctions in League history – including being the first to have three siblings selected within the top 10.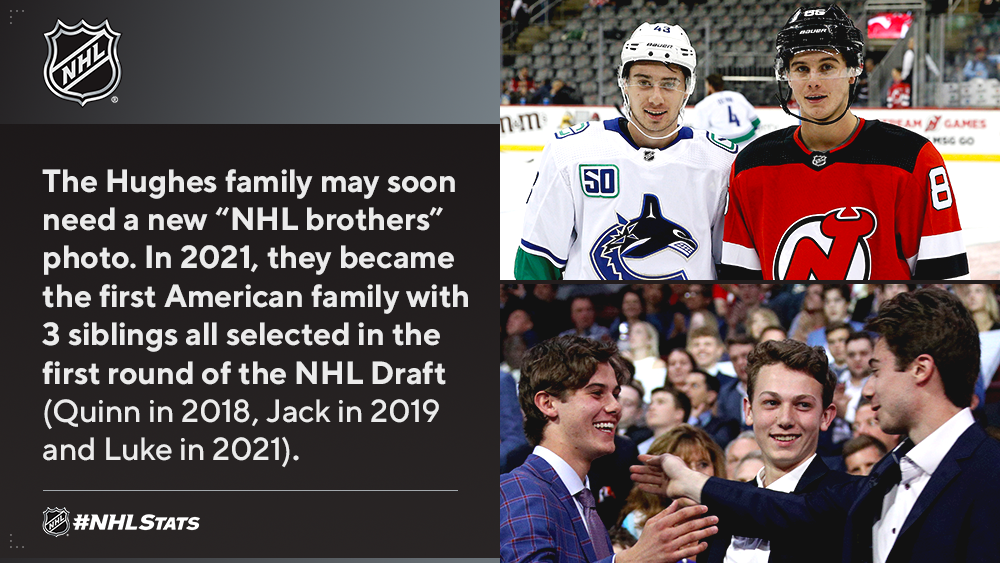 TOP GOAL SCORERS IN ACTION MONDAY
Three players who account for each of the last four Maurice "Rocket" Richard Trophy wins are slated to be in action Monday, including a matchup between reigning winner Auston Matthews and nine-time recipient Alex Ovechkin – who sits four goals from tying Jaromir Jagr for third place in League history. Ovechkin has been a co-winner of the award only once, in 2019-20 when he and David Pastrnak each finished the abbreviated season with 48 goals.
* Matthews, the current goals leader, is riding a three-game streak that has put him a hat trick away from reaching the 40-goal mark for the fourth time in six NHL seasons.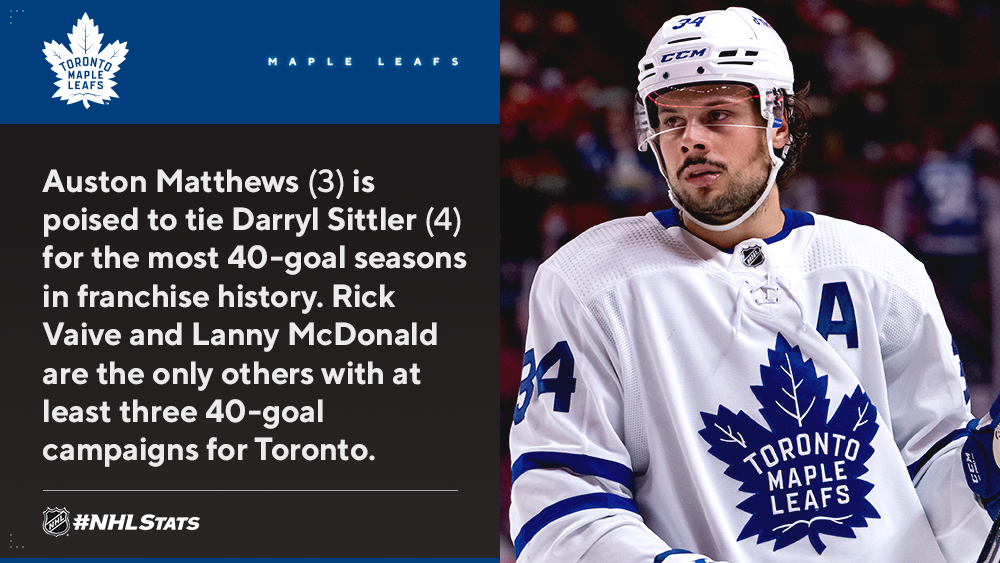 * Pastrnak, who has scored in three of his past four games, needs two tallies for his fifth career 30-goal season – a feat achieved by only seven players in Bruins history. He is set to square off against Adrian Kempe, the second Kings player in the past 19 campaigns to score at least 25 goals within his first 50 games of a season.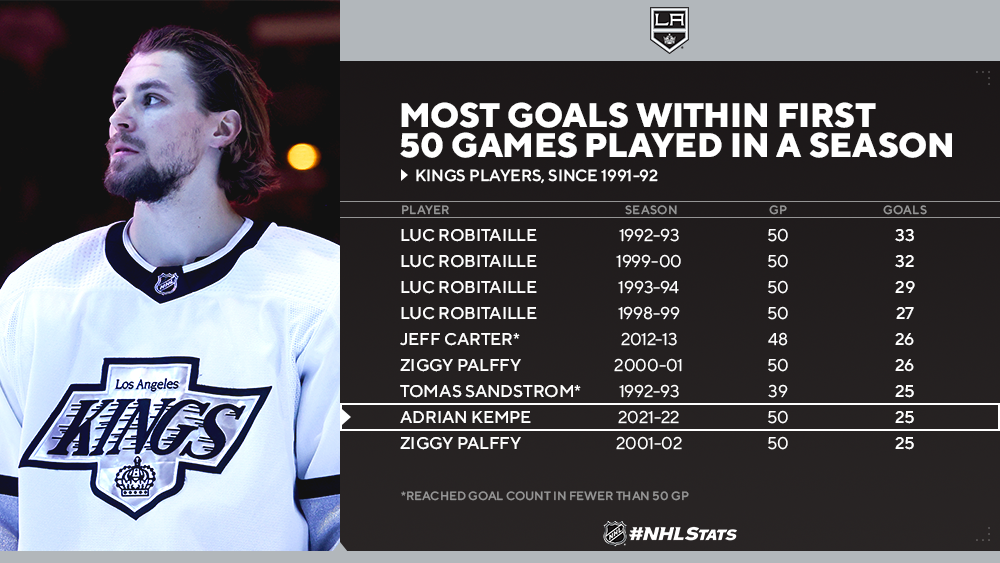 COURTESY NHLmedia.com