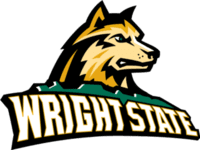 2/26/2022
DAYTON – The Wright State men's basketball team closed out the regular season on Saturday night with a 71-61 victory over visiting Robert Morris inside the Nutter Center as the Raiders will head into the postseason winners of their last two contests.
 
Wright State (18-13, 15-7 Horizon) clinched a first round bye and will host a quarterfinal matchup as the No. 4 in the 2022 Keeps Horizon League Championship next Thursday night inside the Nutter Center against an opponent to be determined.
 
Saturday, the Raiders saw three players finish in double figures, let by Grant Basile's game-high 20 points on 8-of-11 shooting while Trey Calvin turned in 18 points, filling his stat line with four rebounds, three assists and three steals. Tanner Holden was the final Raider in double digits, tallying 16 points and passing out three assists of his own, as both he and Basile each pulled down eight rebounds in the win.
 
Wright State jumped out of the gates early before Robert Morris (7-23, 5-16 Horizon) settled in and both sides played a back-and-forth first half that saw RMU take a 32-29 lead into the halftime break. Robert Morris tallied the first five points of the second half before the Raiders responded with 29-8 run over the next nine minutes behind a combined 24 points from Basile and Calvin over that stretch to give Wright State a 58-45 advantage. The Raider lead never got below a three possession game the remainder of the night.
 
The Raiders shot 51 percent (26-of-51) for the night but connected at a 56 percent clip in the second half while hitting six three-pointers overall (6-of-14, 43 percent). Robert Morris was a 47 percent (26-of-55) shooting team and was 3-of-9 from three-point range. The difference in the night came at the free throw line, where Wight State connected on 13-of-19 (68 percent) from the stripe and limited RMU to eight total attempts (6-of-8, 75 percent). Wright State outrebounded Robert Morris 31-27 overall and on both the offensive and defensive glass, while the Raiders forced RMU into 12 turnovers that became 19 points.
COURTESY WSU ATHLETIC COMMUNICATIONS