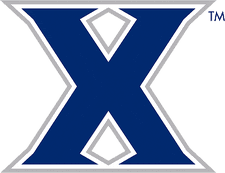 02.23.22
PROVIDENCE, R.I. – In a game that featured 15 ties, 13 lead changes, a buzzer beater and a water-related delay through three overtimes, Xavier men's basketball battled, but fell 99-92 at No. 11 Providence on Wednesday evening.
Xavier led for much fo the first half before going into the break tied. Providence moved ahead in the second half but the Musketeers responded to lead late before a late surge by the Friars following a delay due to water leaking from the ceiling put the game in the tie and sent it to overtime. The Musketeers held the early advantage in overtime, but each time Xavier pushed to a multiple possession lead, the Friars responded, holding a three-point lead in the closing second of the second overtime before a Paul Scruggs buzzer-beating three forced the third overtime. In the final overtime, the Friars took control, pushing out to its largest lead of the game in the final minutes.
Adam Kunkel's 20 points to lead six Musketeers in double figures. Paul Scruggs added 19 for the Musketeers and Zach Freemantle had 15 points. Colby Jones and Jack Nunge each finished with a double-double and Dwon Odom also had 11 points as the Musketeers moved to 17-10 overall and 7-9 in BIG EAST play.
FIRST HALF RECAP
SECOND HALF RECAP
OVERTIME RECAP
NOTABLES
COURTESY XAVIER ATHLETIC COMMUNICATIONS