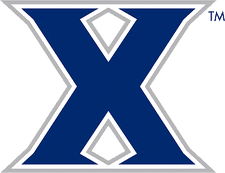 02.16.22
Jack Nunge post third-straight 20-plus point performance
CINCINNATI – Jack Nunge's 22-point effort led three Musketeers in double figures but Xavier was unable to hold off St. John's, falling 86-73 at Cintas Center on Wednesday evening.
Paul Scruggs, who set a new Xavier record for games played at 143, added 16 points for the Musketeers, and Zach Freemantle finished with 10 points as Xavier fell to 17-8 overall and 7-7 in BIG EAST play.
FIRST HALF RECAP
After Xavier opened up a 4-0 lead to start the game, SJU outscored Xavier 13-2 over the next four minutes to take a 13-6 lead with 13 minutes to play in the first half.
The Red Storm extended the lead to as many as eight, 17-9, before Xavier responded with a 10-0 run capped by back-to-back threes from Adam Kunkel, who had eight of the Musketeers' 10 points during that stretch.
After Xavier retook the lead St. John's came right back with a 9-0 run of its own, going back ahead by seven, 26-19, with 10 minutes to play.
SJU would lead by as many as eight in the final 10 minutes of the half, before Xavier outscored the Red Storm 10-2 to tie the game with 4:24 remaining, with Jack Nunge scoring five straight in that stretch.
Two more Red Storm three pointers would help St. John's push its lead back out to as many as seven before Xavier closed the half on a 4-0 run to set the halftime score at 45-42.
Jack Nunge finished the first half with 13 points to lead the Musketeers.
Adam Kunkel added nine for Xavier, connecting on 2-of-3 threes.
Zach Freemantle shot 4-of-5 from the floor for eight first half points.
Xavier shot 53.3 percent from the floor overall, compared to 52.9 for the Red Storm but St. John's connected on 6-of-12 threes while Xavier went 3-of-8 from outside.
Xavier held a 17-15 advantage on rebounds, with Colby Jones, Nunge and Freemantle each grabbing four.
The Musketeers committed seven turnovers to five for SJU, but the Red Storm capitalized on the Xavier miscues, out-scoring X 11-5 on points of turnovers.
SECOND HALF RECAP
Xavier continued its first half run to a 8-2 stretch to open the second half, making it a one-point game.
Xavier score four straight to retake the lead, 52-51, with 15 minutes to play, and the two teams traded one-possession leads for the next seven minutes before SJU used a 7-0 spurt to go up six, 63-57, with just under nine minutes to play in the game.
The Musketeers would pull to within three in the final eight minutes of the game, but a 11-2 run would extend the St. John's lead out to 12, 74-62, with just over four minutes remaining.
From that point, St. John's built the lead out to as many as 16 before winning by a final score fo 86-73.
Paul Scruggs had 14 second-half points to lead the Musketeers, connecting on 6-of-8 field goals.
Jack Nunge added nine points after the break.
Xavier forced nine Red Storm miscues for a 9-7 advantage on turnovers in the second half, but SJU finished with a 10-6 advantage on points off turnovers.
SJU shot 55.2 prcent from the floor in the second half while the Musketeers connected on 44.8 percent of their shots.
St. John's finished the second half with a 19-12 advantage on rebounds. Colby Jones had five to lead Xavier.
NOTABLES
Jack Nunge led the Musketeers with 22 points, connecting on 8-of-16 shots from the floor, his third-straight 22-point game. Nunge also grabbed seven rebounds.
Paul Scruggs appeared in his 143rd game for Xavier, the most games played by a Musketeer in program history. He finished with 16 points after leading the Musketeers in the second half.
Zach Freemantle added 10 points for Xavier.
Colby Jones led Xavier on the boards, grabbing nine, as the Musketeers were outrebounded 34-29.
St. John's shot 54 percent overall from the floor and 40 percent (8-of-20) from three while the Musketeers shot 49.2 percent overall but just 20 percent (4-of-20) from outside
COURTESY XAVIER ATHLETIC COMMUNICATIONS