FROM WIKIPEDIA COMMONS
The American Society of Composers, Authors, and Publishers (ASCAP) (/ˈæskæp/) is an American not-for-profit performance-rights organization (PRO) that protects its members' musical copyrights by monitoring public performances of their music, whether via a broadcast or live performance and compensating them accordingly.
ASCAP collects licensing fees from users of music created by ASCAP members, then distributes them back to its members as royalties. In effect, the arrangement is the product of a compromise: when a song is played, the user does not have to pay the copyright holder directly, nor does the music creator have to bill a radio station for use of a song.
In 2019, ASCAP collected over US$1.274 billion in revenue and distributed $1.184 billion in royalties to its members. As of September 2020, ASCAP membership included over 775,000 songwriters, composers and music publishers, with over 11 million registered works.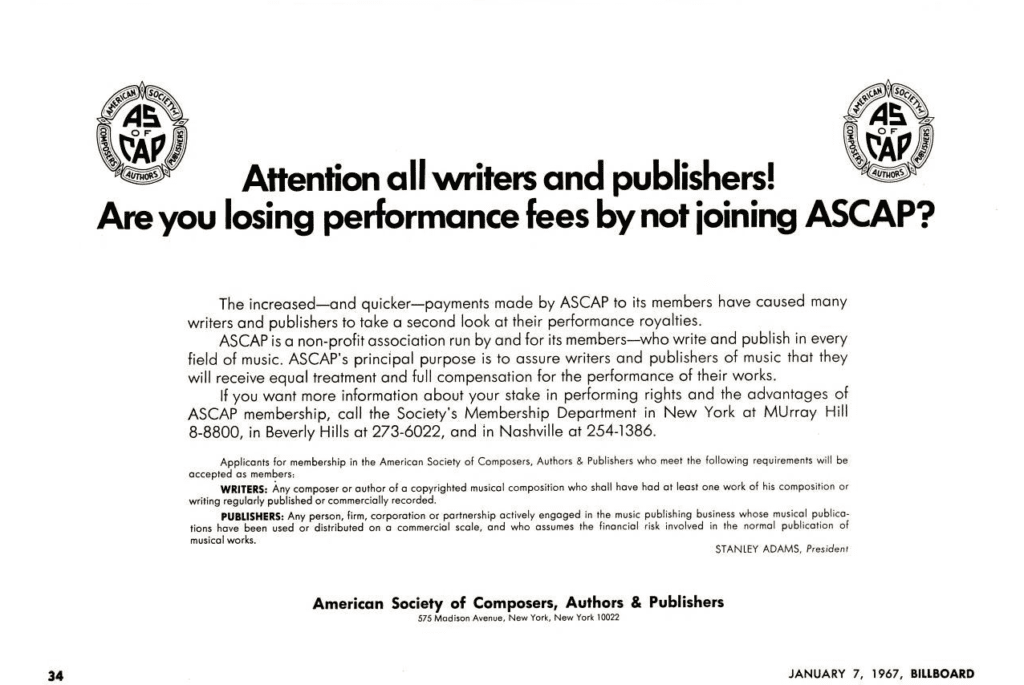 TODAY'S ALMANAC
Question of the Day
Who was the youngest U.S. president?Theodore Roosevelt. He assumed the presidency in September 1901, after the assassination of William McKinley and shortly before his 43rd birthday. John F. Kennedy was the youngest elected president, being just 43 years of age when he took office in 1961.
Advice of the Day
Have a thought for the birds: Put out suet and seeds.
Home Hint of the Day
To remove a bloodstain from carpeting, sprinkle on salt, then cold water. Gently blot the area with a sponge, then wipe up the mixture.
Word of the Day
Stratus cloudThin, gray sheet-like cloud with low base; may bring drizzle or snow.
Puzzle of the Day
What is that which is full of holes and yet holds water?A sponge
Born
Bess Truman (U.S. First Lady) – 1885
Chuck Yeager (pilot) – 1923
George Segal (actor) – 1934
Peter Tork (musician, member of The Monkees) – 1942
Peter Gabriel (musician) – 1950
Robbie Williams (singer) – 1974
Kristy Powell (Olympic gymnast) – 1980
Died
Lily Pons (soprano) – 1976
Pauline Trigere (fashion designer) – 2002
Waylon Jennings (singer) – 2002
Ralph Waite (actor; best known as John Walton on The Waltons) – 2014
Events
Astronomer Tycho Brahe outlined his solar system structure– 1588
Jesse James robbed his first bank– 1866
Strauss's Blue Danube premiered in Vienna– 1867
First U.S. quintuplets born, in Watertown, Wisconsin– 1875
Novocain (procaine) patented– 1906
The American Society of Composers, Authors, and Publishers (ASCAP) established– 1914
The first Barbie dolls went on sale– 1959
First women Royal Canadian Air Force pilots (Captains Nora Bottomley, Dee Brasseur, and Leah Mosher) graduated– 1981
Winter Olympics began, Calgary, Alberta– 1988
Second tune-up for the Hubble Space Telescope began– 1997
The last original Peanuts comic strip ran in newspapers– 2000
Former New York City mayor Rudolph Giuliani received an honorary knighthood from Queen Elizabeth II– 2002
Weather
Ice floes formed in the Gulf of Mexico– 1784
-2 degrees F, Tallahassee, Florida– 1899
A snowstorm that began late in the day eventually dropped 15 inches of snow on Boise, Idaho– 1949
-72 degrees F at Shepherd Bay, Nunavut– 1973
COURTESY www.almanac.com