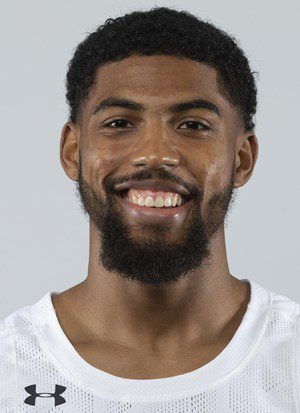 February 09, 2022
TAMPA, Fla. – Led by 24 points from senior guard David DeJulius, the Cincinnati men's basketball team picked up a 70-59 win at USF on Wednesday night at the Yuengling Center.
DeJulius registered back-to-back 20-point games for the first time in his career after scoring 25 on Sunday versus Houston. He scored 16 points and made four treys before halftime.
Sophomore guard Mike Saunders, Jr. added 10 points off the bench and junior forward Jeremiah Davenport contributed 14 points, making three from deep.
Cincinnati moved to 16-7 overall and 6-4 in the American Athletic Conference, while USF dropped to 7-15 and 2-8 in conference play.
After a Russel Tchewa dunk gave USF a 24-22 lead, Cincinnati used a 13-2 run over the first half's final five minutes to take a commanding 35-26 lead into the break. The run was sparked by back-to-back three-pointers by John Newman III and Saunders.
USF fought back in the second half, holding UC scoreless for more than five minutes and using a 12-1 run to take a 40-38 lead on a corner three from Sam Hines, Jr.
The Bearcats answered with an 8-0 run.
Davenport's three-pointer put back in front by one and a layup from DeJulius gave UC a 43-40 advantage. Sophomore Mason Madsen's transition trey capped the run and handed the Bearcats a 46-40 lead with 11:43 left.
A contested layup by junior guard Mika Adams-Woods put UC in front 50-43 with 9:40 left.
A hook shot from graduate center Abdul Ado lifted Cincinnati to a 54-45 lead with seven minutes left.
Davenport followed less than a minute later with a long three-pointer from the top of the key to lift Cincinnati's lead to 57-46 and graduate center Hayden Koval's three-pointer with just over four minutes remaining kept Cincinnati ahead by 11, 61-50.
Davenport's third triple of the night with one minute left proved to be the final dagger, putting UC back up by 11 after USF closed the lead to 8.
FROM WES MILLER
"I thought we were tough mentally and really together tonight for 40 minutes, and we talked about a lot the last few days. Even though they went on a run to start the half, I don't think it was because we were flat, but because we were turning the ball over. We missed so many opportunities early because we were giving it to the other team. It wasn't about not being alert or flat, but us being careless with the ball. If you get 19 turnovers and win by double-figures on the road, I'll be as happy as can be. Sometimes when you try to get your team to share it more, it takes away their aggressiveness, but I thought we found a good balance. Sometimes you can get careless with the ball, and we have to clean that up."
NOTABLE
-DeJulius' 24 points marked his second-straight of 20-plus and seventh of the season (25 on Sunday against Houston). He has nine for his career.
-DeJulius is averaging 19.3 ppg over his last six outings.
–Jeremiah Davenport's 14 points (3-of-5 from deep) marked his 16th double-figure scoring game.
-Mike Saunders' Jr. (3-for-4) scored 10 points for his seventh time in double-digits, something he did twice as a freshman last season.
-Cincinnati is 15-3 when leading at the half and is allowing 59.0 ppg over last four road games.
-The Bearcats went 10-for-21 (47.6 percent) from beyond the arc, its seventh time with 10-plus makes.
-USF was 1-for-9 from deep, UC's first time allowing one make since Tulsa and UCF were 1-for-26 from Jan. 9-11, 2020.
-UC leads the all-time series 35-9, winning six in a row in Tampa. The last loss was Feb. 26, 2012 as BIG EAST foes.
-Ado registered three blocks and six rebounds in the first half. He finished with four points, eight rebounds, three blocks and two steals.
UP NEXT
Cincinnati will stay on the road ahead of its Saturday night contest at Tulsa (7 p.m. on ESPN Plus).
GET YOUR TICKETS TODAY
Limited single-game tickets are available as the Bearcats continue their season. You can get yours today here or by calling 1-877-CATS-TIX. Other questions can be directed to uc.tickets@uc.edu.
COURTESY UC SPORTS COMMUNICATIONS