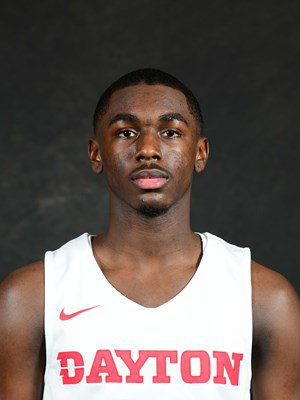 Flyer Three-Game Winning Streak Snapped
ST. LOUIS – The University of Dayton men's basketball team trailed by nine at halftime, and could get no closer than six in the second half, falling 72-61 at Saint Louis. The loss snapped UD's three-game win streak and dropped the Flyers to 15-8 overall and 7-3 in the Atlantic 10. Saint Louis improved to 17-6 and 7-2 in conference.
Kobe Elvis led the Flyers with 20 points.
GAME BREAKDOWN
1st Half: Saint Louis 34, Dayton 25
Dayton opened the scoring on a three by Kobe Elvis, but Saint Louis scored the next nine points.
UD went nearly four minutes between points and six minutes between its next basket, but still only trailed 17-10 halfway through the period.
SLU's largest lead of the half was 15 (28-13) at the 5:16 mark.
The Flyers made four of their last six field goals but Billiken point guard Yuri Collins hit a jumper at the buzzer to make it a nine-point game.
2nd Half: Saint Louis 72, Dayton 61
Dayton trailed by six (37-31) at the first media timeout at the 15:38 mark.
Seven straight points from Koby Elvis cut it to six again (46-40) with 12:26 left.
UD got it back to a six-point game once more at the 9:58 mark (50-44).
Saint Louis' largest lead was 17 (67-50) with 3:58 to go.
Drew Swerlein scored his first point of the season on a free throw with 26 seconds remaining to make the final 72-61.
BY THE NUMBERS
Kobe Elvis's 20 points gave him two consecutive games with a career-high 20 points.
He was the only Flyer in double figures.
DaRon Holmes II led UD with seven rebounds.
Malachi Smith was Dayton's top assist man with four.
Toumani Camara had three steals to lead UD in that category.
Saint Louis shot 48.9% FG, 44.4% 3-pt., and 85.7% FT. Dayton was 41.5%/ 38.5%/52.2% across the board.
UP NEXT
Dayton is home against Duquesne Wednesday at 7 p.m. ET.
COURTESY DAYTON MEDIA RELATIONS