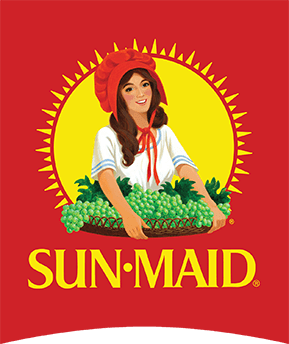 FROM WIKIPEDIA COMMONS
Sun-Maid Growers of California is an American privately owned cooperative of raisin growers headquartered in Fresno, California. Sun-Maid is the largest raisin and dried fruit processor in the world. As a cooperative, Sun-Maid is made up of approximately 850 family farmers who grow raisin grapes within a 100-mile (160-kilometer) radius of the processing plant. Sun-Maid also sources dried fruit beyond this geographical area. In 2012, Sun-Maid celebrated its 100th anniversary as a grower cooperative.
Sun-Maid raisins are packaged in a red box featuring the "Sun-Maid Girl" wearing a red sunbonnet and holding a tray of fresh grapes. Sun-Maid raisins are grown in the Central Valley of California, midway between Los Angeles and San Francisco, a region known for its unique Mediterranean climate perfect for growing grapes and drying them to make raisins. The grapes are picked at harvest time, usually late August to early September, and dried naturally in the sun, either by hand-picking them and laying them on paper trays or allowing them to dry-on-the-vine (DOV) for mechanical harvesting. After about 14 days, they are placed in bins and delivered to the Sun-Maid plant for processing, packaging and shipping to customers throughout the United States and in more than 60 countries around the world.
Sun-Maid produces more than 200 million pounds (90 million kilograms) of natural raisins annually. Nearly half of all Sun-Maid raisins are packed for consumer sales, whether in a box, a bag or a canister in varying sizes. The other half are sold as an ingredient to bakeries, cereal companies, as raisin paste and raisin concentrate. The Thompson Seedless grape is the most popular variety used to make raisins, although other grapes, such as Fiesta, Flame and Zante currants are also used.
Besides raisins, Sun-Maid packs a full line of dried fruit, such as figs, dates, cranberries, apples, prunes, apricots and tropical fruits. Sun-Maid also packs yogurt-covered raisins, such as those dipped in dark chocolate, vanilla, orange cream, strawberry-Greek and cherry-chocolate flavored yogurt.
The company maintains extensive brand licensing and food service operations. The Promotion in Motion Companies, Inc., under license from Sun-Maid, produces a Sun-Maid Milk Chocolate Covered Raisins.
TODAY'S ALMANAC
Question of the Day
What does the word commonwealth mean, as in the commonwealth of Pennsylvania?According to The New Columbia Encyclopedia, a commonwealth is a "form of administration signifying government by the common consent of the people." It is similar in meaning to the word state and in the 17th century came to refer to an organized political community. Other commonwealths in the United States include Massachusetts, Virginia, and Kentucky.
Advice of the Day
A little soap on the hinges will remedy a creaky door.
Home Hint of the Day
To patch a small hole in a leather tabletop, melt a small piece of wax crayon of the right color and fill the hole. Smooth the crayon with your finger while the wax is still warm.
Word of the Day
PhototropismThe effect of light on the direction of growth of a plant.
Puzzle of the Day
Why has the shoemaker wonderful powers of endurance?Because he holds on to the last.
Born
Christopher Marlowe (playwright) – 1564
Aaron Burr (politician) – 1756
Babe Ruth (baseball player) – 1895
Ronald Reagan (40th U.S. president) – 1911
Tom Brokaw (newscaster) – 1940
Bob Marley (Reggae musician, founding member of The Wailers) – 1945
Natalie Cole (singer) – 1950
Kim Zmeskal (Olympic gymnast) – 1976
Died
Arthur Ashe (tennis player died) – 1993
Joseph Cotten (actor) – 1994
Merle Kilgore (country musician) – 2005
Keith Knudsen (member of the Doobie Brothers) – 2005
James Whitmore (actor) – 2009
Events
Massachusetts joined the Union as the sixth state– 1788
Robert E. Lee named Confederate general in chief (US Civil War)– 1865
Sun-Maid raisins trademark registered– 1917
Woodrow Wilson became first U.S. president to be buried in D.C.– 1924
Elizabeth II ascended to British throne– 1952
Elizabeth Alexandra Mary Windsor proclaimed Queen of Canada– 1952
You've Lost That Lovin' Feeling by The Righteous Brothers topped charts– 1965
President Dwight D. Eisenhower shot a hole-in-one– 1968
Alan Shepard became the first man to hit a golf ball on the Moon– 1971
Mr. Fred Rogers molded the 100 billionth Crayola crayon. The color was named blue ribbon– 1996
The New England Patriots won their third Super Bowl victory in four years with a 24-21 win over the Philadelphia Eagles in Super Bowl XXXIX– 2005
SpaceX launched Elon Musk's Starman mannequin in a Tesla roadster– 2018
Weather
Temperatures in parts of Ohio and Kentucky did not rise above 0 degrees F all day– 1807
-10.3 degrees Fahrenheit, Boston, Massachusetts– 1855
36.4" snow fell in North Foster, Rhode Island– 1978
Southern Louisiana had snow for the second time in three days, with one to four inches accumulated– 1988
COURTESY www.almanc.com