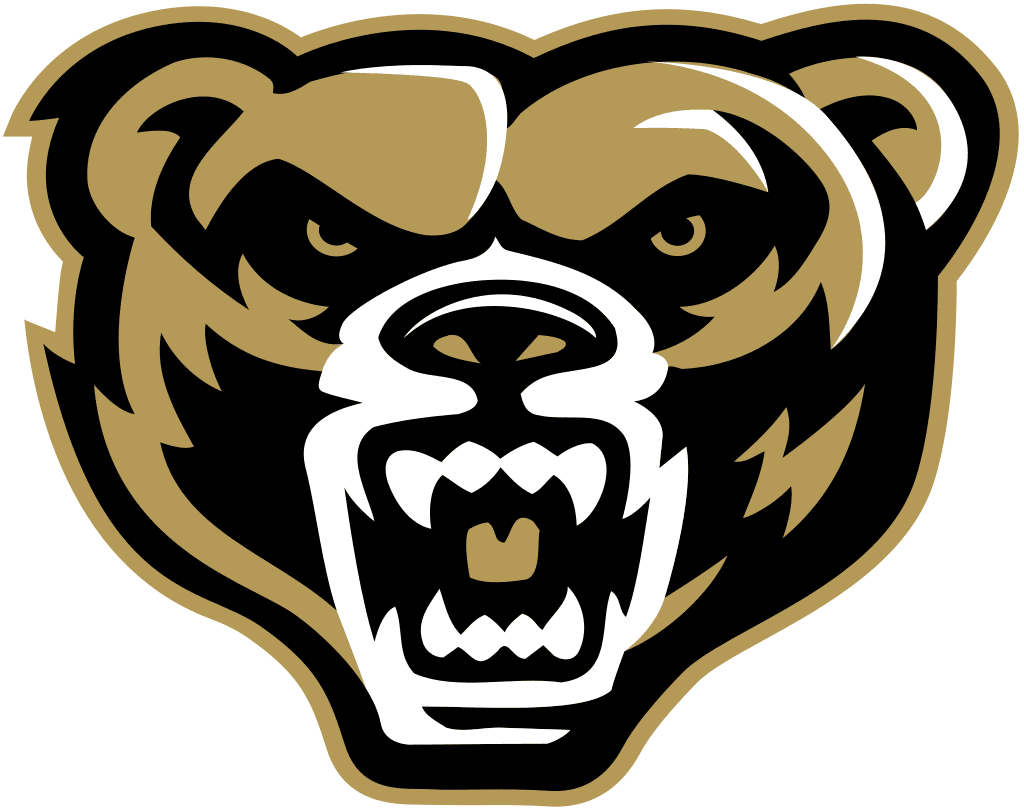 2/5/2022
ROCHESTER, Mich. – Oakland University Men's Basketball hopes to rebound from its Friday night loss as it looks ahead to tonight's matchup against the Raiders of Wright State at the Nutter Center in a 7:00 p.m. tip off. The "Voice of the Golden Grizzlies" Neal Ruhl will be on the call on TheBet 1270AM(WXYT-AM) and on the Audacy App.
Watch | Listen | Live Stats
INSIDE THE SERIES
___________________________________________________________________________
Overall: Wright State, 7-13
At Home: 5-5
On the Road: 2-7
Current Streak: Oakland, 1
Last Meeting: W, 81-71 (1/2/21)
Series Note: OU looks to prevent second-straight HL loss
On Friday, the Raiders finished their Horizon League game at the Nutter Center with a 90-59 rout of University of Detroit Mercy as WSU raised their overall record to 13-10, 14-4 in the Horizon League. The green and gold are riding a two-game winning streak after suffering setbacks to Northern Kentucky University and Cleveland State University, respectively.
Tanner Holden is the Raiders' leader in scoring with 20.7 points per game while Grant Basile is just behind with 17.6 along with standing as the team's leader in rebounds per game with 8.6. Basile also leads the Horizon League in blocks with 1.5 per contest.
Scott Nagy has been in charge in Dayton since 2016, completing his fifth season in 2020-21 after nearly two decades in Brookings, South Dakota with South Dakota State University.
Jamal Cain holds steady as the Golden Grizzlies' leader in two categories, scoring and rebounding per game with 19.9 and 10.3. After scoring his 1,000th career point against UIC last week, Cain is coming off a 12-14 game against NKU on Friday as the grad senior leads the conference in rebounding.
Jalen Moore is second in the nation in assists per game as Moore also leads the league with 8.3 assists per game. Moore had seven in the loss to NKU yesterday as the junior took the top spot as the team's leading scorer that night with 24 points.
Trey Townsend holds steady at 11th in the nation in minutes per game with 37.1 as the Oxford native is third on the team in scoring through his 22 games played with 15.5 points and 5.9 rebounds per game. Townsend is also a menace on the defensive end with a team-high 24 blocks.
Oakland is shooting 44.2% (589-1332) from the field as the team is fifth in the country in free throw percentage at 80.14% (335-418).
The Golden Grizzlies still lead in offense in the Horizon League at 76.9 points per game as they hold their opponents to 67.9 for a league-best margin of 9.0. Townsend is still in the top spot of the Horizon League in field goal percentage with 54.6% (136-249). As previously mentioned, Cain is first in rebounding in the HL.
The Golden Grizzlies are 112th from 104th in the NCAA NET Rankings after Friday's loss. OU is 73rd in the RPI according to CBS Sports, an 11 spot drop.
Oakland jumped three spots up from 15th in the College Insider Mid-Major Top 25 poll as voted on by Mid-Major tier coaches in the January 31 edition of the poll.
The Golden Grizzlies are now 116th in kenpom.com rankings playing the 8th toughest out of conference schedule in the nation.
___________________________________________________________________________
NOTES
NATIONAL TALENT
Once again, Jamal Cain sees himself in the mix of national attention with the grad student from Pontiac in more than one category.
Category – Place (Total/Average)
Double Doubles – Tied-20th (10)
Defensive Rebounds Per Game – Tied-18th (7.00)
Rebounds Per Game – 13th (10.1)
ONE THE BEST IN THE NATION
Yuri Collins of Saint Louis has overtaken the top spot in the NCAA's leader in assists per game as Moore stands second with 8.3 per game.
1000 POINT CLUB
Cain tallied his 1,000th point in his collegiate career with his 26 scored in the win over UIC on Saturday, January 29. Cain's thousand points carry over from his time at Marquette University as the grad transfer finishes his collegiate playing career at Oakland,.
PRICE IS "MR. PERFECT"
According to Stats by STAT, Osie Price's 7-7 FG, 5-5 3PT, and 8-8 FT stat line from Oakland's game against University of Michigan-Dearborn makes him the only person in the last 20 years in the NBA, WNBA, NCAA Division I, II, and III to finish 100% from the field with at least five attempts in each category.
PRICE + LAMPMAN FROM DEEP
Osei Price is shooting 44.0% (22-50) while Lampman shoots 36.4% (44-121) with the most attempts. These two are the team's leaders off the bench, though Price is coming off his seventh career start Friday night against NKU.
MINISTER OF DEFENSE
Micah Parrish has 32 takeaways with five blocks total on the year from the Detroit native with an average of 6.1 rebounds and 10.8 point per game, respectively. Parrish tallied a career-high 20 points against NKU.
MID-MAJOR SUCCESS
Oakland jumped three spots up from 15th in the College Insider Mid-Major Top 25 poll as voted on by Mid-Major tier coaches in the January 31 edition of the poll.
____________________________________________________________________________
LAST FOUR
(at) NKU, February 4, L, 87-78
Moore drained a three-pointer from the longship decal at BB&T Arena at the buzzer to force overtime but the extra five minutes were not enough as OU dropped their second Horizon League game to the Norse. Moore finished with 24 points, Parrish a career-high 20.
(vs) UIC, January 29, W, 81-74
Cain's 26 points propelled Oakland over the feisty flames as six lead changes forced fans to hold their breaths inside the O'rena. OU ultimately picked up its ninth Horizon League win with Townsend scoring 22 points to follow Cain's 12 rebounds.
(vs) UM-Dearborn, January 24, W, 104-61
Price shot 100% from the field in a historic fashion against the Wolverines of Michigan-Dearborn, finishing with a career high 27 points while Will Shepherd received the most minutes of his career to score 17.
(at) Green Bay, January 22, W, 68-61
The team bounced back on their Wisconsin trip for a 68-61 win against the Phoenix at the Kress Center with Cain scoring the first 20-20 game since February of last season with 26 points and 21 rebounds for his eighth double double of the year. Townsend finished with his fifth 20-plus point performance with 23 along with Moore who had seven assists.
___________________________________________________________________________
1000 POINT CLUB
Cain tallied his 1,000th point in his collegiate career with his 26 scored in the win over UIC on Saturday, January 29. Cain's thousand points carry over from his time at Marquette University as the grad transfer finishes his collegiate playing career at Oakland,.
A SPECIAL FRIDAY NIGHT
Chris Conway's previous career high in points was two points ahead of OU's game with Ohio Christian. The Naperville, Illinois native earned his first career double double with 22 points and ten rebounds as Trey Townsend got his second double double of the year with 26 points (a career high) and 10 rebounds as well. Emmanuel Newsome made his first start of the season Friday as well tallying eight points, five rebounds, and a steal.
BATTLE IN LITTLE CAESARS ARENA
Moore tallied a double-double in the team's 90-78 loss to Michigan State University with 25 points and 11 assists to his name as Cain notched his second straight contest with 20 or more points, his sixth overall of the season. The squad shot 43.9% (25-57) from the field as the team faces its first, and albeit short, losing streak of the season at two games.
FUN IN THE SUN
Oakland secured the Gulf Coast Showcase title with wins over Vermont, Rice, and Delaware. All three of OU's victories were decided by eight points or less. The tournament took place at Hertz Arena in Estero, Fla. and featured eight mid-major teams. The winner of the MTE has advanced to postseason play in six of its eight years of existence.
UPSET IN STILLWATER
The Golden Grizzlies earned a 56-55 victory at Oklahoma State in their second game of the season. Moore scored the final seven points for OU in the win. The upset was Oakland's 12th career win over a Power 5 program.
GOOD TO BE HOME
Oakland rolled past Toledo, 80-59, in its home opener at the Athletics Center O'rena. OU outscored Toledo 49-27 in the second half, which snapped a four-game losing skid to the Rockets. Cain exploded for 29 points, 17 rebounds, three steals, and two blocks, while sophomore guard Blake Lampman had a career night, scoring 18 points on 5-of-9 shooting from outside the arc. Moore had a double-double with 17 points and 11 assists.
GET YOUR TICKETS
Season tickets can be purchased through the Athletics Ticket Office by calling (248) 370-4000 or emailing outickets@oakland.edu. Single-game tickets and mini-plans are also available for the 2021-22 basketball season. Click here for more information.
NEW HOME FOR OAKLAND BASKETBALL
Oakland recently announced a partnership with Audacy that made 97.1 The Ticket HD3 and The Bet 1270AM (WXYT-AM) the official radio providers for the department. With this new partnership, 97.1 The Ticket HD3 and The Bet 1270AM (WXTY-AM) will provide coverage for all Oakland men's basketball games as well as the Greg Kampe Radio Show.
BACK FOR ANOTHER RUN
Kampe enters his 38th season at the helm of the Oakland men's basketball program. He is the third-longest tenured active coach in Division I, only behind Jim Boeheim (Syracuse, 45 seasons) and Mike Krzyzewski (Duke, 41 seasons). Kampe's 650 career wins rank 12th among active Division I coaches.
PUTTING OAKLAND ON THE MAP
Kampe joined Oakland in 1984 after six seasons as an assistant coach at Toledo (1978-1984). Formerly known as the Pioneers, OU had only six winning seasons in 16 years of competition before his arrival.
COURTESY OAKLAND SPORTS INFORMATION