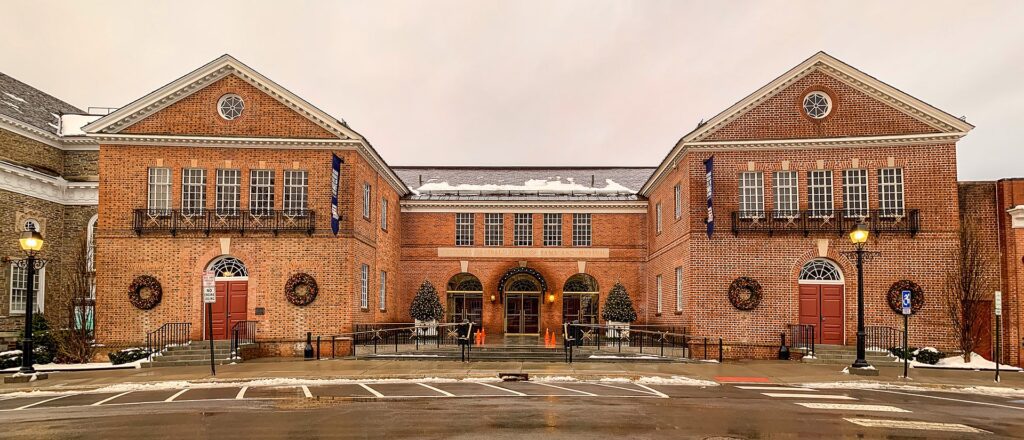 FROM WIKIPEDIA COMMONS
The National Baseball Hall of Fame and Museum is a history museum and hall of fame in Cooperstown, New York, operated by private interests. It serves as the central point of the history of baseball in the United States and displays baseball-related artifacts and exhibits, honoring those who have excelled in playing, managing, and serving the sport. The Hall's motto is "Preserving History, Honoring Excellence, Connecting Generations". Cooperstown is often used as shorthand (or a metonym) for the National Baseball Hall of Fame and Museum, similar to "Canton" for the Pro Football Hall of Fame in Canton, Ohio.
The Hall of Fame was established in 1939 by Stephen Carlton Clark, an heir to the Singer Sewing Machine fortune. Clark sought to bring tourists to a city hurt by the Great Depression, which reduced the local tourist trade, and Prohibition, which devastated the local hops industry. Clark constructed the Hall of Fame's building, and it was dedicated on June 12, 1939. (His granddaughter, Jane Forbes Clark, is the current chairman of the board of directors.) The erroneous claim that Civil War hero Abner Doubleday invented baseball in Cooperstown was instrumental in the early marketing of the Hall.
An expanded library and research facility opened in 1994. Dale Petroskey became the organization's president in 1999. In 2002, the Hall launched Baseball as America, a traveling exhibit that toured ten American museums over six years. The Hall of Fame has since also sponsored educational programming on the Internet to bring the Hall of Fame to schoolchildren who might not visit. The Hall and Museum completed a series of renovations in spring 2005. The Hall of Fame also presents an annual exhibit at FanFest at the Major League Baseball All-Star Game.
TODAY'S ALMANAC
Question of the Day
I hear a lot about the Gulf Stream, but what exactly is it?The Gulf Stream is an ocean current — like a river flowing through the sea rather than on land. The Gulf Stream moves northward along the east coast of the United States, across the North Atlantic Ocean, and then to northwestern Europe.
Advice of the Day
All glory comes from daring to begin.
Home Hint of the Day
Always keep your work area well ventilated when you are using solvents. Their strong odors can be dangerous unless accompanied by plenty of fresh air.
Word of the Day
EvaporimeterAn instrument that measures the loss of water by evaporation.
Puzzle of the Day
At what time of day was Adam created?A little before Eve.
Born
Thomas Paine (patriot) – 1737
William McKinley (25th U.S. president) – 1843
Anton Chekhov (author) – 1860
Whitney Warren (architect) – 1864
Vincente Blasco Ibanez (novelist) – 1867
W.C. Fields (actor) – 1880
Barnett Newman (painter) – 1905
Victor Mature (actor) – 1916
Katharine Ross (actress) – 1943
Tom Selleck (actor) – 1945
Ann Jillian (actress) – 1951
Oprah Winfrey (television host) – 1954
Judy Norton-Taylor (actress) – 1958
Heather Graham (actress) – 1970
Sara Gilbert (actress) – 1975
Justin Hartley (actor) – 1977
Adam Lambert (singer) – 1982
Died
Robert Frost (poet) – 1963
Jimmy Durante (actor) – 1980
Dick Night Train" Lane" (football player) – 2002
Harold Russell (received two Oscars for portrayal of wounded veteran in The Best Years of Our Lives, after losing both his hands in WW II) – 2002
Joshua Miner (Outward Bound USA founder) – 2002
Mary-Ellis Bunim (producer who helped bring television into the age of reality with The Real World and Road Rules) – 2004
Larry L. McGraw (founder of Home Orchard Society) – 2005
Rod McKuen (poet) – 2015
Events
Geologist William Edmond Logan became first Canadian-born knight– 1856
Kansas was admitted to the Union as the 34th state– 1861
Charles Steinmetz patented a system of distribution by alternating current.– 1895
U.S. physician Emil H. Grube became the first to use X-ray treatment for breast cancer– 1896
American Baseball League formed in Chicago– 1900
Carl Taylor's ice cream cone-rolling machine patented– 1924
The Baseball Hall of Fame elected its first members– 1936
Actor Paul Newman married actress Joanne Woodward– 1958
Emily H. Warner became the first female pilot of a U.S. commercial airline– 1973
21-pound 8-ounce bowfin caught in Forest Lake, South Carolina– 1980
Julio Cesar Chavez suffered the first defeat of his pro boxing career, losing his WBC super lightweight crown on a split decision to 32 year-old Frankie Randall in Las Vegas– 1994
Weather
The "Great Olympic Blowdown" windstorm struck the Washington coast, with winds up to 113 mph. Eight billion board feet of timber was destroyed in North Head, Washington.– 1921
62 degrees in Nampa, Idaho– 1954
Fields full of snow rollers were sighted in Weld County, Colorado.– 2001
COURTESY www.almanac.com