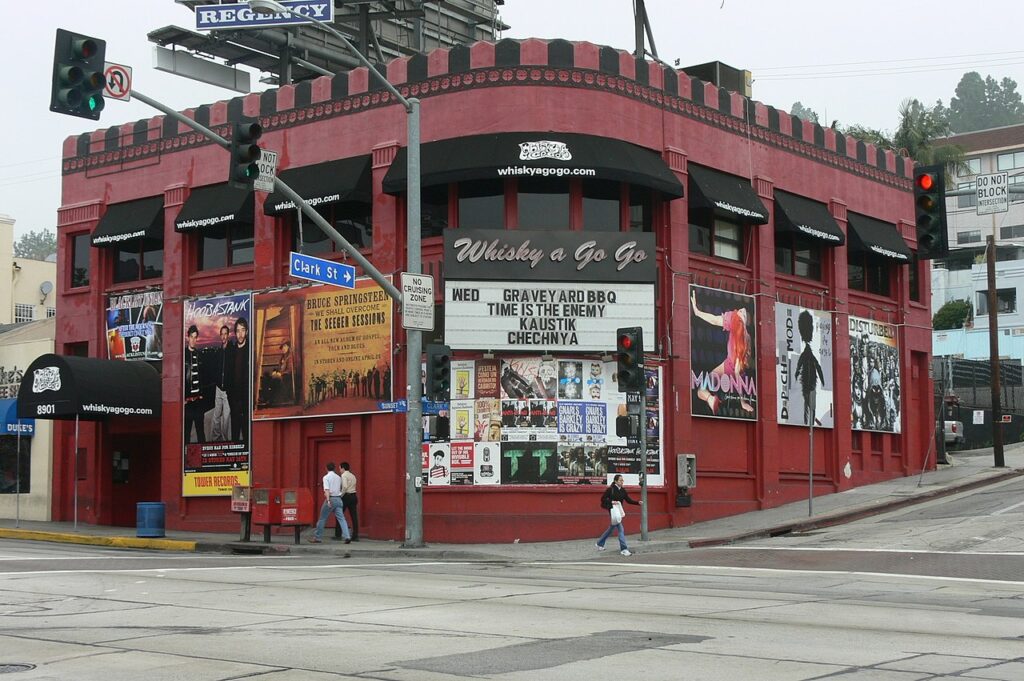 FROM WIKIPEDIA COMMONS
The Whisky a Go Go (informally nicknamed "the Whisky") is a nightclub in West Hollywood, California, United States. It is located at 8901 Sunset Boulevard on the Sunset Strip, corner North Clark Street, opposite North San Vicente Boulevard, northwest corner. The club has been the launching pad for bands including The Stooges, Alice Cooper (who recorded a live album there in 1969), Parliament-Funkadelic, The Doors, Golden Earring, No Doubt, System of a Down, The Byrds, The Flying Burrito Brothers, Chicago, Germs, Buffalo Springfield, Steppenwolf, Van Halen, Johnny Rivers, X, Led Zeppelin, Fleetwood Mac, KISS, Guns N' Roses, Death, AC/DC, Linkin Park, Metallica, Mötley Crüe, and Phil Seymour.
TODAY'S ALMANAC
Question of the Day
What is the diameter of Earth, and how does it compare to that of Venus?Earth's diameter is 7,928 miles. Venus is slightly smaller, with a diameter of 7,523 miles.
Advice of the Day
To prevent bad luck, never shake out a tablecloth after dark.
Home Hint of the Day
Before using a power sander to strip an old floor, use a hammer and nail set to set any protruding nail heads below the surface. This will reduce the risk of tearing the expensive sand paper.
Word of the Day
BlighterA persistently annoying person.
Puzzle of the Day
I am a caller at every home where you may meet, For daily I perambulate along each street. Take one letter from me and still you will see. I'm the same as before, as I'll always be, Take two letters from me, or three or four. I'll still be the same as I was before. In fact, I can tell you that all my letters you may take, Yet of me nothing else can you make.
Answer: Postman
Born
Alexander Hamilton (statesman & founding father) – 1757
Sir John A. Macdonald (Canadian prime minister) – 1815
Alice Paul (lawyer) – 1885
Alan Stewart Paton (author) – 1903
Manfred B. Lee (mystery writer) – 1905
Jean Chrétien (Canadian prime minister) – 1934
Clarence Clemons (musician) – 1942
Naomi Judd (country music singer) – 1946
Ben Crenshaw (golfer) – 1952
Darryl Dawkins (basketball player) – 1957
Mary J. Blige (singer) – 1971
Amanda Peet (actress) – 1972
Died
Francis Scott Key (composer) – 1843
Gail Borden (developed condensed milk) – 1874
Sir Edmund Hillary (one of the first to summit Mt. Everest) – 2008
Events
Alabama seceded from the Union– 1861
Milk was delivered in glass bottles for the first time, Brooklyn, NY– 1878
Hudson Motor Company unveiled the first sedan-type car– 1913
Pioneer aviatrix Amelia Earhart became the first woman to pilot solo from Hawaii to Mainland USA. She took off from Honolulu, reaching Oakland, CA, in 18 1/4 hours– 1935
India and Pakistan annouced the designation of an exact border between the two countries to eliminate clashes– 1960
The forerunner of the discotheques, the Whiskey A-Go-Go, opened on Sunset strip in Los Angeles, California and became the launching pad for many unkown stars like Jimi Hendrix, Led Zeppelin, The Doors, and Otis Redding– 1963
Dr. Luther Terry, the U.S. Surgeon General, issued the first government report saying that smoking was hazardous to one's health– 1964
Baseball's American League adopted the designated hitter" rule which allows another player to bat for the pitcher"– 1973
National Ballet of Canada founder, Celia Franca, retired.– 1974
The U.S. Centers for Disease Control published evidence that AIDS can be transmitted through blood tranfusions– 1984
President Reagan bade the nation farewell in a nationally broadcast address from the Oval Office– 1989
A 4.3-magnitude earthquake shook Southern California– 2010
A 17-pound 1-ounce ocean whitefish was caught at Hurricane Bank, off California and Mexico– 2011
Weather
Charleston, South Carolina, experienced a sudden change in temperature on January 10. The mercury dropped from 70F to 26F and sank to 15F by the morning of January 11.– 1745
Two-day blizzard began in Midwest, 1918– 1918
Chinook winds warmed an Arctic air mass over Great Falls, Montana, raising temperatures from -32°F to 15°F in 7 minutes.– 1980
A chilly 32 degrees F, Orlando, Florida– 1982
25.3 inches of snow fell in 24 hours in Buffalo, NY– 1982
Five degrees below zero F in Atlanta, Georgia– 1982
75 mph wind gusts at Yankton, South Dakota– 1990
COURTESY www.almanac.com