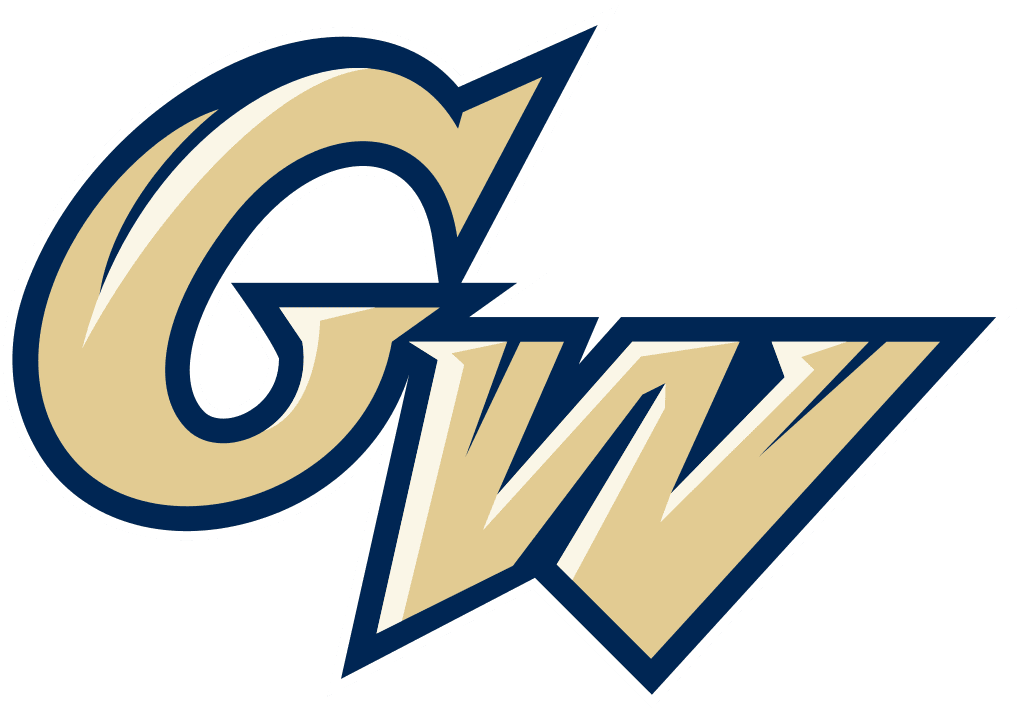 Pioneers, Legendary Team, Record Holders and Other Icons to be Inducted in February
George Washington University was honored today to reveal the 2022 GW Athletics Hall of Fame Class of 2022, with Black Pioneers Norman Neverson (football), Garland Pinkston (men's basketball) and Rocky Wright (men's basketball), Danny Rouhier (baseball), the 1993 men's basketball Sweet Sixteen team, Noelia Gomez (women's basketball), Diane Kelly (women's soccer), Chris Peterson (wrestling), and Karen Ercole (administration) included. The esteemed class includes representatives from four different decades and six sports and was selected by a diverse group of 11 former student-athletes, administrators and longtime supporters of the department.
 
Norman Neverson, Garland Pinkston, Rocky Wright
In 1963, Neverson became GW's first Black student-athlete awarded a scholarship after he was recruited out of DC's Roosevelt High School to play football. A three-sport star in high school, Neverson helped to integrate the Southern Conference after West Virginia first had a student-athlete break the color barrier a year prior. One of the most consequential student-athletes ever at GW, Neverson was a participant in the original March on Washington later that same year. 
 
In the first half century of GW basketball, the program had a glaring absence on its all-time roster. It wasn't until the courageous and trailblazing Rocky Wright came to GW in 1963 that the university welcomed its first Black basketball player. As freshmen were not eligible to play NCAA varsity basketball at that time, Wright participated on the freshman team, but did not ultimately receive a scholarship. Nevertheless, Wright integrated GW basketball and paved the way for Garland Pinkston to become GW's first Black student-athlete on a basketball scholarship in 1968. It is on the shoulders of Wright and Pinkston that today's Black athletes at GW stand. 
 
Danny Rouhier
Part of GW Athletics Hall of Fame coach Tom Walter's first recruiting class at GW, Rouhier put together an impressive four-year run in Buff and Blue, highlighted by an All Atlantic-10 nod for a 2000 squad that won 37 games. Rouhier appeared in 203 games during his career, hitting .331 with 167 runs scored, 55 doubles, six triples, 36 homers, 194 RBI and 89 walks. When he left GW, he ranked among the program's top-5 in seven different categories, including leaving as the all-time RBI leader. Today, Rouhier still ranks among the program's top 10 in RBI (3rd), doubles (3rd), homers (7th) and runs (t-7th) in addition to placing 11th in hits (239), 13th in at-bats (721), 14th in walks and 18th in games played. Rouhier began his career by hitting .368 as a freshman in 1998, driving in 28 RBI in 34 games and helping the Colonials earn a regular season West Division title. After hitting .326 with a career-high 12 homers in 1999, Rouhier took the next step in 2000 by hitting .343 with a career-high 21 doubles, nine homers and 51 RBI en route to earning second team all-conference honors on the West Division co-championship team. As a senior, Rouhier capped his impressive career by hitting .303 and setting new career bests in runs (56), triples (3) and RBI (65).
 
1993 Sweet Sixteen Team
Behind the remarkable exploits of Sports Illustrated Freshman of the Year Yinka Dare, the 1992-93 GW men's basketball team nearly shocked the world in an NCAA Tournament Sweet Sixteen game against Michigan's famed Fab Five. The run to the second weekend of the tournament marks the furthest the program has ever advanced in the Big Dance and brought national acclaim to Foggy Bottom. Just four seasons prior, GW endured a 1-27 campaign. The Buff and Blue opened the Big Dance with an upset win against No. 5 New Mexico, 82–68, with freshman guard Kwame Evans coming off the bench to sink a team-high 19 points, while Dare notched his typical double-double. With a final record of 21-9, Dare, Dirkk Surles, Sonni Holland and company will forever be GW icons. 
 
Noelia Gomez
GW's all-time leading scorer by career average, Gomez was a decorated scorer and rebounder during her three years in the Buff & Blue. Gomez scored exactly 1,600 points in her career (7th all-time) in just 89 games, setting the pace for the program with a career average of 18.0 ppg. She also ranks 20th in program annals with 567 career rebounds. She burst onto the scene in 1996-97, earning A-10 Rookie of the Year and All-Rookie, Second Team All-Conference and All-Tournament honors. In 33 games, she scored 576 points (17.5 ppg), the sixth-most in a single season in program history. Gomez then became a first team All-Conference performer and honorable mention All-American in 1997-98, starting all 30 games while averaging 17.2 ppg (515 total points). She then was named the A-10 Player of the Year and honorable mention All-American in 1998-99 after averaging 19.6 ppg in 26 games, the fourth-most in a single season in program history. Gomez helped lead GW to great success, winning a pair of regular season A-10 Championships in addition to two NCAA tournament appearances, including the 1997 Elite Eight.
 
Diane Kelly
Kelly's name can be found etched in the GW women's soccer record book as one of the most successful attackers to wear the Buff and Blue. In her two years at GW, Kelly set the single-season record for goals with 29 tallies in her first season with the Colonials in 1986. Kelly also totaled a team-high 61 points that season, a mark that ranks second in program history. In 1987, Kelly helped GW break into the Northeast Regional rankings for the first time in program history, ranking as high as seventh during the season and ending the year ranked ninth. Kelly also ranks second in program history with 44 career goals, just one goal off the record holder, Chemar Smith (45), and sits second with 96 career points in just two seasons. 
 
Chris Peterson
A GW wrestler from 1983-87, Peterson accumulated a 65-14-2 record in dual meet action, with a tournament record of 40-23, to earn a total of 320 career points for GW; second all-time. A NCAA qualifier at 177 pounds, Peterson won the Capital Collegiate Conference in 1986 and 1987, as well as a NCAA Eastern Regional Championship. GW's Outstanding Senior Athlete in 1987, Peterson was just the fourth GW wrestler in the program's storied history to reach 100 career wins, and his .822 dual meet winning percentage ranks fourth all-time at GW.
 
Karen Ercole
Ercole joined GW in 1991 and started as an academic advisor before being promoted to executive director for academic assistance in 2000. In that role, Karen oversaw all academic support services for more than 400 student-athletes. In 2011, Karen was again promoted to the role of Associate Athletics Director for Educational Support Services and Student-Athlete Development. She was also appointed as the department's SWA (senior woman administrator) and deputy Title IX coordinator. During her 24 year tenure, Karen oversaw several enhancements to the department including the addition of a student-athlete leadership academy and a fall orientation program for all student-athletes. In addition, Karen implemented the office of student-athlete development, which focuses on career readiness, leadership development, and community service initiatives. Karen's impact is truly immeasurable as she played such an important role in so many student-athletes' academic journey. 
 
The 2022 GW Athletics Hall of Fame Class will be inducted on Friday, February 4th with details on the ceremony forthcoming. With their induction, the Hall of Fame will grow to 183 members and three historic teams. Founded in 1959, the late Red Auerbach was part of the inaugural class. 
COURTESY GWU ATHLETIC COMMUNICATIONS