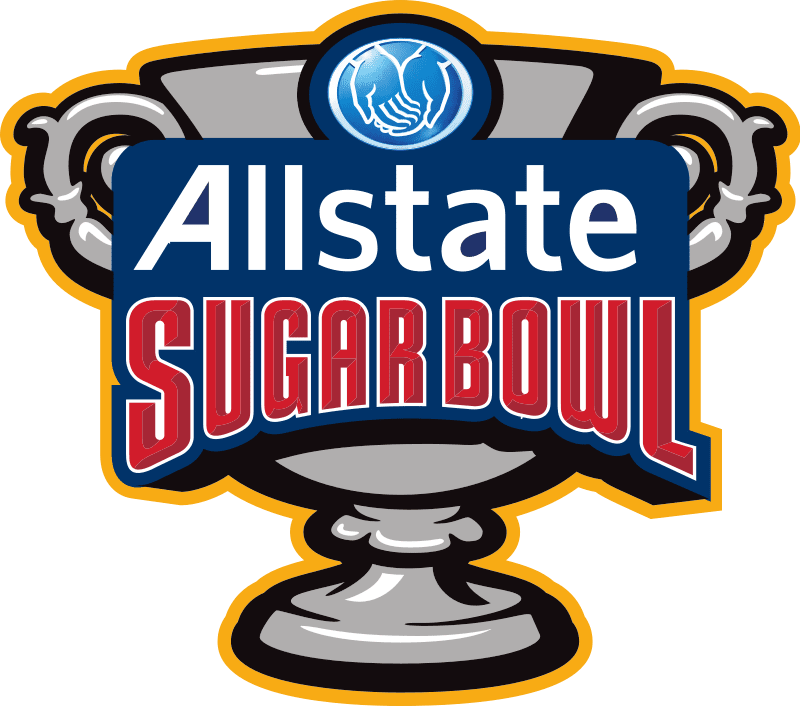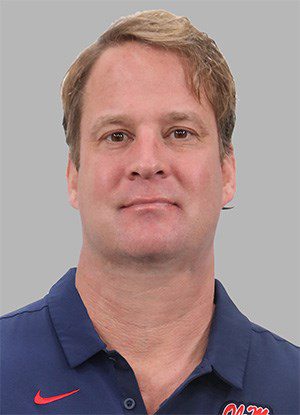 LANE KIFFIN BIOGRAPHY
Lane Kiffin enters his second season in Oxford after leading the Rebels to a 5-5 record and a Outback Bowl victory over No. 7 Indiana in 2020.
Kiffin quickly turned the Rebels into an offensive machine in 2020. Ole Miss ranked top 20 in the FBS in nine different offensive categories, including having the No. 3 team in the country in total offense, shattering the school record with 555.5 yards per game. Wide receiver Elijah Moore and quarterback Matt Corral were two of the main cogs in the Rebels' high-powered offense.
Moore earned first-team consensus All-America accolades after a historic and shortened 2020 junior season. The Fort Lauderdale, Florida, native hauled in a school record 86 receptions for 1,193 yards and eight touchdowns during his last season in a Rebel uniform. Moore, a Biletnikoff finalist, led the country in receiving yards per game (149.1) and receptions per game (10.8).
Corral became just the fourth SEC player ever to finish as the NCAA leader in total offense per game (384.9), joining Pat Sullivan (1970), Rex Grossman (2001) and Johnny Manziel (2012). The signal-caller also finished No. 5 in passing yards per game (333.7), No. 7 in passing TDs (29), No. 9 in passing efficiency (177.6) and No. 11 in passing yards per completion (14.5).
The Rebels broke the SEC record for total offense in conference games (562.4 ypg), besting LSU's mark of 550.0 yards per game set last season during the Tigers' run to a national title.
The offensive explosion by the Rebels came as no surprise, as Kiffin has shown a propensity in helping turn programs around. In his first seasons at FAU, USC and Tennessee, Kiffin's team improved in win differential (+3.33), scoring (+10.2), passing (+34.5 ypg) and rushing (+51.3 ypg).
Kiffin has more than 11 years of head coaching experience, including nine years at the NCAA level where he has posted an all-time record of 66-39.
In December 2016, Kiffin took over an FAU program that had won a total of nine combined games over the previous three seasons. Kiffin proceeded to take the Owls to new heights over the last three years, including two conference titles and two 10-win seasons.
Kiffin led the Owls to a 10-3 record this season, including Saturday's 49-6 win over UAB in the Conference USA Championship Game. The Owls lead the nation in interceptions (19) and turnovers gained (29). FAU also leads C-USA in scoring offense (34.1), red zone offense (0.911), fumbles lost (3) and turnover margin (1.58).
In his first season in Boca Raton, Kiffin started 1-3 but reeled off a program-high 10 consecutive wins to finish the 2017 campaign at 11-3. The Owls' 11 victories were two more than the previous three seasons combined and earned the program votes in national polls. The seven-game improvement tied for the fifth-best turnaround in FBS history. Along the way, 41 individual or team records were amassed, and an FAU-record 21 players earned All-Conference USA recognition.
The Owls captured their second conference title in program history, the first since joining C-USA and first since 2007. FAU remained a perfect 3-0 in bowl play by defeating Akron in the Boca Raton Bowl, 50-3. Statistically, the Owls finished in the top-25 in 16 team categories, including: No. 2 in passes intercepted, No. 5 in first down offense, No. 6 in rushing offense, No. 8 in kickoff return defense, red zone offense and turnovers lost, and No. 9 in total offense and turnover margin (by comparison, FAU was No. 72 the previous season in total offense and No. 99 in turnovers gained).
Kiffin joined the FAU Owls after three seasons at the University of Alabama, where he served as the Tide's offensive coordinator and quarterbacks coach. He was a finalist for the Frank Broyles Award in 2014, which goes to the country's best assistant coach.
His final season with the Tide, Kiffin mentored Jalen Hurts, the first freshman to start at quarterback in head coach Nick Saban's career. Hurts finished 13-1 as the starting QB and guided Alabama to an SEC title and to the National Championship game. Hurts was a Freshman All-American, the SEC Offensive Player of the Year and the SEC Freshman of the Year. He was a finalist for the Manning Award, the Earl Campbell Tyler Rose Award, a semifinalist for the Walter Camp Player of the Year and the Davey O'Brien Award, presented annually to the nation's top quarterback.
In 2015, Kiffin oversaw the development of quarterback Jake Coker, who finished his career 14-0 as a starter at Alabama and led the nation in completion percentage over the final 10 games of the season at 72.2 percent. Coker threw for 3,110 yards with 21 touchdowns, which ranks as the second-most passing yards in school history. On the ground, Kiffin fed Heisman Trophy running back Derrick Henry the ball a school-and SEC-record 395 times for a record 2,219 yards and 23 touchdowns. Henry's 2,219 yards was also the fifth-most rushing yards in a single season in college football history.
One of Kiffin's first responsibilities at Alabama was identifying a starting quarterback and then developing Blake Sims in 2014. With three-year starter and All-American AJ McCarron off to the NFL, Kiffin oversaw Sims' rise to the top of the Alabama depth chart en route to a school-record 3,487 passing yards and 3,837 yards of total offense while completing 64.5 percent of his passes. He ranked tied for fourth nationally in total QBR (83.7) and seventh in passing efficiency (157.9). Sims was selected second-team All-SEC, named to the Senior Bowl, tabbed as a finalist for the Manning Award and a semifinalist for the Davey O'Brien Award.
He spent the previous three-plus seasons as the head coach at Southern California, where he compiled a record of 28-15. Kiffin's 2012 USC squad went 7-6 overall and 5-4 in the Pac-12 South, good for second place. Wide receiver Marquise Lee was a unanimous first team All-American and won the Biletnikoff Award while also being named the Pac-12 Offensive Player of the Year. Quarterback Matt Barkley, who won the Wuerffel Trophy, set conference records for passing yards and passing touchdowns.
Kiffin led the Trojans to a 10-2 record in 2011 and a sixth-place finish in the final Associated Press poll. The team finished first in the Pac-12 South with a 7-2 mark. His 2011 USC offense produced a 3,500-yard passer, a pair of 1,000-yard receivers and a 1,000-yard rusher. Three Trojans earned First Team All-America honors (Matt Kalil, Robert Woods and T.J. McDonald) and five were named Freshman All-Americans.
In his first year as the head coach at USC, Kiffin led the Trojans to an 8-5 record (5-4 Pac-10). Before his arrival, the Trojans were averaging 26.5 points per game in scoring offense and 389.1 yards per game in total offense. In his first two seasons, those numbers increased to 31.0 points per game and 431.5 yards in 2011 and 35.8 points and 456.8 yards in 2012.
Prior to his tenure at Southern California, Kiffin served as the head coach at Tennessee in 2009. He led the Volunteers to a second-place finish in the SEC East and an appearance in the Chick-fil-A Bowl. The Volunteers' offense jumped at least 34 places in every national statistical category over the 2008 figures. Tennessee improved from 17.3 to 29.3 points per game while going from 268.8 to 383.5 yards per game in total offense.
Kiffin came to Tennessee from the Oakland Raiders, where he served as head coach from 2007-08. At 31, he was the youngest head coach in the NFL's modern era. Oakland's offense significantly improved in his first year, up 7.2 points per game and 48.6 yards per game from 2006.
Prior to his first head coaching job, Kiffin spent six years as an assistant coach for Pete Carroll at Southern California, including two years as the offensive coordinator (2005-06). During his first tenure with the Trojans, USC captured two national championships and compiled a 65-12 record. Kiffin was promoted to passing game coordinator in 2004 and helped Matt Leinart win the Heisman Trophy as he passed for 3,322 yards with 33 touchdowns and just six interceptions.
He took over as USC's offensive coordinator in 2005 and led the Trojans to a scoring average of 49.1 points per game and 579.8 yards per game of total offense during his two years as offensive coordinator. Kiffin started at USC in 2001 as the tight ends coach and then coached the wide receivers during his remaining five years.
Kiffin graduated from Fresno State in 1998 after playing quarterback for three seasons (1994-96) for the Bulldogs. He began his coaching career as a student assistant at Fresno State under Pat Hill in 1997 and 1998. He moved on to Colorado State in 1999 as a graduate assistant. He spent the 2000 season as defensive quality control assistant with the Jacksonville Jaguars under Tom Coughlin.
Kiffin attended Bloomington Jefferson High in Bloomington, Minnesota, where he played football, basketball and baseball. He has two daughters, Landry and Presley, and one son, Knox.
AUDIO COURTESY OF THE SUGAR BOWL
BIO COURTESY OF MISSISSIPPI ATHLETIC COMMUNICATIONS