January 1, 2022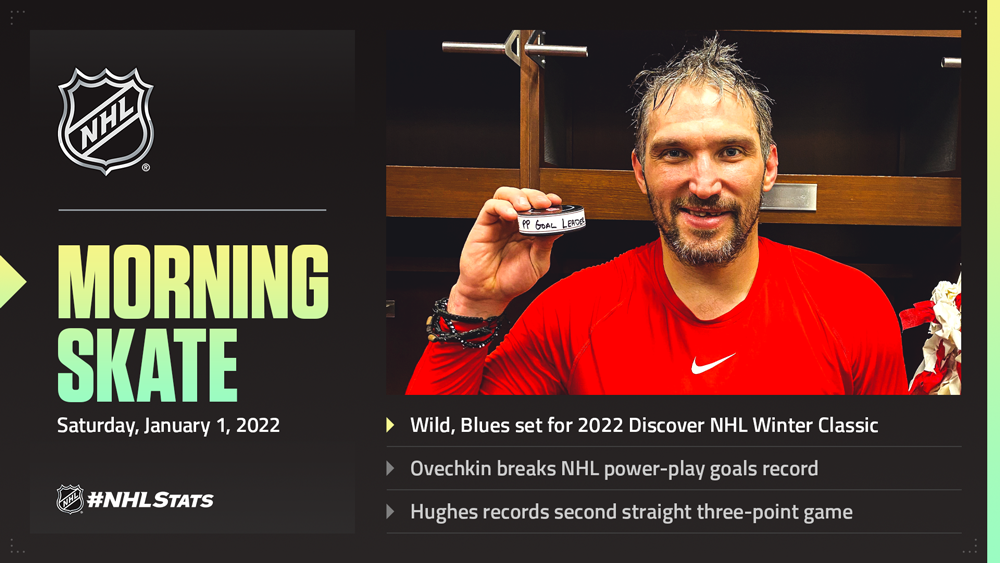 * The NHL's New Year's Day tradition returns when the Wild host the Blues outdoors at Target Field in the 2022 Discover NHL Winter Classic (7 p.m. ET on TNT, SN1, TVAS).
* Alex Ovechkin concluded 2021 by climbing three of the NHL's all-time lists as he scored his 275th power-play goal – the most by any player in NHL history – as well as added his 119th game winner and 154th multi-goal performance.

*  Jack Hughes recorded his second straight three-point outing as the Devils and Oilers combined for the NHL's second contest with five game-tying goals in 2021-22.
WILD, BLUES SET TO FACE OFF OUTDOORS AS WINTER CLASSIC RETURNS
The Blues and Wild will ring in the new year outdoors at Target Field in Minneapolis, Minn., in the 2022 Discover NHL Winter Classic (7 p.m. ET on TNT, SN1, TVAS). St. Louis (18-9-5, 41 points) and Minnesota (19-9-2, 40 points) enter play on Jan. 1 as the top two seeds in the Central Division.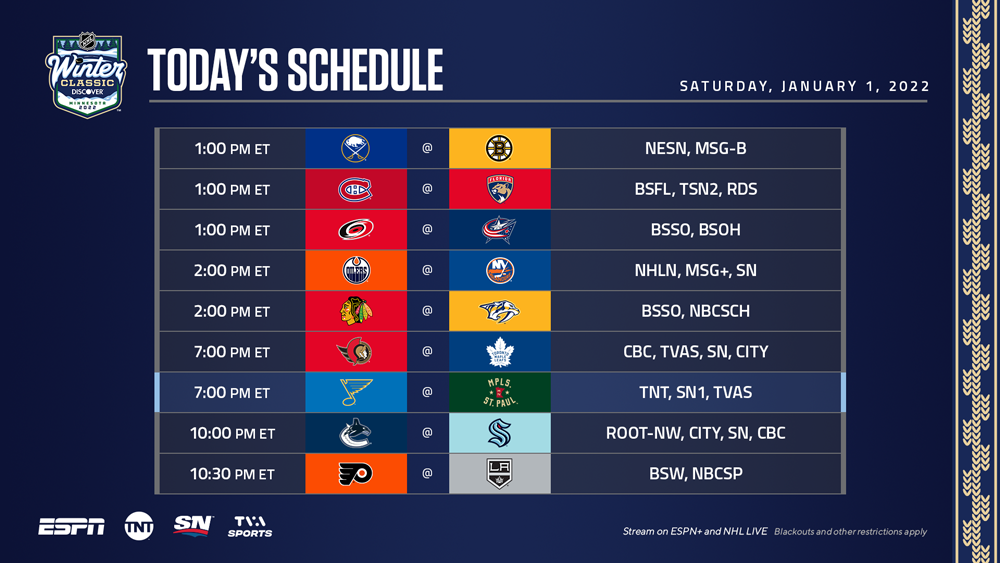 * The Wild and Blues are each set to contest their second outdoor game in franchise history. Minnesota defeated Chicago in the 2016 Stadium Series at TCF Bank Stadium (6-1 W), while St. Louis also beat the Blackhawks in the 2017 Winter Classic at Busch Stadium (4-1 W).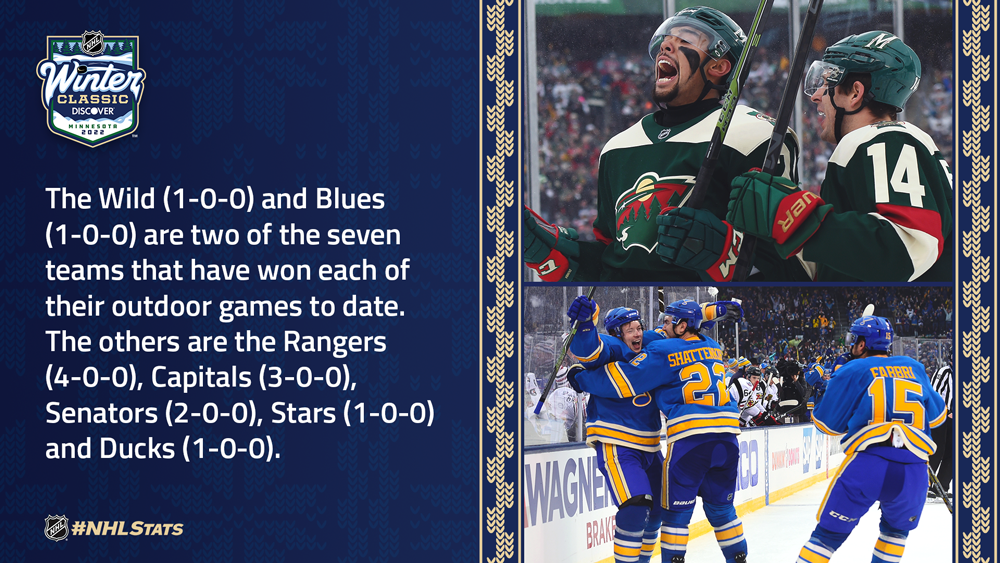 * After appearing in just 34 regular-season games over the previous two seasons (2019-20 to 2020-21), Vladimir Tarasenko has rebounded in 2021-22 where he leads all Blues skaters with 13-19—32 (32 GP). Tarasenko starred in St. Louis' previous outdoor game, scoring a pair of third-period goals to break a 1-1 tie and lift the Blues to victory in the 2017 Winter Classic at Busch Stadium.
* Kirill Kaprizov, who leads all Wild skaters and ranks seventh in the League with 12-24—36 (30 GP), is expected to participate in his first career NHL outdoor game. Kaprizov has recorded three or more points in a game five times this season – including 1-2—3 in his last outing on Dec. 20 – already just one shy of tying the most three-point games in a single season in franchise history, accomplished most recently by Eric Staal (6 in 82 GP) and Mikael Granlund (6 in 77 GP) in 2017-18.

* Minnesota lives up to its billing as the "State of Hockey" – the Land of 10,000 Lakes still holds the No. 1 spot when it comes to developing NHL players. Minnesotans are on nearly every NHL team in 2021-22, with 25 of the League's 32 franchises having at least one Minnesota-born player this season (minimum: 1 GP), the most of any state.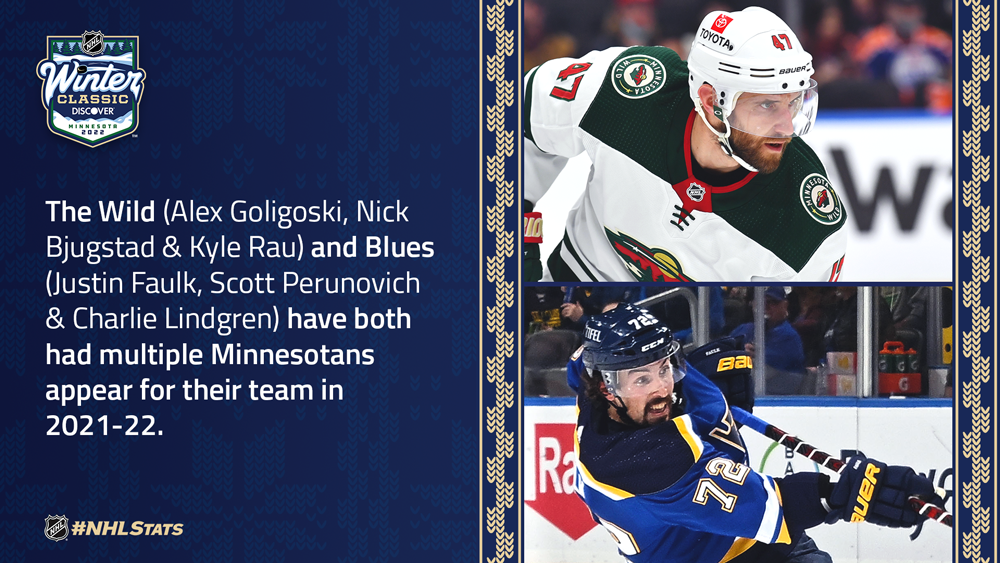 * Target Field, home of the Minnesota Twins, will become the sixth venue in Minnesota to host an NHL regular-season or playoff game, joining Metropolitan Sports Center/Met Center (1,108 GP), Xcel Energy Center (832 GP), Target Center (6 GP), TCF Bank Stadium (1 GP) and St. Paul Auditorium (1 GP). It is also the 11th baseball stadium to host an NHL outdoor game and first since New York's Citi Field at the 2018 Winter Classic.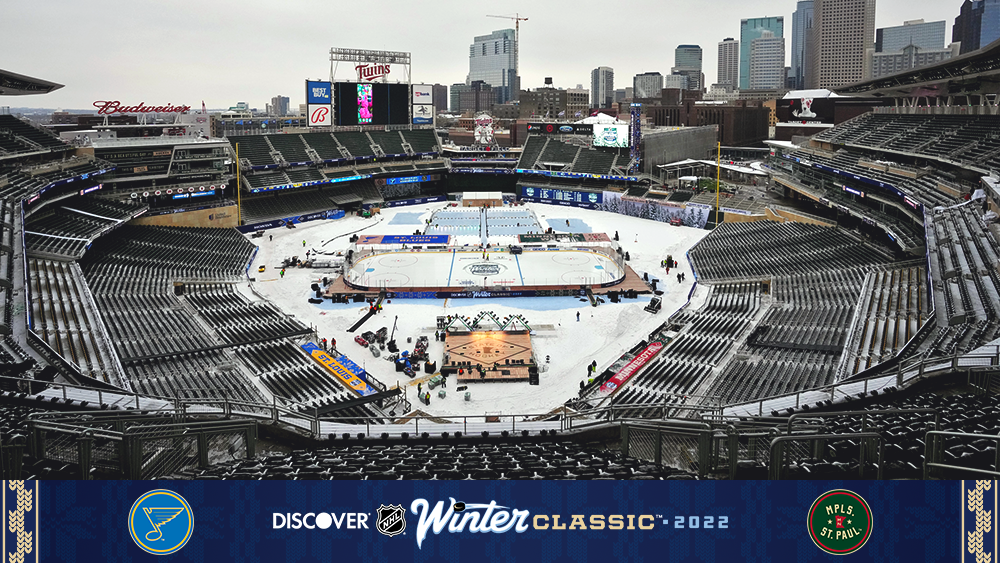 WINTER CLASSIC QUICK CLICKS:

* Black Hockey History Tour inspires visitors ahead of Winter Classic
* Winter Classic providing TNT chance to showcase NHL coverage
* Winter Classic: Consistently Cuatro women's pond hockey team
* Winter Classic: Grand Rapids, Duluth East represent H.S. hockey
* Winter Classic between Wild, Blues to celebrate Minnesota hockey culture
* Winter Classic a reminder where it all started for Nick Bjugstad, Alex Goligoski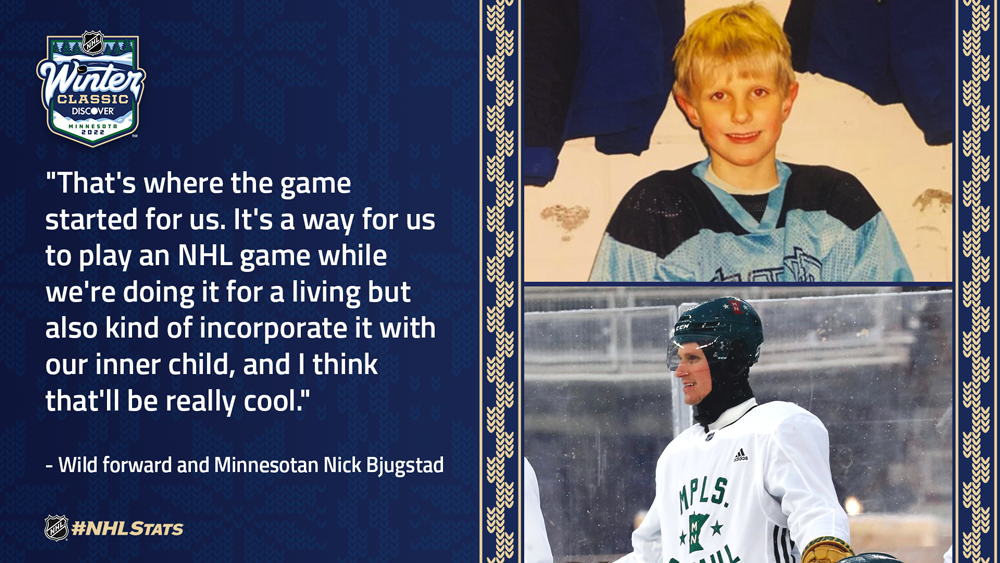 FRIDAY'S RESULTS




OVECHKIN BREAKS POWER-PLAY GOALS RECORD TO CAP 2021
Alex Ovechkin (2-0—2) scored his 275th career power-play goal to surpass Dave Andreychuk (274) for the most in NHL history as the Capitals captain concluded 2021 by climbing three of the League's all-time lists, adding his 119th game winner and 154th multi-goal outing.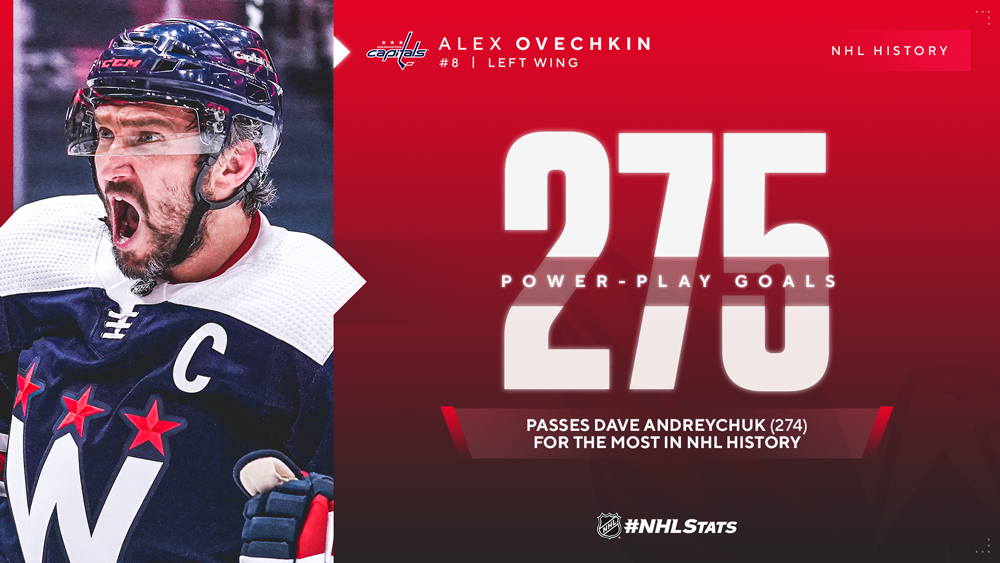 * With 2:51 remaining in regulation, Ovechkin's record-breaking power-play marker stood as the game winner – the 119th such goal of his career. Ovechkin surpassed Phil Esposito (118) for the third-most game winners in League history, trailing only Jaromir Jagr (135) and Gordie Howe (121).
* Ovechkin secured his 154th career multi-goal game, tying Mario Lemieux for the third most in NHL history behind Wayne Gretzky (189) and Brett Hull (158).

HUGHES HELPS DEVILS OUTLAST OILERS IN BACK-AND-FORTH AFFAIR
In a contest that featured five game-tying goals (EDM: 4, NJD: 1), Jack Hughes (2-1—3) helped the Devils draw even with 32 seconds remaining in regulation and later scored in overtime to record his second straight three-point outing (also 1-2—3 on Dec. 29). The Oilers and Devils combined to register the NHL's second contest with five game-tying goals in 2021-22 (also COL vs. OTT on Nov. 22).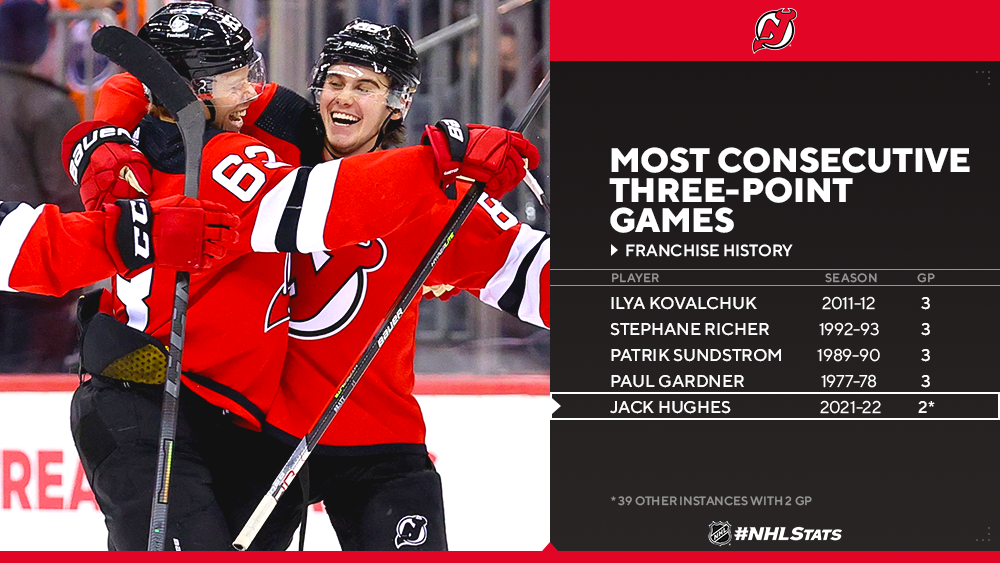 * Hughes (No. 1 in 2019) also opened the scoring Friday, followed by Oilers captain Connor McDavid (No. 1 in 2015) and teammate Nico Hischier (No. 1 in 2017). It marked just the fourth time in NHL history that each of the first three goals of a game were scored by first overall picks. The other instances: Nov. 6, 2021 (Taylor Hall, John Tavares & Auston Matthews), Dec. 8, 2002 (Eric Lindros, Bryan Berard & Joe Thornton) and Nov. 9, 1991 (Mike Modano, Bobby Smith & Mario Lemieux).

YEAR-END #NHLSTATS LIVE UPDATES
The New Year's Eve edition of #NHLStats: Live Updates featured a number of players and teams capping off 2021 with notable performances, including the Golden Knights, Rangers forward Artemi Panarin and Oilers captain Connor McDavid. Click here to read more.

* The Golden Knights scored three goals and earned their 62nd regular-season win in 2021. They became the sixth team in NHL history with 60-plus regular-season wins in a calendar year, joining Pittsburgh (65 in 2013), Chicago (64 in 2013), Philadelphia (60 in 1985), Detroit (60 in 1995) and Montreal (60 in 1978).

* Artemi Panarin (0-1—1) improved his 2021 totals to 27-67—94 (73 GP) and became the first Rangers player to score 90 or more points in a calendar year since Jaromir Jagr in 2006 (45-69—114 in 83 GP). Only five different players in franchise history have recorded more points than Panarin in a year: Jagr, Mike Rogers (1982; 44-69—113 in 80 GP), Mark Messier (1995; 39-69—108 in 88 GP & 1992; 35-73—108 in 79 GP), Rod Gilbert (1976; 41-66—107 in 83 GP) and Jean Ratelle (1971; 30-65—95 in 77 GP).

* Connor McDavid (2-0—2) concluded 2021 with an NHL-leading 161 points since Jan. 1 (regular season and playoffs; 53-108—161 in 91 GP) – the most by a player in a calendar year since Jagr in 1999 (68-96—164 in 93 GP).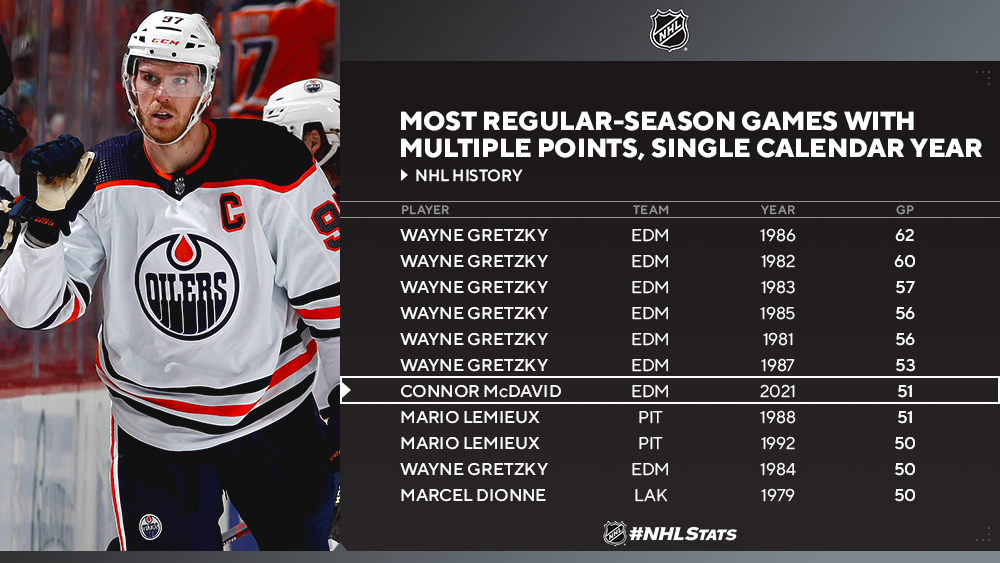 QUICK CLICKS
* NHL postpones nine games 
* Marc-Andre Fleury named Unmasked Goalie of the Year 
* Best moments from the NHL in 2021 
COURTESY NHLmedia.com