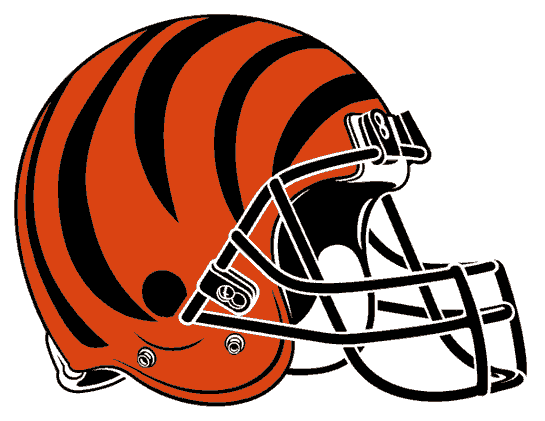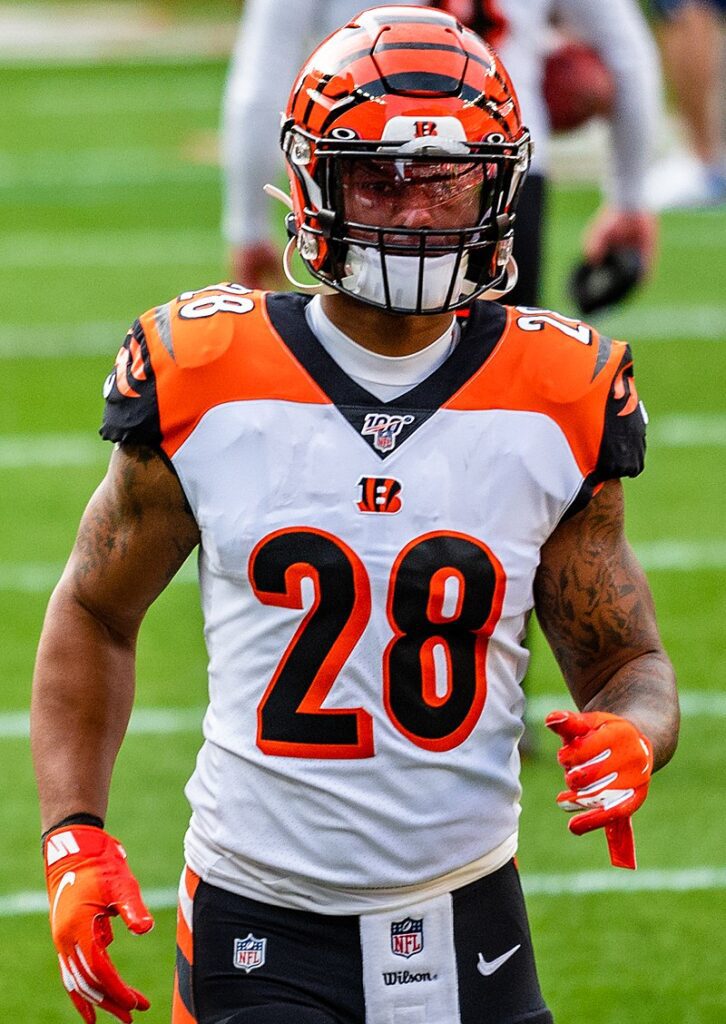 Joe Mixon is having another stellar year with 280 carries, for 1,159 yards, a 4.1 average and 16 TD's. He ties FB Pete Johnson's 16 in 1981 for 2nd place. Up next is WR Carl Pickens who had 17 in 1995.
JOE MIXON BIOGRAPHY
5TH Year
6'1, 220
25 Years Old
University of Oklahoma
A Bengals second-round draft selection in 2017, Mixon has developed into one of the NFL's top running backs … Started first six games in 2020 before right foot injury ended his season … Finished year with 119 rushes for 428 yards and three TDs, along with 21 catches for 138 yards and another TD … Topped 1000 rushing yards in 2018 and '19, and joined four other players as the only Bengals ever to rush for 1000 more than once: Corey Dillon (six), Cedric Benson (three), James Brooks (three) and Rudi Johnson (three) … Propelled by strong second half of the season in 2019, as 817 of his 1137 yards (72 percent) came in the final eight games … In 2018, his first year as Bengals' full-time starter, he rushed for 1168 yards and became the first Cincinnati RB to lead the AFC in rushing yards in a season (RB Paul Robinson led the AFL in rushing as a rookie in 1968) … Enters 2021 with 50 games played (41 starts), 10 100-yard rushing performances and 17 games of at least 100 yards from scrimmage … Signed contract extension prior to 2020 season that keeps him in Cincinnati through the '24 season.
Career transactions: Selected by Cincinnati in second round of 2017 NFL Draft (48th overall) … Signed with Bengals on 6-2-17 … Signed contract extension with Bengals on 9-2-20.
2020 highlights: Limited to just six games (all starts) by a right foot injury … Rushed for 428 yards on 119 attempts (3.6), with three rushing TDs … Also added 21 catches for 138 yards and one TD … Suffered injury in Game 6, Oct. 18 at Indianapolis; inactive for next three contests before being placed on Reserve/Injured on Nov. 21 … Team left door open for possible return late in season, but ultimately ruled that out late in the year … Rushed 25 times for season-high 151 yards and two TDs on Oct. 4 vs. Jacksonville, and added six catches for 30 yards and another TD; his three total TDs were a career-high.
Previous seasons: 2017—Played in 14 games with seven starts … Inactive for Games 13-14 (concussion) … Led team in rushing yards (626) carries (178), and rushing TDs (four) … Added 30 catches for 287 yards (9.6) … Opened rookie season as No. 3 HB, but continued production and season-ending injury to Hill moved him into starting role by mid-season … Had first career game of at least 100 yards from scrimmage (101) on Sept. 24 at Green Bay, with 62 yards rushing and 39 yards receiving … Recorded first career rushing TD Oct. 8 at Buffalo, giving Bengals the lead in the fourth quarter … Had a season-high 91 receiving yards on Oct. 29 vs. Indianapolis … On Nov. 26 vs. Cleveland, recorded season highs in rushing yards (114) and carries (23), while adding one rushing TD. 2018—Played in 14 games, with 13 starts … Inactive Games 3-4 with a knee injury … Rushed for AFC-best 1168 yards, making him the first Bengals player ever to lead the AFC in rushing in a season (RB Paul Robinson led the AFL in rushing in 1968) … Had four 100-yard rushing games, and seven games of at least 100 yards from scrimmage … Totaled 149 yards on Sept. 9 at Indianapolis (95 rushing, 54 receiving), and had a rushing TD … Totaled 115 yards (93 rushing, 22 receiving) in return to action Oct. 7 vs. Miami, after missing previous two games with knee injury … Receiving TD vs. Miami was first of his career, and helped spark Bengals' fourth-quarter comeback win … Rushed 21 times for 123 yards and two TDs on Oct. 28 vs. Tampa Bay, good for his first career multi-TD performance … Totaled season-high 155 yards (89 rushing, 66 receiving) on Nov. 25 vs. Cleveland … Recorded season-highs in rushes (27) and rushing yards (129) on Dec. 16 vs. Oakland, and had two rushing TDs … Rushed for 105 yards on 13 carries (season-high 8.1 average) in season finale at Pittsburgh. 2019—Played in all 16 games, with 15 starts … Rushed for 1137 yards on 278 attempts (4.1), with five rushing TDs … Caught 35 passes for 287 yards and three TDs … Had four 100-yard rushing games, and six games with at least 100 yards from scrimmage … Started season slow, but gained 817 of his 1137 rushing yards (72 percent) in blistering final eight games … Rushed for 114 yards on 30 carries on Oct. 13 vs. Baltimore … Topped 100 yards from scrimmage in his first career game in native Bay Area, on Nov. 17 at Oakland, totaling 15 carries for 86 yards (5.7) and a TD, and one catch for 17 yards … Totaled 186 yards from scrimmage on Dec. 8 at Cleveland, the most by a Bengal since 2016; rushed for 146 yards on 23 carries (6.3), while scoring a TD, and added 40 yards on three receptions … On Dec. 15 vs. New England, rushed 25 times for 136 yards, including a 16 rushes for 83 yards in the first half alone … Posted career-high 162 rushing yards and two TDs in season finale vs. Cleveland.
College: Played in 25 games over two seasons of action at Oklahoma (2015-16), rushing for 2027 yards on 300 carries (6.8), with 17 TDs, while sharing backfield with OU's all-time rushing leader, Semaje Perine … Also caught 65 passes for 894 yards (13.8) and nine more TDs, along with a passing TD and kickoff return TD … As a sophomore in 2016, named first-team All-Big 12 after rushing for team-high 1274 yards on 187 attempts (6.8), with 10 TDs, and caught 37 passes (second on team) for 538 yards (second on team) and five TDs … Averaged 6.8 yards per carry, the fourth-best single-season mark in Sooners history … Became first player in school history, and only FBS player in 2016, to register TDs via pass, rush, reception and kickoff return in a single season … Set OU single-season record in 2016 for all-purpose yards (2331) and all-purpose yards per game (194.3).
Personal: Hometown is Oakley, Calif. (Bay area) … Attended Freedom High School in Oakley, where he rushed for 1704 yards and 23 TDs as a high school senior … Played in 2014 U.S. Army High School All-American Game … Also played basketball and ran track in high school … Hobbies include shopping, playing video games and working with children … He's the youngest of six children … Hosts an annual football camp in his hometown of Oakley … Along with teammate A.J. Green, also hosted a summer football camp for children in Cincinnati in 2019 … African-American studies major at Oklahoma.
BIOGRAPHY COURTESY OF BENGALS COMMUNICATIONS