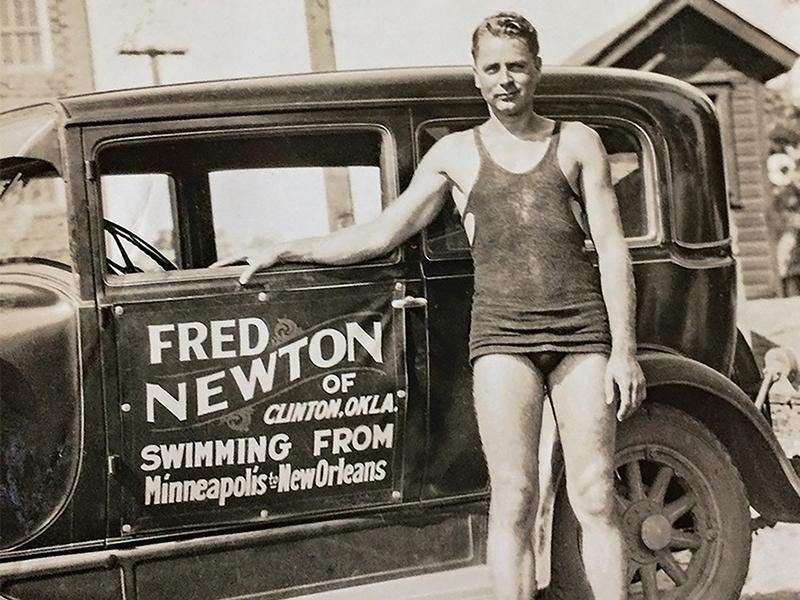 FROM WIKIPEDIA COMMONS
Fred Newton (1903 – 1992) was an American swimmer who was known for being the first person to swim the full length of the Mississippi River. Over the course of 176 days in 1930, Newton swam from Minneapolis, near the source of the Mississippi River, to New Orleans, a city at its mouth.
Swim of the Mississippi River
Newton pursued the journey primarily to generate publicity and wealth. At age 27, he began the swim on July 6, 1930, in Minneapolis with his brother, Byron, following in a rowboat with supplies. He initially predicted that the journey would take 90 days, though it ended up taking almost twice as long. They stopped in towns along the way, with Newton painting signs for room and board. During the journey, Newton encountered pollution and cold temperatures. He used wool clothing and axle grease to keep himself warm.
Newton arrived in New Orleans on December 29, 1930. He was welcomed by a crowd and was offered a bath by the New Orleans Athletic Club. In total, the swim was 1,826 miles and Newton was in the water for 742 hours.
TODAY'S ALMANAC
Question of the Day
What is the significance of the dreidel game that children play at Chanukah?In ancient times, Jews living in Syrian lands were prohibited from reading their holy book, "The Torah." However, many adults continued to do so, but kept a dreidel (a small top-lik toy) nearby. If officials entered their home, they could quickly hide their books and pretend to be playing a game.
Advice of the Day
Don't forget to fill the bird feeder when winter storms are forecast.
Home Hint of the Day
You can dry woven wool garments on hangers. Knitted wool clothing should be laid flat to dry; it will stretch if hung.
Word of the Day
FrigophobiaFear of cold
Puzzle of the Day
Can a leopard change his spots?Yes, when he is tired of one place, he can go to another.
Born
Charles Macintosh (chemist & inventor) – 1766
Charles Goodyear (inventor) – 1800
Andrew Johnson (17th U.S. president) – 1808
Ed Flanders (actor) – 1934
Mary Tyler Moore (actress) – 1936
Ted Danson (actor) – 1947
Patricia Clarkson (actress) – 1959
Kevin Weisman (actor) – 1970
Jude Law (actor) – 1972
Died
Earl Hindman (actor) – 2003
Events
Saint Thomas Becket was murdered by four knights– 1170
Texas admitted to the Union as the 28th state– 1845
Gaslights were first used at the White House– 1848
American Meteorological Society founded at St. Louis, Missouri– 1919
William Lyon Mackenzie King became 10th Prime Minister of Canada– 1921
Fred Newton became the first and only person to swim the length of the Mississippi River. It took him about six months to cover the 1,826 miles from Minnesota to New Orleans. He was in the water for 742 hours and was protected from the cold water by a layer of axle grease on his body– 1930
The discovery of deuterium was publicly announced– 1931
Lake Washington Floating Bridge construction began, Seattle, Washington– 1938
Ashrita Furman stood on a Swiss ball for 3 hours, 38 minutes, and 30 seconds– 2003
Tom Brady of the New England Patriots broke Peyton Mannings's single-season touchdown pass record when he threw his 50th of the season against the New York Giants– 2007
Randy Moss of the New England Patriots set an NFL record with 23 touchdown catches– 2007
The New England Patriots set an NFL record by winning 16 out of 16 games in the regular season– 2007
Weather
Morning "silvered by the icicles everywhere shining," New London, Connecticut– 1747
Thirty inches of snow fell on central Illinois– 1830
COURTESY www.almanac.com