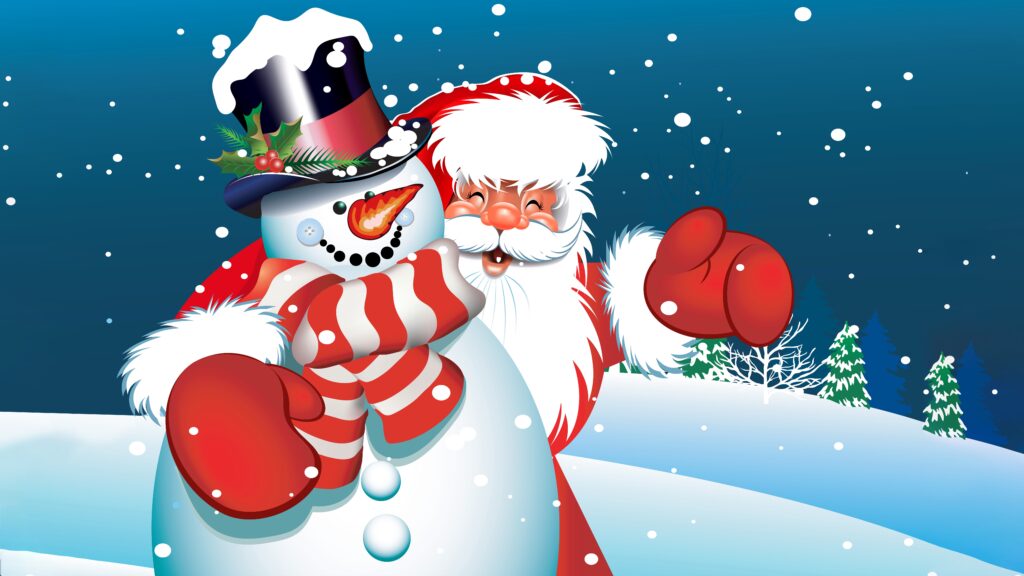 Christmas Day is a Christian holiday commemorating the birth of Jesus Christ. Although the actual date of Christ's birth is unknown, it has been celebrated on December 25 since the 4th century. Christmas is also extensively celebrated by non-Christians as a seasonal holiday, on which popular traditions such as gift-giving, feasting, and caroling take place.
As Christianity began to spread in the 4th century, the Christmas feast day was set to December 25 by Pope Julius I; although no one knows for certain, some say that this was to align with the Roman pagan holiday Dies natalis solis invicti, the birth of the invincible Sun."
Today's rich mosaic of Christmas customs dates back through the ages. Evergreen branches were used to symbolize life in ancient solstice festivals, as they stayed green in winter. This tradition was absorbed by Christians, who interpreted the evergreens as the Paradise tree and began decorating them with apples. The candles and lights associated with Christmas, meant to symbolize guiding beacons for the Christ child, may have evolved from the Yule log, which was lit to entice the Sun to return as part of the jol (Yule) festival in pagan Scandinavia."
Question of the Day
What's the best way to start a coal fire?To start a coal fire, get a good hot fire going with hardwood kindling. Then add a shovelful or two of coal. When this coal has begun to burn, add more coal. It will usually take about 10 minutes for the wood fire to get hot enough to ignite the coal, so be sure to use enough kindling to last that long. Leave any dampers open for a good 10 minutes or so to get rid of the gases. Anthracite coal will not light unless it has a bottom draft.
Advice of the Day
If at Christmas ice hangs on the willow, clover may be cut at Easter.
Home Hint of the Day
To discourage spiders, spray rubbing alcohol on windowsills or leave perfumed soap chips scattered about.
Word of the Day
AncraophobiaFear of wind
Puzzle of the Day
What confections were carried on Noah's ark?Preserved pears (pairs)
Died
Samuel de Champlain (explorer) – 1635
W.C. Fields (actor) – 1946
Charlie Chaplin (actor) – 1977
Billy Martin (baseball player) – 1989
Dean Martin (singer & actor) – 1995
James Brown (singer; the Godfather of Soul"") – 2006
George Michael (singer, songwriter) – 2016
Born
William Collins (English poet) – 1721
Clara Barton (founder of the American Red Cross) – 1821
Humphrey Bogart (actor) – 1899
Cab Calloway (musician) – 1907
Rod Serling (author) – 1924
Gary Sandy (actor) – 1945
Jimmy Buffet (singer) – 1946
Sissy Spacek (actress) – 1949
Annie Lennox (singer) – 1954
Justin Trudeau (Canadian prime minister) – 1971
Dido (singer) – 1971
Events
Columbus's flagship, the Santa Maria, abandoned off the coast of Hispaniola– 1492
From the Pennsylvania side, General George Washington's troops crossed the icy Delaware River at night during a winter storm for a surprise attack against a Hessian garrison in Trenton, New Jersey (American Revolutionary War)– 1776
Bytown (Ottawa) and Prescott Railway opened in Ontario– 1854
Union Stock Yards opens giving the south side of Chicago a distinctive smell– 1865
Pansy blossoms picked, Manhattan, Montana– 1896
Comic strip hero Dick Tracy married Tess Trueheart– 1949
Weather
A chilly -57 degrees F at Fort Smith, Northwest Territories– 1917
White Christmas from central North Carolina to New England in wake of major snowstorm, even coastal Virginia was white– 1966
Temperatures throughout northern New England averaged -39 degrees F– 1980
A Christmas Day mudslide ran through St. Sophia Camp, San Bernardino, California– 2003
1.3" snow fell in Atlanta, Georgia– 2010
COURTESY www.almanc.com