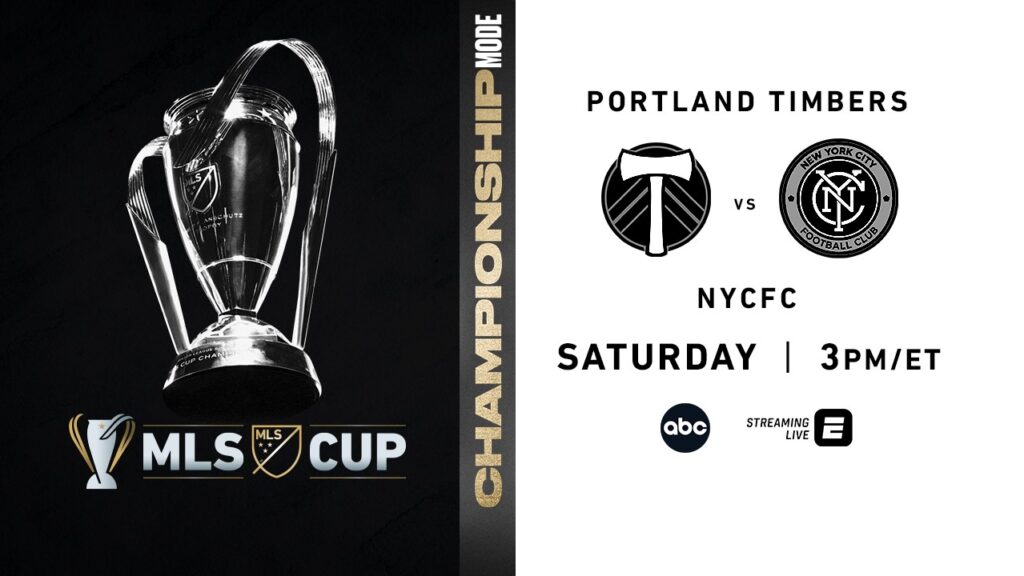 PORTLAND, Ore. – Felipe Mora scored in the fifth minute, Santiago Moreno added another tally in the second half and the Portland Timbers defeated Real Salt Lake 2-0 to win the Audi 2021 MLS Cup Playoffs Western Conferenc Championship Saturday evening in front of a sold out crowd of 25,218 to advance to the 2021 MLS Cup.
Goalkeeper Steve Clark was credited with three saves and the Timbers picked up their second straight clean sheet.
Portland Timbers (No. 4 Seed) vs. Real Salt Lake (No. 7 Seed) – Audi 2021 MLS Cup Playoffs Western Conference Final
Dec. 4, 2021 – Providence Park (Portland, Ore.)
Scoring Summary:
POR: Mora, 5
POR: Moreno (Zuparic), 61
Misconduct Summary:
RSL: Herrera (caution), 58
POR: Moreno (caution), 61
RSL: Herrera (caution, ejection), 79
RSL: Ruiz (caution), 90+2
Lineups:
POR: GK Clark, D Van Rankin, D Mabiala, D Zuparic, D Bravo, M Paredes (Fochive, 90), M D. Chara ©, M Loría (Valeri, 80), M Y. Chara, M Moreno (Bodily, 90), F Mora (Niezgoda, 60)
Substitutes Not Used: GK Ivacic, D McGraw, D Bonilla, D Tuiloma, M Blanco
TOTAL SHOTS: 14 (Moreno, 4); SHOTS ON GOAL: 7 (Y. Chara, Moreno, 2); FOULS: 11 (Bravo, 3); OFFSIDES: 0; CORNER KICKS: 7; SAVES: 3
RSL: GK Ochoa, D Brody, D Glad, D Herrera, D Silva, M Ruiz, M Kreilach, M Rusnak ©, M Besler (Menédez, 71), M Julio (Meram, 58), F Rubin (Wood, 58)
Substitutes Not Used: GK MacMath, D Morgan, D Toia, D Holt, M Chang, M Portillo
TOTAL SHOTS: 7 (Kreilach, Ruiz, 2); SHOTS ON GOAL: 3 (Kreilach, 2); FOULS: 17 (Glad, 3); OFFSIDES: 2; CORNER KICKS: 3; SAVES: 4
Referee: Alan Kelly
Assistant Referees: Cameron Blanchard, Jeremy Hanson
Fourth Official: Joe Dickerson
VAR: Geoff Gamble
Attendance: 25,218
Weather: Rain, 49 degrees
Notes
Portland will play host to MLS Cup at Providence Park for the first time in club history. Both of their previous trips to MLS Cup were road matches.
The Timbers advanced to a league final for the fourth time in their club history (1975, 2015, 2018, 2021). In all eras of the club, Portland has now played 52 playoff games with an all-time record of 22-22-8.
Portland won its third Western Conference Championship (2015, 2018, 2021) to advance to their third MLS Cup.
The Timbers are the 10th team to reach MLS Cup at least three times in league history.
Portland has earned a berth in MLS Cup twice in their last four seasons (2018, 2021) and three times in the last seven seasons.
In the Audi 2021 MLS Cup Playoffs, the Timbers have outscored their opponents 6-1, including by a margin of 5-1 at Providence Park.
Portland has recorded back-to-back shutouts in the postseason.
Dating back to the regular season, the Timbers have won six consecutive matches, outscoring their opponents by a margin of 14-2. During that span, Portland has four shutouts and has scored two or more goals in five of the six matches.
Santiago Moreno and Marvin Loría earned their first career starts in an MLS playoff game.
Moreno scored his first career goal with the Timbers in the match.
Moreno is the youngest player to score a goal for Portland in an MLS playoff game at 21 years and 228 days.
Felipe Mora scored his first career playoff goal for the Timbers.
Mora and Moreno are the 18th and 19th players to score MLS playoff goals for Portland.
Mora's goal in the fifth minute was the second-fastest goal scored in Timbers MLS postseason history. It is the fastest goal scored in a home game for Portland in the MLS playoffs.
Diego Chara made his 20th appearance in the MLS postseason. Only Diego Chara and Diego Valeri (21 games) have appeared in 20 or more MLS playoff games for Portland.
Larrys Mabiala appeared in his 10th MLS playoff game with the Timbers. He is the 11th player to feature in 10 or more postseason matches for Portland.
Dario Zuparic registered his first career MLS postseason assist. He is the 19th player to record an assist in a playoff game for the Timbers.
Portland posted a record of 4-0-0 against Real Salt Lake in regular season and playoff matches in 2021, outscoring RSL 14-4 in those games.
COURTESY PORTLAND TIMBERS COMMUNICATIONS