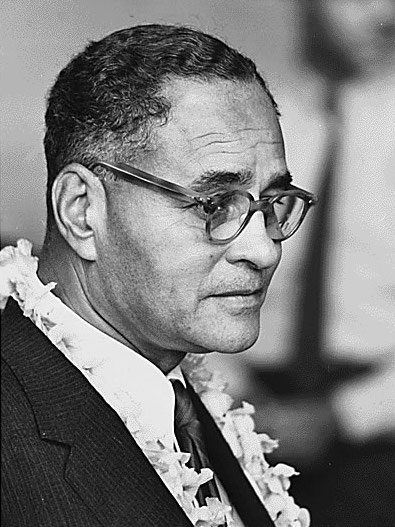 FROM WIKIPEDIA COMMONS
Ralph Johnson Bunche (/bʌntʃ/; August 7, 1903 – December 9, 1971) was an American political scientist, diplomat, and leading actor in the mid-20th-century decolonization process and US civil rights movement, who received the 1950 Nobel Peace Prize for his late 1940s mediation in Israel. Among black Nobel laureates he is the first African American and first person of African descent to be awarded a Nobel Prize. He was involved in the formation and administration of the United Nations and played a major role in both the decolonization process and numerous peacekeeping operations sponsored by the UN. In 1963, he was awarded the Presidential Medal of Freedom by President John F. Kennedy. At the UN, Bunche gained such fame that Ebony magazine proclaimed him perhaps the most influential African American of the first half of the 20th century and "[f]or nearly a decade, he was the most celebrated African American of his time both [in the US] and abroad."
Bunche served on the US delegation to both the Dumbarton Oaks Conference in 1944 and United Nations Conference on International Organization in San Francisco in 1945 that drafted the UN charter. He then served on the American delegation to the first session of the United Nations General Assembly in 1946 and joined the UN as head of the Trusteeship Department, beginning a long series of troubleshooting roles and responsibilities related to decolonization. In 1948, Bunche became an acting mediator for the Middle East, negotiating an armistice between Egypt and Israel. For this success he was awarded the Nobel Peace Prize in 1950.
Bunche continued to serve at the United Nations, working on crises in the Sinai (1956), the Congo (1960), Yemen (1963), Cyprus (1964) and Bahrain in 1970, reporting directly to the UN Secretary-General. He also chaired study groups dealing with water resources in the Middle East. In 1957, he was promoted to Under-Secretary-General for special political affairs, having prime responsibility for peacekeeping roles. In 1965, Bunche supervised the cease-fire following the war between India and Pakistan. He retired from the UN in June 1971, six months before his death.
TODAY'S ALMANAC
Question of the Day
What can you tell me about Halcyon Days?Halcyon Days, which have come to mean any time of happiness and contentment, are actually the 14 days around the winter solstice. The halcyon, or kingfisher, builds its floating nest at that time, during which the gods had promised calm seas for the nesting and hatching time.
Advice of the Day
Caraway seeds keep pigeons from straying.
Home Hint of the Day
If you're repairing or replacing a Colonial floor, remember that subfloors in those days were usually made of boards only 1/2 inch thick. When you're working on them, always step on the subfloor only where your weight will be supported by the floor joists.
Word of the Day
WhangdoodleAn imaginary creature, or an undefined character.
Puzzle of the Day
What stones are never seen together?Milestones
Born
Melvil Dewey (librarian) – 1851
Susan Dey (actress) – 1952
Michael Clarke Duncan (actor) – 1957
Kenneth Branagh (actor) – 1960
Raven-Symoné (actress & singer) – 1985
Died
Alfred Nobel (chemist, engineer, and the inventor of dynamite. In his last will, he used his enormous fortune to institute the Nobel Prizes.) – 1896
Otis Redding (singer) – 1967
Ed Wood (filmmaker) – 1978
Armand Hammer (industrialist) – 1990
Alice Tully (philanthropist) – 1993
Richard Pryor (comedian & actor) – 2005
Events
Mississippi was admitted as the 20th state– 1817
The Nobel Prizes were awarded for the first time– 1901
President Theodore Roosevelt won the Nobel Peace Prize– 1906
Duke Ellington recorded Mood Indigo""– 1930
Ralph Bunche became the first African American to win the Nobel Peace Prize– 1950
William Faulkner accepted his Nobel Prize in literature which was awarded to him in 1949– 1950
Colonel John P. Stapp attained 632 mph on rocket sled– 1954
COURTESY www.almanac.com