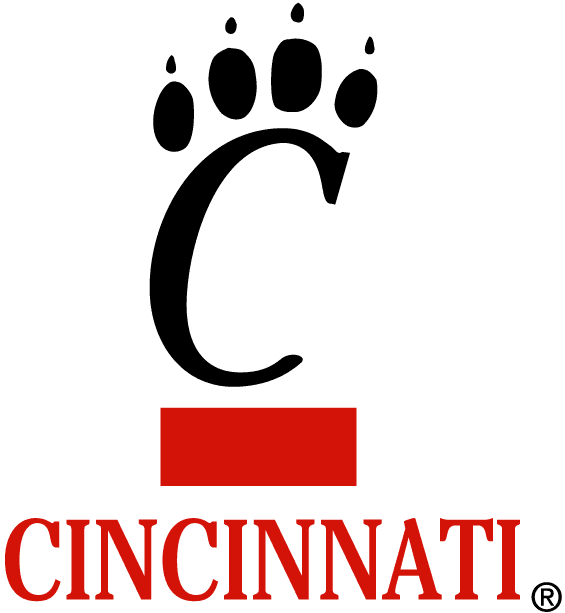 November 20, 2021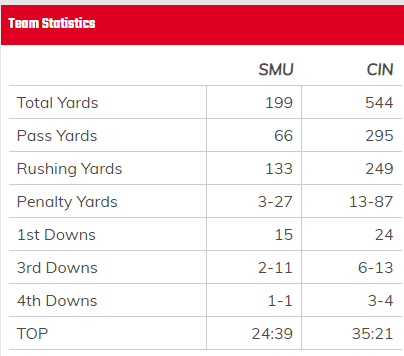 CINCINNATI – Senior quarterback Desmond Ridder celebrated Senior Day by tossing three touchdowns, rushing for a score and catching his first career touchdown to lead the No. 3-ranked Cincinnati football team to a dominant 48-14 victory over SMU on Saturday at Nippert Stadium.
Cincinnati improved to 11-0 for the second time ever and clinched a spot in the American Athletic Conference Championship Game against No. 17 Houston on Saturday, Dec. 4 (4 p.m., ABC).
The Bearcats will host the conference championship with a win next Friday at East Carolina.

Ridder, who finished with 274 yards on 17 of 23 passing and 46 rushing yards, was one of 34 seniors who was honored before the game. The four-year UC class registered its 42nd win since 2018, the most in a four-year stretch in UC history.

"We've been trying to play that complete game and I think tonight, in all three phases of the game, we played a complete game," Cincinnati head coach Luke Fickell said. "From the guys up front, they tried to make it a physical game and on both sides of the ball they did a hell of a job and just made sure their presence was felt. You have to go back and look at stats, but I really felt the presence of our offensive and defensive line was the difference.

"Obviously, senior night is really emotional. It was an incredible night for those guys to go out there with the emotion and families and then come back 17 minutes later and play. Obviously, that is a credit to them, but a credit to the fans as well. It makes it a hell of a lot easier to focus and lock-in after an emotional senior day when you walk back out there and see the crowd and the student section the way it is. The energy flowing through the stadium…it was awesome tonight."

Ridder is believed to be the first Bearcat in school history to throw, run and catch a touchdown in a single game. His first career touchdown catch from fellow senior Jordan Jones came on a trick play at the 10:59 mark in the third quarter.

"We've had that play for 4-5 years now, and I let coaches know that my hands are 'certified' every time we bring that up," Ridder said. "I couldn't have asked for it better to be on senior night from another senior in Jordan Jones, and I'm glad they called it. For it to get called and for us to execute it the way we did, it was huge."
After Cincinnati's defense forced a three-and-out to start the game, Ridder zipped a 53-yard touchdown pass to sophomore wide receiver Tyler Scott on UC's first play from scrimmage. He later added a pair of touchdown passes to senior receiver Alex Pierce and a 40-yard touchdown rush on a keeper on 4th-and-1.
SMU entered the game first in the AAC and sixth in the country in both total offense (498.7) and sixth in scoring (41.6), but the stifling Blackcats defense limited the Mustangs to season lows in yards (199) and points (14).

Senior defensive tackle Curtis Brooks led the UC defense with two sacks of SMU's Tanner Mordecai as the Bearcats held the Mustangs' star quarterback to just 66 yards on 15-of-26 passing and no touchdowns. He entered the game leading the AAC in passing yards (328.7) and touchdowns (37).
The Cincinnati defense forced the high-powered SMU offense into three consecutive three-and-outs to start the game. On the Mustangs' fourth possession, senior cornerback Coby Bryant stripped the ball from SMU running back Tre Siggers and senior defensive lineman Marcus Brown recovered it.
UC forced five more three-and-outs after the takeaway as it jumped out to a 48-0 lead.
After senior linebacker and special teams star Wilson Huber blocked his third career punt, Cincinnati quickly drove 25 yards for a 4-yard rushing score from junior running back Jerome Ford to make the score 14-0 at the 5:32 mark in the first quarter.
Ridder's 40-yard dash on a 4th-and-1 keeper put the Bearcats in front 20-0 at the start of the second quarter.
A few plays later the senior signal-caller found Pierce a 17-yard touchdown at 8:19 in the second quarter to give Cincinnati a 27-0 lead at halftime.
Four minutes after halftime, Ridder punctuated his virtuoso performance with his touchdown catch. He
capped his day with a second touchdown toss to Pierce, from 17 yards, to give Cincinnati a 41-0 lead at 5:44 in the third quarter.
Backup quarterback Evan Prater entered the game late in the third quarter and promptly led UC's seventh touchdown drive, throwing a touchdown to Jones at 11:06 in the fourth quarter to extend Cincinnati's lead to 48-0.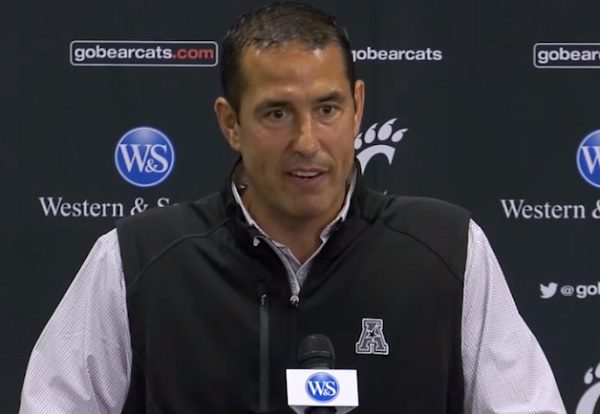 UP NEXT
Cincinnati travels to East Carolina for a 3:30 p.m. game on Friday, Nov. 26. The game will air live on ABC.
FOLLOW THE BEARCATS
For all the latest information on Cincinnati athletics, please visit GoBEARCATS.com. For up-to-the-minute updates, follow Cincinnati Athletics on Twitter, Instagram and Facebook.